This is a free crochet pattern for how-to crochet an Easy Floral Coin Purse using floss and simple stitches.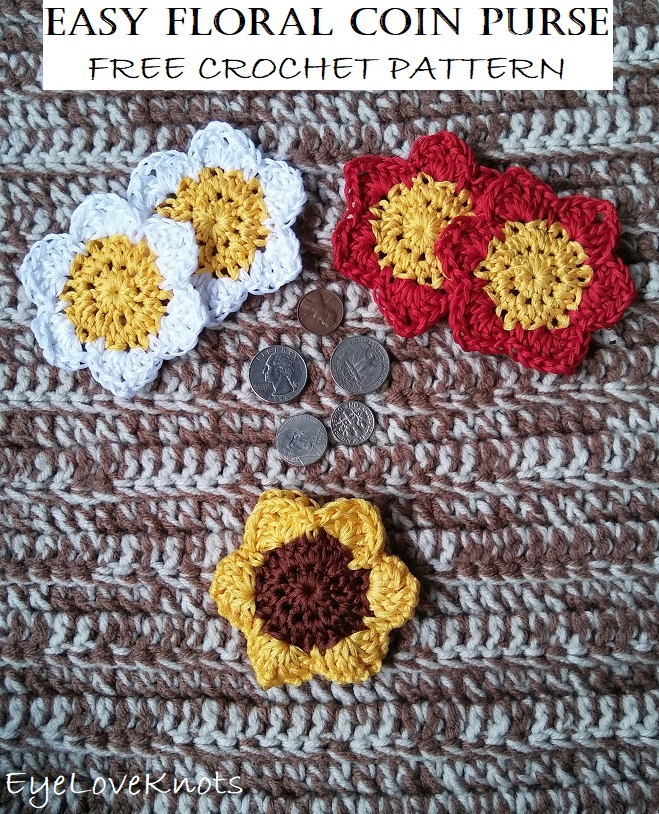 This floral motif has been one of absolute favorite little things!
A few years ago, I worked up one side of this coin purse, and fell in love with the flower motif, but I had no idea what I would do with it. The motif went into my WIPs bin, and sat… and sat… and sat until last year when I pulled it back out, and decided to make a bunch, and link them together to create the Sunflower Shawl (Free Crochet Pattern) – one of my proudest moments was finishing that baby. I also used this basic motif to create a pair of Floral Hoop Earrings (Free Crochet Pattern), and now I'm sharing this sweet little coin purse with you!
While I was working on the shawl, a bunch of ideas came to mind. I could use the motif to make a top, or rectangle wrap, or… a coin purse! And imagine in all yellow like a sun, or all white like a snowflake, or maybe a flower with a little lady bug or bee [button] sitting on one of the petals.
I have a couple more projects coming to you this month using the same basic pattern (with many more on my brain – feel free to leave your requests HERE).
If you would like a PDF version of this post, you may get one through either my EyeLoveKnots Etsy Shop, Ravelry or LoveCrochet Shop for a small fee. This fee is to compensate for the views lost when you no longer need to return to the blog to for the information, as you will have your own copy. Plus! It helps fund supplies for new projects to share with you!
Shop EyeLoveKnots Etsy: Easy Floral Coin Purse.
Shop EyeLoveKnots LoveCrochet: Easy Floral Coin Purse.
Are you a Raveler? Share your version of this project on Ravelry – Easy Floral Coin Purse.
Save this to your Favorites on AllFreeCrochet: Easy Floral Coin Purse.
Materials:
DMC Six-Strand Embroidery Floss – Flower Center (CA) Requires 2 Skeins, and the Flower Petals (CB) Requires 3 Skeins [or 45 yards of Lightweight #3 Yarn]
H8/5mm Crochet Hook
Tapestry Needle for Weaving in Ends
Size 4 [⅝" (1.6 cm)] Snap Button
Sewing Needle with Matching Thread (I recommend Silamide thread)
High Temperature Hot Glue Gun and Sticks, or Choice of Fabric Glue
Material Notes:
Yarn Alternatives: Paton's Grace Yarn.
I specifically chose embroidery floss for the coin purse because it is 100% cotton, which is important for durability in something that will endure a lot sitting at the bottom of your purse.
You can substitute one strand of lightweight/sport weight yarn in place of the two strands of floss, but I recommend a 100% cotton as this little purse will see a lot of wear being pulled out of and put back into your purse, and in traveling around as well. Gauge isn't essential for this project, so if you are okay with a larger coin purse, you could also substitute for a worsted weight yarn.
The best option for thread is silamide thread. This is a durable, waxy 2-ply nylon thread. If you use this, you will only need to cut 2 strands, and double. If you use a regular sewing thread, like an all-purpose one, you will need to cut 3 strands, and double.
Glue is added just behind the snap button after it has been sewn in place because snap button closures are very strong, and the embroidery floss fabric is pretty delicate. The glue helps the fabric from pulling when the snap button is opened.
Time Spent:
Just over 15 minutes per flower – less than 45 for both sides and assembly.
Measurements:
Before seaming, flower measures 3 1/8″ (7.95 cm) wide from tip of one petal to another. After seaming, purse measures 3 ¼" (8.26 cm).
Gauge – Not Essential:
17 HDC by 11 Rows = 4" by 3 15/16"
Abbreviations:
SC – Single Crochet
HDC – Half Double Crochet
DC – Double Crochet
Pattern Notes:
Beginning chain does not count as a stitch.
In the Center, join to the first stitch, not the beginning chain. In the Petals, join to the second stitch (the first double crochet) to lessen the level change.
How I worked my yarn color change: after joining, turn to the new working side. Pull the new color through, then pull the original color tight (it will disappear).
You can also work in the more traditional ways of pulling new color through in the last yarn over of the previous stitch (I do have a basic photo tutorial if needed – How to Change Yarn Colors in Crochet) or fastening off the center color, and rejoining the new color in any stitch, but I find the way I did it much easier, and it hides the color change.
I work my increases a little different than most, and that is that the first stitch from the first set of increases is done in the first stitch of the round, which will appear just to left of the beginning chain, then the round will be worked as normal, and the final stitch of the round will be the second stitch of the first set of increases, and it will be worked into the same stitch as the first, and appear just to the right of the beginning chain. You can see a photo tutorial of this in my How to Keep a Straight Seam post.
Though there are only three rounds, and a straight seam isn't really an issue, this is my preferred method – you can work in your preferred increase method for the center as long as you end up with 24 stitches.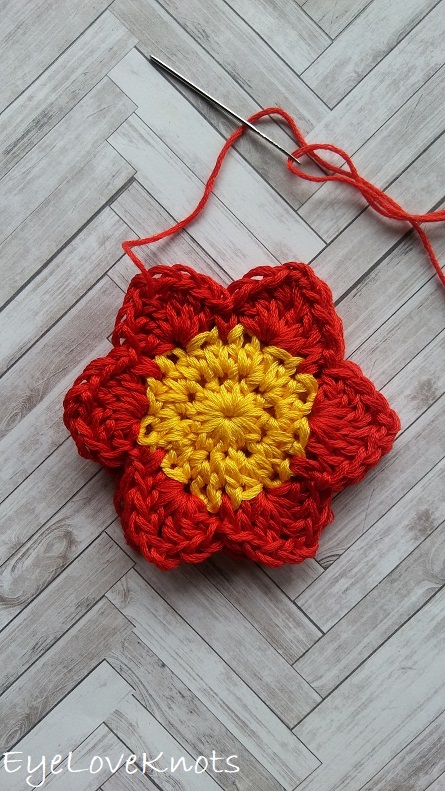 Pattern:
In CA, chain 5. Join to form a ring. Chain 1. Work 12 HDC into the ring. Join. (12 HDC)
R2: Chain 1. Work 1 HDC into the first HDC, 2 HDC into each of the next 11 HDC's, and 1 HDC into the first stitch just to the right of the beginning chain 1. Join, and switch to CB. (24 HDC)
R3: In CB, chain 1. SC into the first HDC, skip the next HDC, (3 DC, chain 2, 3 DC) into the next HDC, skip the next HDC, [SC into the next HDC, skip the next HDC, (3 DC, chain 2, 3 DC) into the next HDC, skip the next HDC] 5 times. Join, and Fasten Off. (6 Petals, 6 SC)
Fasten off, and weave in ends.
Assembling Flowers: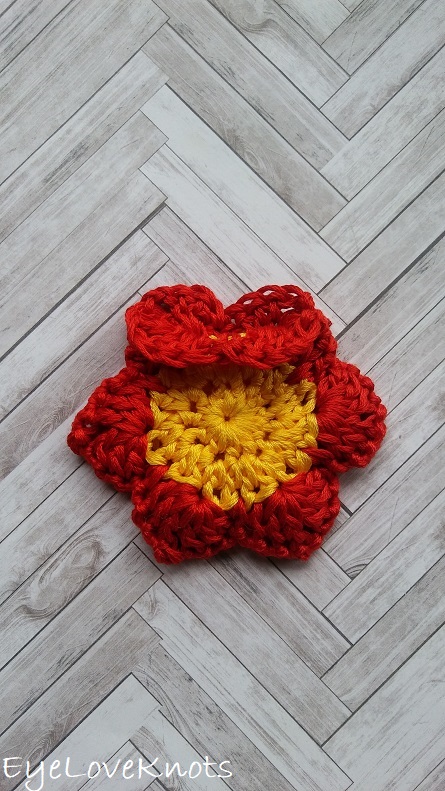 Lay flowers down with WS facing, positioned so two petals are directly on top of each other at the top center (as opposed to one single petal). Cut a long piece of CB. Secure end of tail by weaving into the WS of the center top of a petal, then bring needle out of first dc to the left of the chain 2, and begin whipstitching through both layers. Whipstitch around the half of the first petal, then 3 full petals and then half of the final petal. Refer to the photo to the left to more easily envision it. The remaining open part will be for the snap button and access to the inside of the coin purse. around up to mirrored position on top right petal. Weave in end.
Sew on Snap Button:
Lay purse down with opening at top. Grab the fat part of the snap button, and position it at the center of the two petals at the top just where the color change is between the center, and petals with the nub facing down (and opening facing you). With sewing needle, and thread, sew on.

Flip purse over. Grab the skinny part of the snap button, and mirror it with the nub facing you. Sew in place.

Lightly pull back at spaces in between snap button holes, and dab some hot glue for added security.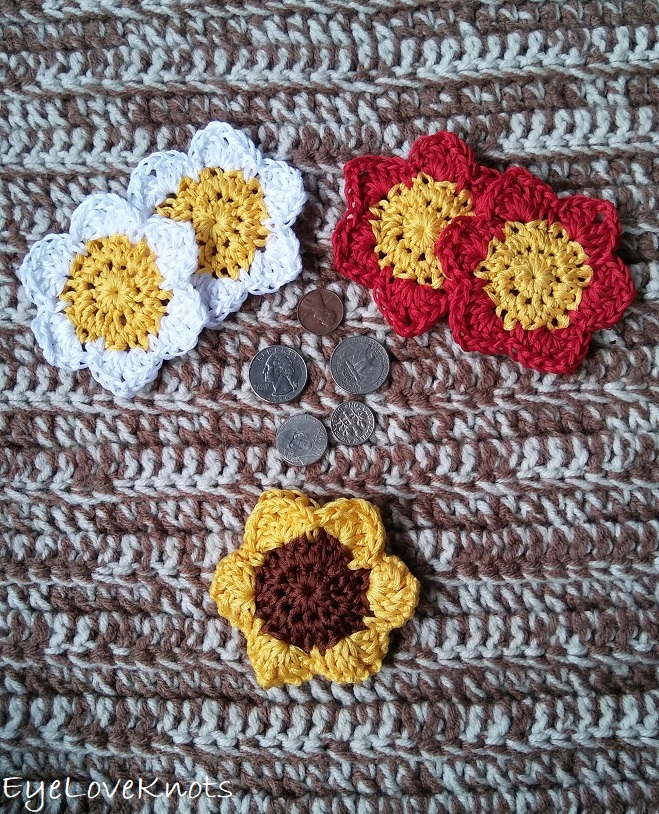 Please feel free to make and sell your own Floral Coin Purses, but please DO NOT claim this pattern as your own nor should you sell my pattern, and DO NOT re-publish my photos as your own. DO NOT copy and paste my pattern anywhere, link to it instead.
DIY Lovers: Join the EyeLoveKnots Crafting Community on Facebook to share your creations, and see what others are up to!
Fashion Lovers: Join my VIP Facebook group – Pretty Nails & Fun Fashion with EyeLoveKnots!
Linked Up To…
Handmade Monday #176 – Sum of their Stories
The Really Crafty Link Party #218 – Keeping it Real
Ginx Woolly Linx Party May – Ginx Craft
Craftastic Monday – Sew Can Do
Little Cottage Link Party #52 – Love my Little Cottage
Weekday Wear Link Up – Away from the Blue
548th Inspire Me Tuesday – A Stroll Thru Life
Fabulous Party #320 – Lou Lou Girls
Linky Ladies #185 – The Purple Poncho
Craft Schooling Sunday – Creative Jewish Mom
Happiness is Homemade Link Party #323 – Design Morsels
Your Whims Wednesday #460 – My Girlish Whims
{Wow Me} Wednesday #455 – Ginger Snap Crafts
To Grandma's House We Go Link Party 193 – Chas' Crazy Creations
Waste Not Wednesday 207 – Faeries and Fauna
Tuesday Turn About #49 – My Wee Abode
Hookin' on Hump Day #215 – Moogly Blog
Scrappy Stitchers Link Party #63 – Stitches n Scraps
Creatively Crafty Link Party #224 – Life Beyond the Kitchen
Creative Compulsions Linky Party #60 – My Bijou Life
Traffic Jam Linky Party #234 – My Bijou Life
May 2020 Best of the Month – Calypso in the Country
Pin Party #369 – The Pin Junkie
Create, Bake, Grow & Gather Party #420 – Shabby Art Boutique
Snickerdoodle Create Bake Make Link Party #336 – EyeLoveKnots
Unlimited Monthly Link Party 13 – Grammy's Grid