This is a crochet pattern review of the Mock Cable Diamond Pillow pattern from designer Becky Stevens for Leisure Arts. Review done by A Stitch Shy of Normal.
This post contains affiliate links for Leisure Arts and WeCrochet. If you make a purchase by clicking on them, I make a small commission at no extra cost to you. Thanks for your support!
Find our crochet pattern review below, or click here to purchase the crochet pattern from the Leisure Arts website.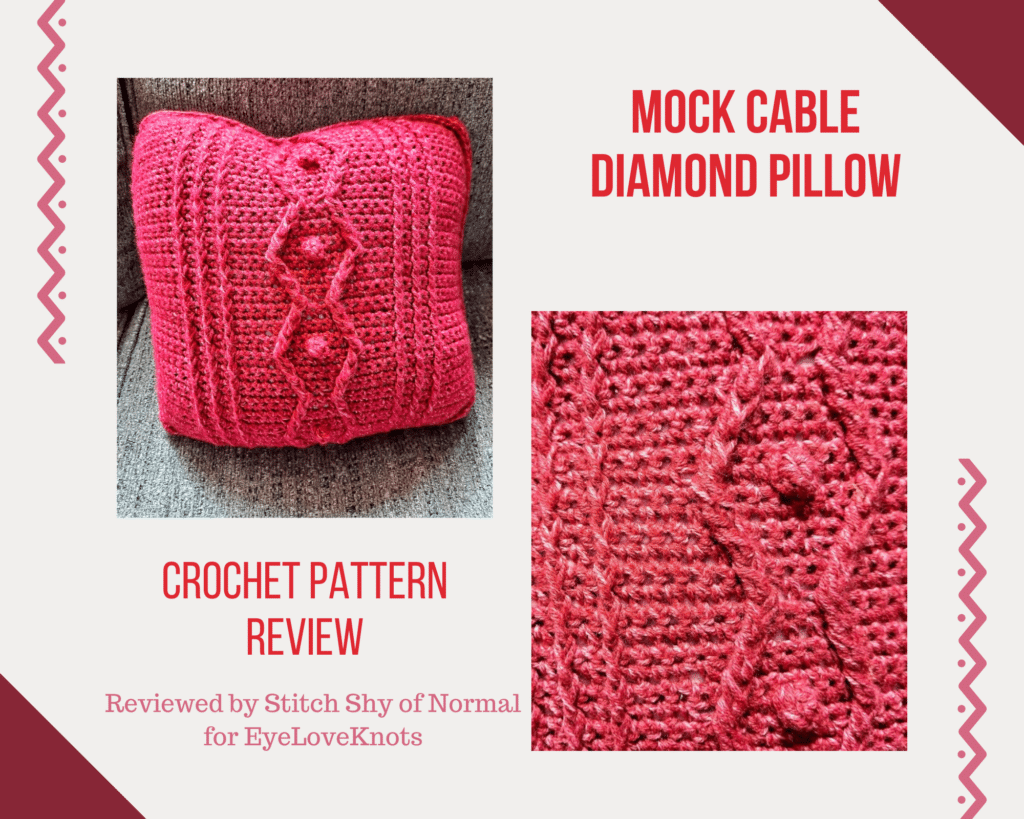 Visit with me on Instagram @astitchshyofnormal for all kinds of awesome crochet makes and inspiration.
Cabled pillows are an everlasting trend, and I'll proudly be here for it forever! It's a timeless look that goes with any decor. You can have them in beautiful bright shades to add a pop of flair to your living room, or make a coordinating set in muted neutrals to match your bedroom! I love it for so many reasons.
So when I came across the Leisure Arts book titled "Textured Pillows", I knew I was going to find something with beautiful cables, and I had to buy it right away! Plus, for only 5 dollars, you get 8 whole patterns. I scrolled through the pictures that showed what patterns it would contain and spotted my cable dreams right away…plus a few others that stood out to me for future creations!
I chose red for two reasons. One is that my husband loves red! It's his favorite color for anything in the house, and while I try to dial it back and don't always want everything in blinding cherry…I need to let him have a few things in his favorite shade! Plus, I still had several skeins of this Jeans yarn from a sale a couple of years back. I always like to save money where I can on these projects and chip away at my stash at the same time!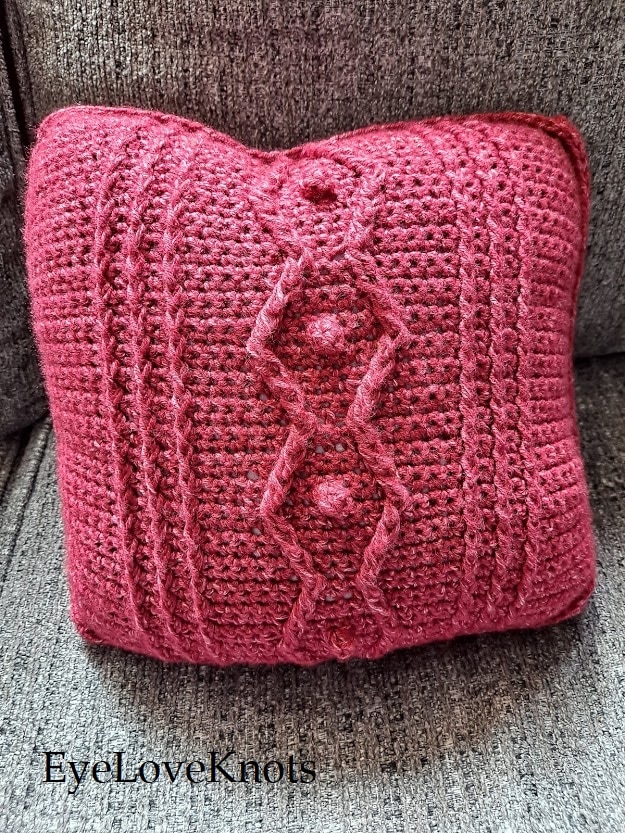 Materials I Used to Make my Cabled Throw Pillow:
Material Notes:
You might notice that I did size up my hook. The pattern calls for a G6/4mm and I chose to go up a size to my H8/5mm to fit the gauge, which should have been my first indicator that this yarn maybe wasn't the perfect choice. Curious what I mean by that?
So…it's normal to make mistakes in yarn choice now and then! I love the texture of this Jeans yarn in cable patterns (see my Cliffcrest Cable Collar review from earlier this year in exactly the same yarn). Like I said, I love using stash yarn, so I chose to make this work instead of going out to spend the ten bucks to buy something new. I did my gauge swatch with my sized up hook, which got me thinking it would be a perfect fit! It really did work great with the larger hook and I saw zero issues with this change. And I still didn't have an issue, until I put it on the pillow.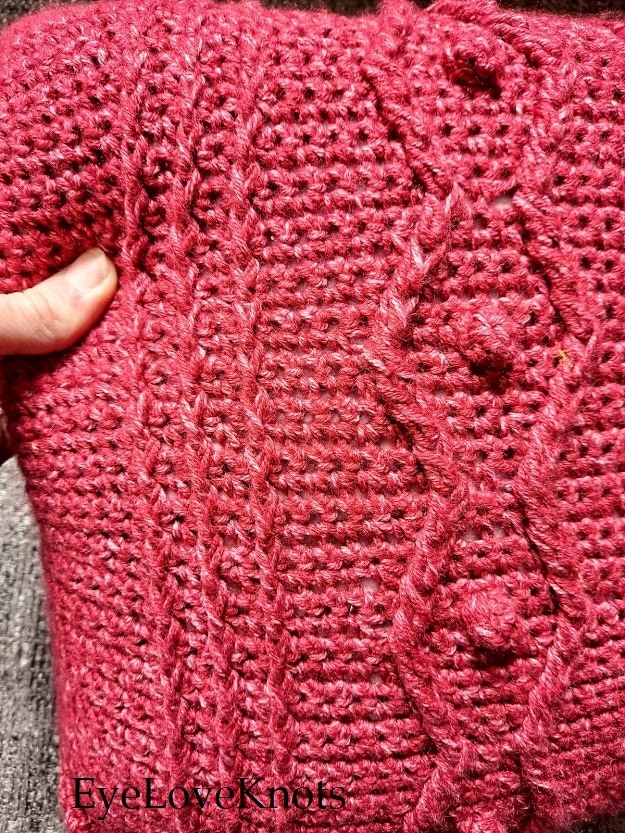 The gauge swatch itself worked just fine, but what I didn't take into account is how a pillow cover is made to stretch! You often make the width/height to be just a little shorter than the actual pillow form, so it fits nice and snug inside. So when I made my swatch, I should have pulled it tight to see how it would look. Especially when I had sized up in my hook choice, which is just going to make the stitches looser than the designer intended. You can see in the above photo that when looking at the pillow straight on, you can see through the stitches to the white pillow form inside.
Now, this is also accentuated by the choice of red! If I had done the same thing but in something like a beige or off-white (which isn't an option in Jeans but you get my point), it wouldn't stand out nearly as much. Red is definitely going to be a contrast against white, which makes it look more dramatic than it needs to be.
When I use this pattern again, I plan to use a yarn that's a thicker worsted. I'm planning something like Vanna's Choice, now that I can find that yarn in stores again and it has some gorgeous new colorways! I will also make sure it works without sizing up my hook if possible.
Basically, I made two choices that seemed very smart at the time and did not consider how they would work together to make a less-than perfect pillow. But it's still pretty cute and will still be displayed prominently on my couch! And if you look from a slight angle, there's no problem at all.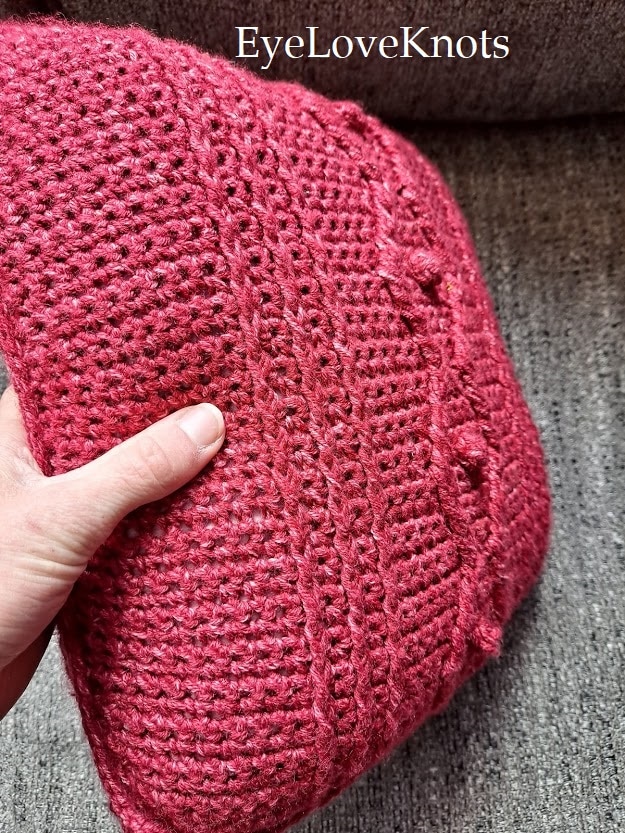 Time Spent:
Roughly 10 hours
Measurements:
Measuring my panels before sewing in the pillow, they were about 13.5″ in both width and height. This is with zero stretching. This is about right for a 14″ pillow form, I would expect up to an inch of stretch depending on the yarn and stitch pattern used.
Gauge:
The listed pattern gauge is 4″ being 14 stitches wide and 16 rows tall.
My result was spot on! I have 14 stitches in that 4″, the only slight variation is that I have 17 rows. Given that this is done in single crochet, one row of variation was not enough to change my decision as that could easily change with light stretching.
As I mentioned in my material notes, it's not really the gauge that caused my issue of seeing the pillow through the stitches. It's the thickness of the yarn itself.
Pattern Notes:
Once you get going in the cable panel, this pattern really is a piece of cake. You need to keep the pattern close by (I would recommend printing this one out) because it's a repeat of about 11 rows done a few times, but after your first time through this section the repeats are a breeze. As long as the cables are lining up, you know you're on the right track!
I really appreciated the use of the front-post cluster stitch to make the angled cables really stand out! The side cables (the three going straight up and down on each side) are normal stitches, but the middle section is a different take on post stitches to make them really lift off the pillow. I could see how they would fade into the background a little, being next to the large popcorn bobbles, if they were normal post stitches.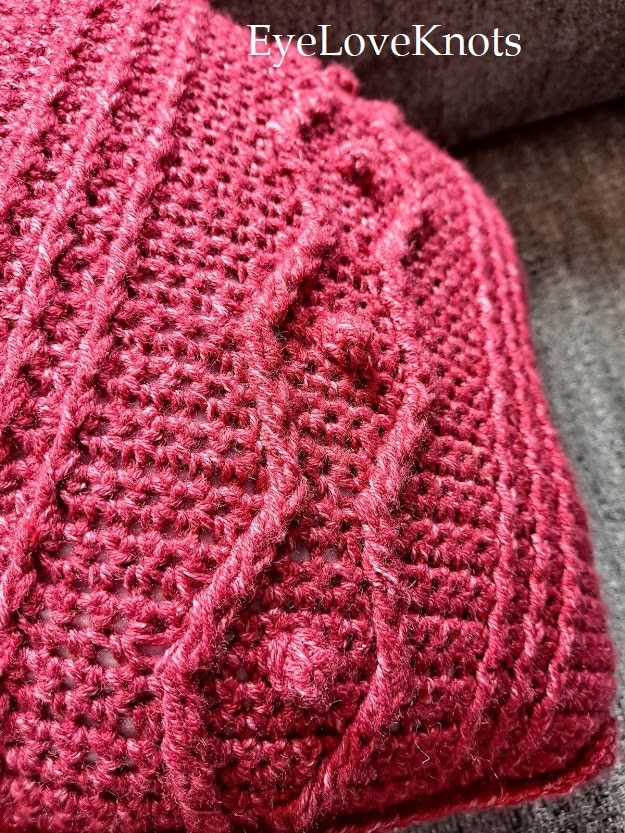 The back is…well, boring. It's just standard single crochet to fit the front panel. I understand this is normal on a handmade pillow, you do a special side that will be displayed and then the other side is basic to save time and effort. I just got quite bored doing the simple back panel of only single crochet. When I make another, I'm going to make both sides the cable pattern so there's no "wrong" side to it. I just chose not to do this for this review so I could review the actual pattern as written.
If you've followed me in any capacity for a little while, you know how much I dislike slip stitches. And what I dislike even more than that is the technique of working reverse stitches around the border of something, even if it gives a gorgeous finishing touch. So you'll be surprised to hear that I actually enjoyed the finishing row of reverse slip stitch to give this pillow an edge! It wasn't so scary after all. And look at how it pops!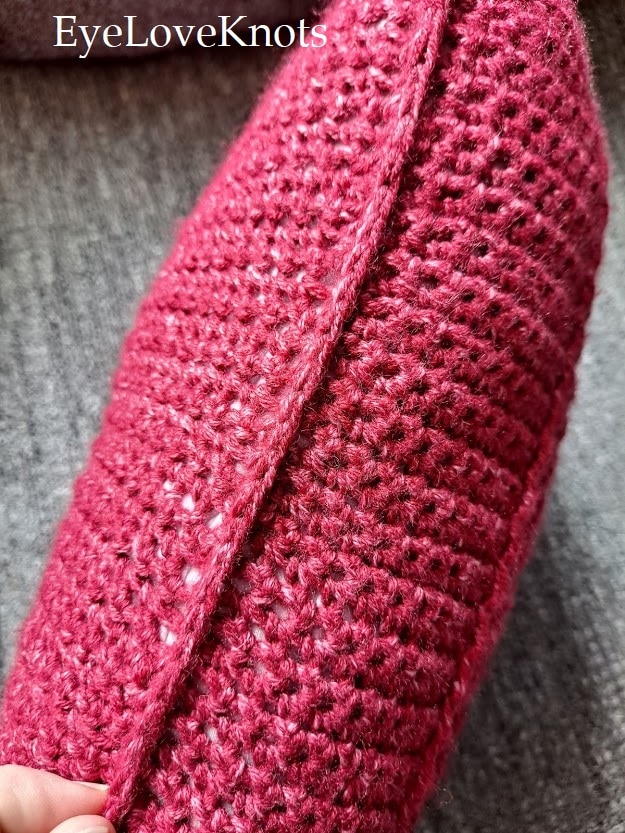 All in all, I truly enjoyed this pattern and even though I chose a less-than perfect yarn, the pattern itself intrigued me enough that I plan to return! The pattern picture shows it in a gorgeous off-white shade that I feel would absolutely shine on my gray couch! If I someday have a coordinated matching living room (we can all dream!), I would totally make a whole set of these pillows in various grays, tans and other neutrals! I currently have a random mix of colors, most of them handmade and nothing alike!
So tell me, do you like your throw pillows to be identical? Or do you have an eclectic mix of colors and patterns?
Don't forget to visit with me on Instagram @astitchshyofnormal for all kinds of awesome crochet makes and inspiration.
Join one of our awesome Facebook groups to share your creations, and see what others are up to!
– EyeLoveKnots Crochet & DIY Community
– DIY Home On Rockwood Lane
– Alexandra Lane Lifestyle
Linked Up To…
Farmhouse Friday Link Party #203 – County Road 407
Ginx Woolly Linx Party May – Ginx Craft
Linky Ladies Party #210 – The Purple Poncho
The Loop Scoop #13 – Moogly Blog
All About Home #90 – Common Ground
Home Matters Linky Party #330 – Modern on Monticello
Craft Schooling Sunday – Creative Jewish Mom
Happiness is Homemade 373 – Decor Craft Design
Handmade Monday #226 – Sum of their Stories
The Really Crafty Link Party #265 – Keeping it Real
Craftastic Monday Link Party – Sew Can Do
Creative Crafts Linky Party #40 – Creatively Beth
Creatively Crafty Link Party #274 – Life Beyond the Kitchen
Artsy-Fartsy Party #343 – Artsy-Fartsy Mama
You're the Star Blog Hop – Decor Craft Design
Unlimited Link Party 25 – Grammy's Grid
Hearth & Soul Link Party – April, the 21st Century Housewife
Fabulous Party 370 – Lou Lou Girls
Party in Your PJs #357 – The Apple Street Cottage
{Wow Me} Wednesday #503 – Ginger Snap Crafts
Your Whims Wednesday #510 – My Girlish Whims
The Wednesday Link Party 397 – Oombawka Design
Thursday Favorite Things #488 – An Artful Mom
Encouraging Hearts & Home Blog Hop – Scratch Made Food
Traffic Jam Weekend Linky Party #280 – My Bijou Life
Create Bake Grow & Gather Party #467 – Shabby Art Boutique
Funtastic Friday Link Party #331 – Simply Beautiful by Angela
A Morning Cup of Joe Linky Party – The Cottage Market
Snickerdoodle Create Bake Make Link Party 384 – EyeLoveKnots