This is a crochet pattern review of the Ivy Stitch Plant Hanger pattern by Sarah J Green, published through Leisure Arts. Review done by A Stitch Shy of Normal for EyeLoveKnots.
This post contains affiliate links for Leisure Arts, Amazon and WeCrochet. If you make a purchase by clicking on them, I make a small commission at no extra cost to you. Thanks for your support!
Find the crochet pattern review below, or purchase the pattern on Leisure Arts by clicking here.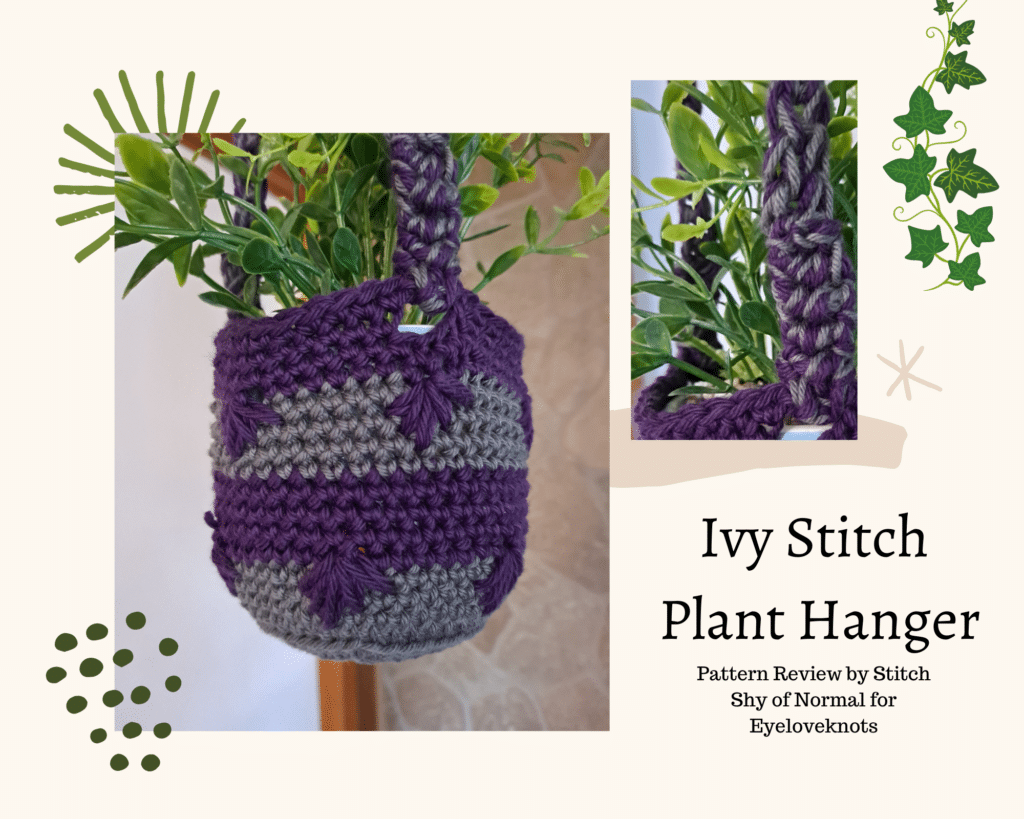 Visit with me on Instagram @astitchshyofnormal for all kinds of awesome crochet makes and inspiration.
I've been really enjoying my garden this summer, but we're already getting to the point where we need to start thinking ahead to the cooler weather. It's not quite here yet, we still have plenty of hot summer days ahead, but to truly be ready for the fall we need to start planning!
Our current rental home has a small entryway area, and the original owner apparently had quite a green thumb so it has hooks in a few places for hanging plants. I had not yet put any up (furniture came first, naturally) but I've certainly wanted to. So now that we're getting to the end of summer, I'm hoping to get a sweet little decorated entry area with several hanging plants! I hope it will brighten up the indoors the same way my garden has brightened up the deck outside.
This pattern was the perfect way to start out! For the meantime, and for these pictures, I'm using a fake plant in it. I hoped to get to a greenhouse this previous weekend but didn't end up getting the chance. But as soon as I can, I'll be picking out the perfect pot and the cutest possible plant for this gorgeous indoor display!
Materials I Used to Make my Plant Hanger:
Material Notes:
This yarn was a wonderful choice for this pattern! My gauge didn't come out totally perfect but for something like a plant hanger, all that matters is that it fits the pot I wanted to use. I just had the pot in question sitting next to me as I worked and sized it up whenever I needed to check! I think pretty much any worsted weight cotton would work wonderfully in this pattern. I would definitely keep it to something in the cotton or natural family, as an acrylic yarn getting damp constantly wouldn't hold up as well. You can see below that it's a solid base, and you wouldn't want this to be used for a plant that needs to be kept super wet. But a plant that requires light watering, and a yarn that can handle getting wet, should be a good combo. Something that at least has a high cotton percentage works best.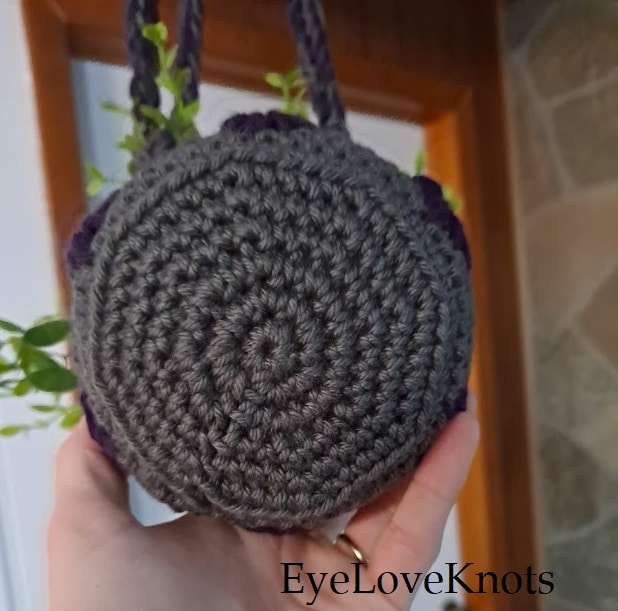 The look is pretty cute, and I liked the two solid colors in my version. The pattern pictures have a solid white/off white, and then the other yarn is a green and white twisted together, which gives even more of an ombre look. I feel like that would be a super cute look too! Mine with two solid colors gives a bit more of a striking difference in the stitch pattern, and it's fun that you can choose between the different looks you want this one to have!
Would I use it again? Probably, although I don't often visit Hobby Lobby anymore. I only had these two colors in my stash, which is why I chose this color combination. It did end up being an adorable mix, though!
Time Spent:
This was a quick little project, very worth the time to whip up something cute! I believe it was about 2-3 hours, and that's including the cord and assembling everything together. The instructions make it look like there's more to this pattern but it's very fast and simple.
Measurements:
This pattern is intended to fit a 6″ pot, and I'm not sure what that measurement represents. The pattern doesn't list the full dimensions but mentions that the gauge swatch is working the bottom through round 6, and that this should measure 3.5″ in diameter. The 6″ dimension might represent the circumference, possibly?
My hanger, empty and unstretched, comes out to just under 3.5″ across, which means I'm just about right. It stretches just a little bit when you put the pot inside. Mine is also just about 3 1/3″ tall, also empty with no stretching. I can stretch this out to 4 inches quite easily.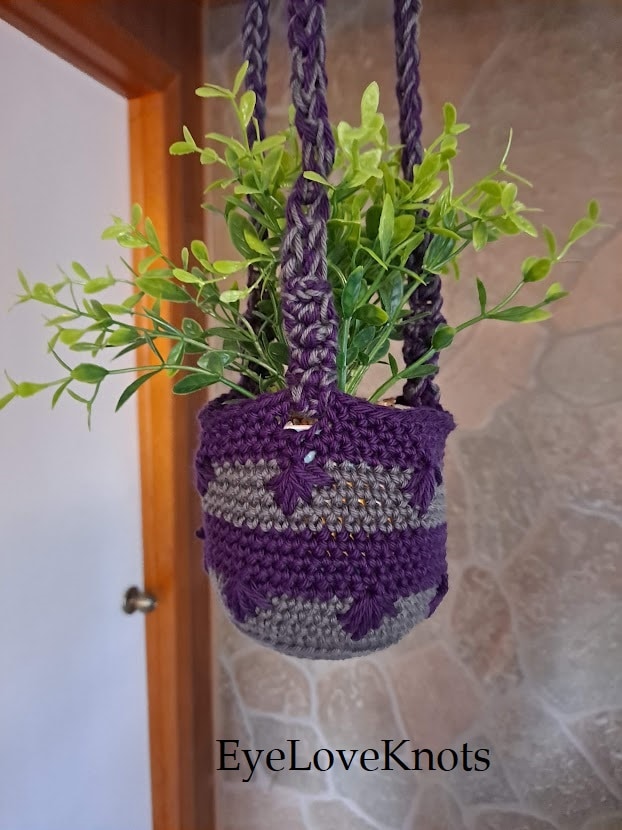 Pattern Notes:
This was a very simple and quick pattern, so there isn't too much to say. The directions are pretty straight forward in terms of the structure. The most difficult part is also the most striking part of the stitch texture. The "ivy stitch" is where this pattern gets its name, and it's a really cool look! This technique involves working what are essentially spike stitches into a sort of semi-circle shape, working into different previous rows to get the desired look.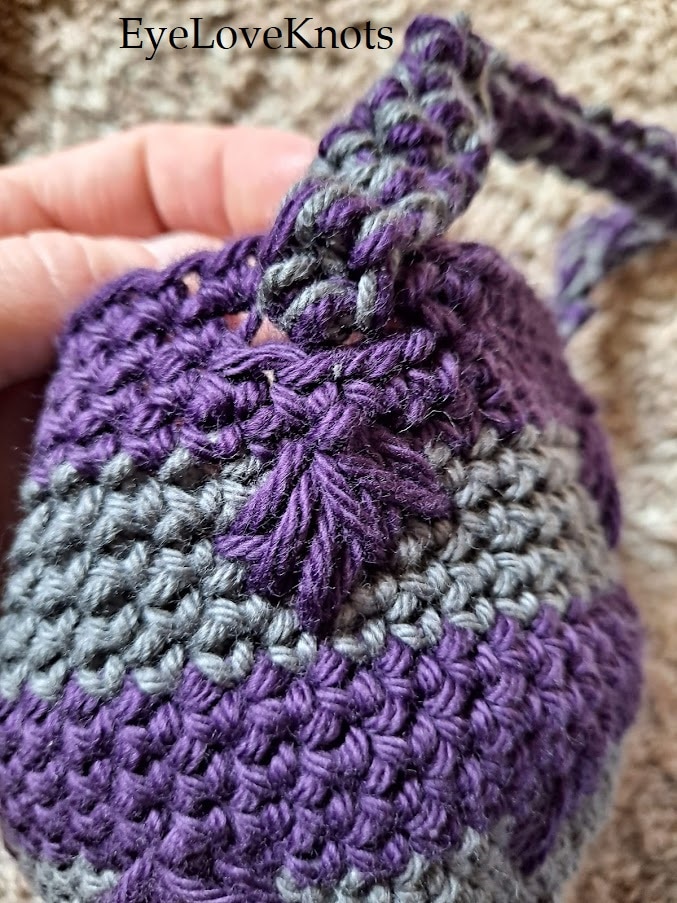 I have never used this technique before, and I quite enjoyed it! Using this in a color-block method to really highlight the texture was a cool touch. I initially struggled with it a little bit until I focused more on the intended look rather than working into the exact stitches.
I also appreciated the technique on the cord. It's comprised of simple foundation single crochet stitches, making it very easy to do and also surprisingly sturdy! You also hold one strand of each color, meaning the strands all have a slightly different finished look as the two colors take turns being the more prominent one.
The technique of joining them all together was nice and easy to understand, and worked great. I actually ended up not having any of my silver yarn left over, so I worked up the very last section (the strap attaching the metal ring) in purple only. To make sure it still fits nicely, I also did 6 rows with this section instead of 4 since it will be smaller. I feel like this hanger is nice and strong and will hold up for years, and it looks adorable in my entryway!
Do you like to keep a little mini-greenhouse in your home full of plants? I never have yet, but I've always wanted to, and I feel like this pattern will unlock a green thumb in myself as I start finding plants I want to hang all over my home.
Don't forget to visit with me on Instagram @astitchshyofnormal for all kinds of awesome crochet makes and inspiration.
Join one of our awesome Facebook groups to share your creations, and see what others are up to!
– EyeLoveKnots Crochet & DIY Community
– DIY Home On Rockwood Lane
– Alexandra Lane Lifestyle
Linked Up To…
Beautifully Made Link Party 177 – Across the Blvd
All About Home #106 – Common Ground
Tuesday Turn About #114 – My Wee Abode
Home Matters Linky Party #347 – Modern on Monticello
Farmhouse Friday #221 – County Road 407
Ginx Woolly Linx Party August – Ginx Craft
Linky Ladies Party #215 – The Purple Poncho
The Loop Scoop #20 – Moogly Blog
Heart and Soul Link Party – April, the 21st Century Housewife
Handmade Monday #242 – Sum of their Stories
Craftastic Monday Link Party – Sew Can Do
You're the Star Blog Hop – Decor Craft Design
Happiness is Homemade 389 – Decor Craft Design
Craft Schooling Sunday – Creative Jewish Mom
Unlimited Link Party 32 – Grammy's Grid
603rd Inspire Me Tuesday – A Stroll Thru Life
Fabulous Party 386 – Lou Lou Girls
Party in Your PJs #373 – The Apple Street Cottage
{Wow Me} Wednesday #519 – Ginger Snap Crafts
The Wednesday Link Party 413 – Oombawka Design Crochet
Creative Crafts Linky Party #56 – Creatively Beth
Wonderful Wednesday – Oh My Heartsie Girl
Thursday Favorite Things Link Party #505 – An Artful Mom
Grace at Home No. 436 – Imparting Grace
Creatively Crafty Link Party #291 – Life Beyond the Kitchen
Team Creative Crafts Link Party #57 – Artsy-Fartsy Mama
Encouraging Hearts & Home Blog Hop – Scratch Made Food
Traffic Jam Weekend Link Party #293 – My Bijou Life
Friday Favorites – Busy Being Jennifer
Create, Bake, Grow & Gather Party #485 – Shabby Art Boutique
Funtastic Friday Link Party #349 – Simply Beautiful by Angela
Saturday Sparks Link Party 439 – Pieced Pastimes
A Morning Cup of Joe – The Cottage Market