This is a crochet pattern review of the Carrot Treat Bag designed by Kathy's Kozies. Review done by Candace of T&C Crafters for EyeLoveKnots.
This post contains affiliate links for Etsy. If you make a purchase by clicking on them, I make a small commission at no extra cost to you. Thanks for your support!
Find the crochet pattern review below, or click here to find the pattern available for purchase on Etsy!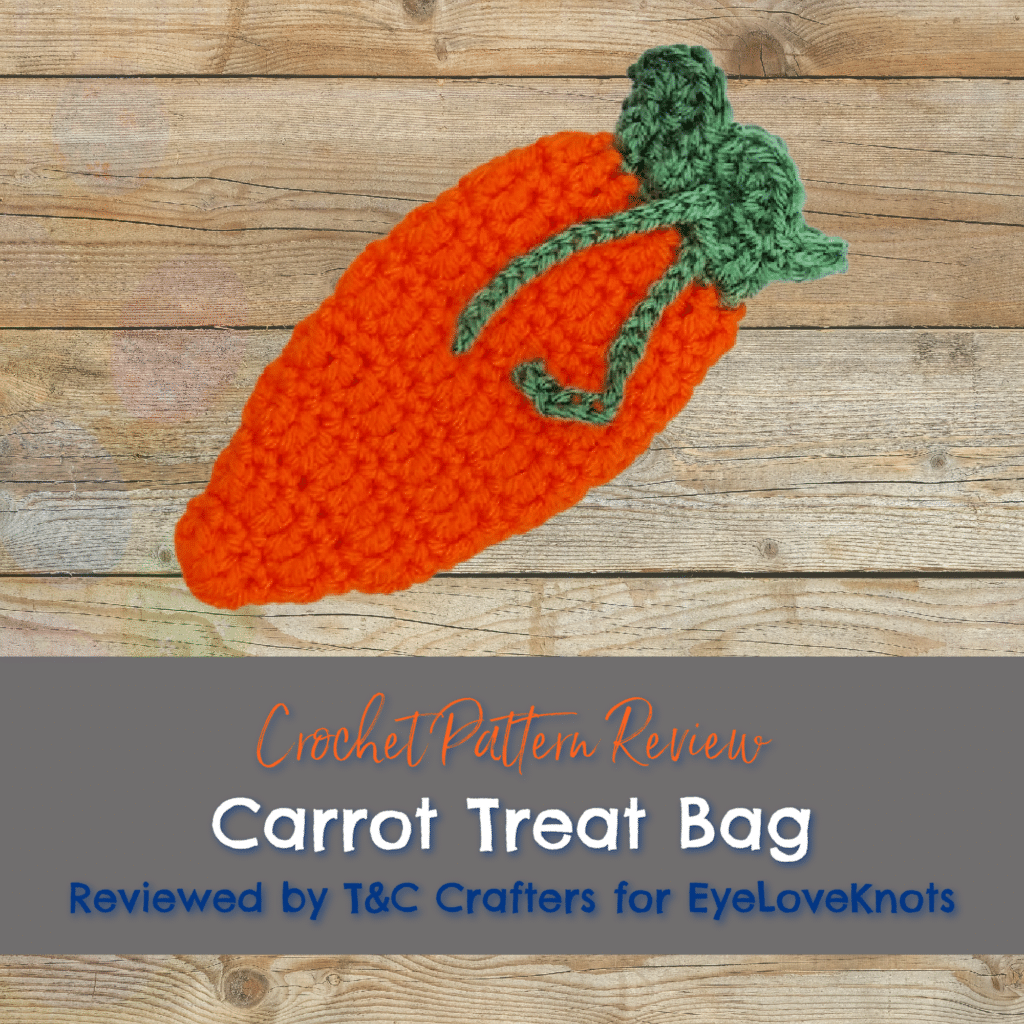 Visit with me on Facebook and Instagram for all kinds of awesome crochet makes and inspiration.
The spring time is a busy time for my family with a lot of birthdays to celebrate, Easter quickly approaching, and a spring market coming up soon. I wanted to make some special gifts for the kids in my family for Easter, but I knew I wouldn't have a lot of time to work on them. Thankfully, Kathy's Kozies had the perfect Easter pattern!
I started following Kathy's Kozies when I saw her adorable laser printed tags for crochet makes. Since then, I've been following along to see the adorable patterns she has published, as well as the laser cut name plates for photos. I have one of her name plates that I use for my photos on social media, and I absolutely love it! It makes my photos look so professional.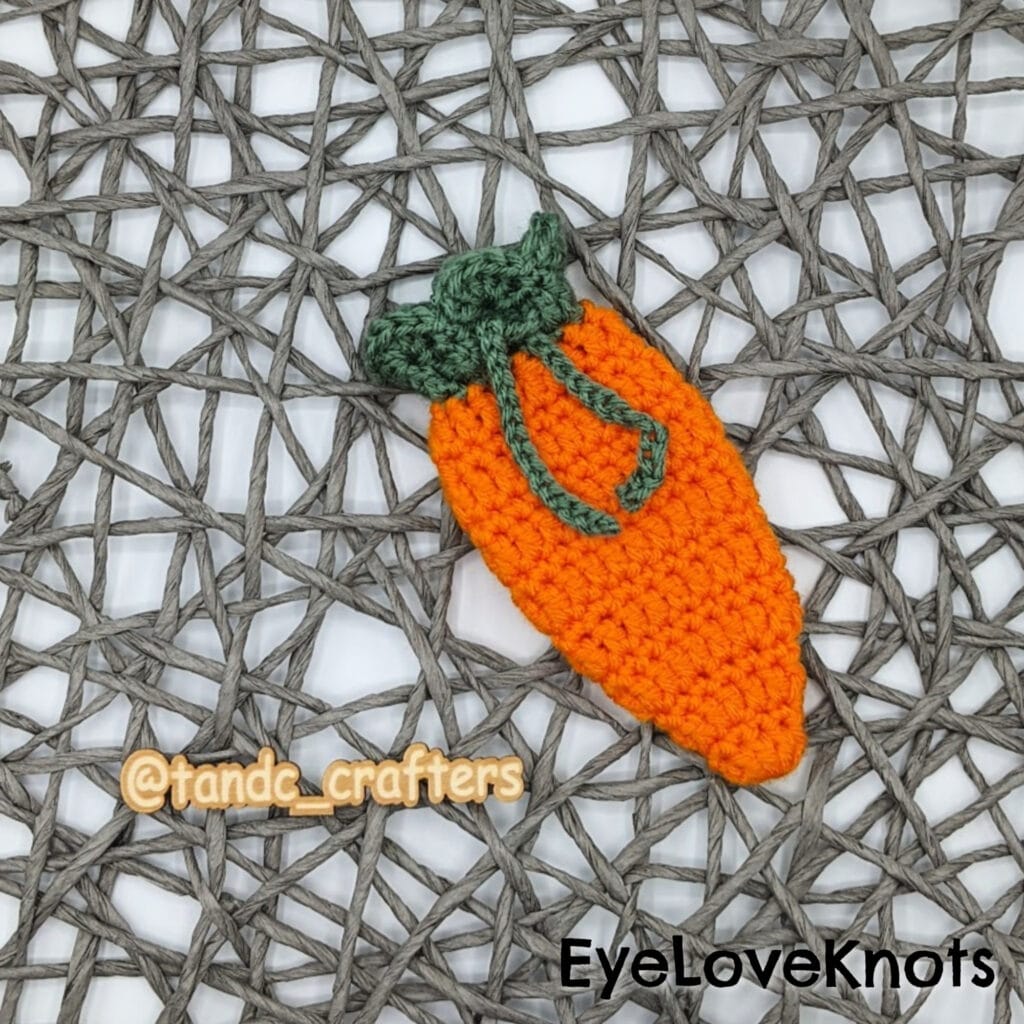 Not only are the patterns by Kathy's Kozies adorable, but they are also typically quick projects. This makes them perfect for crocheters who make to sell or who don't have a lot of extra time in their schedule. The Carrot Treat Bag is an adorable pattern that is no exception! It is quick and easy to make, even for a beginner crocheter. It turns out to be the perfect size to fill with chocolates or other goodies, and has an easy drawstring that makes it an awesome gift for kids. I definitely recommend trying out this easy Easter make!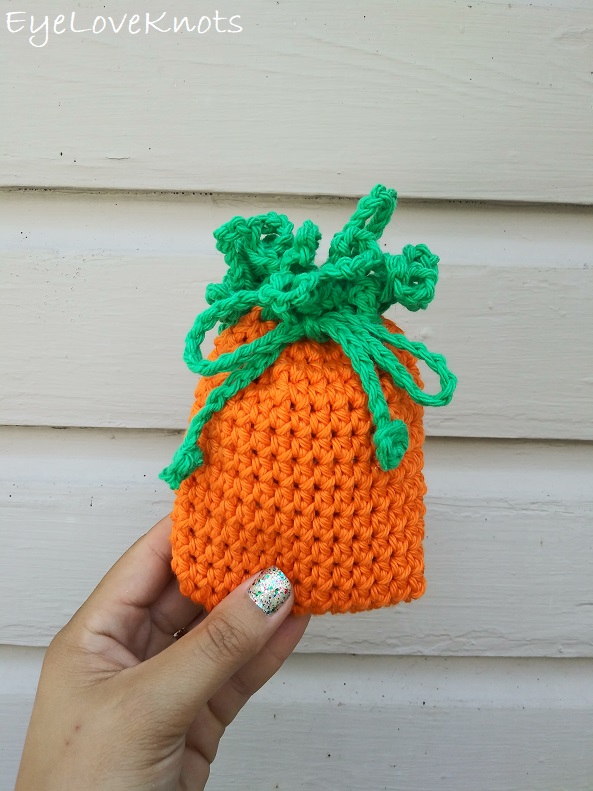 You may also like this Carrot Soap Cozy (or Small Gift Bag) from EyeLoveKnots
Materials I Used to Make the Carrot Treat Bag:
Material Notes:
This pattern requires only a small amount of yarn, so it is a great stash-buster! You can use any type of worsted weight yarn. I used acrylic yarn since that is what I had on hand, but you could use any type of fiber. I plan to try this pattern in cotton yarn as well.
You don't need hardly any materials on hand to complete this project. Not only does it require a small amount of yarn, but there is no stuffing or sewing involved. You will only need scissors and a needle to weave in your ends!
The pattern recommends using clear, cone-shaped bags as an insert for the treat bag. I chose to only used pre-wrapped chocolates when stuffing my bags, so I did not purchase these. If you were going to be using unwrapped candy like jelly beans, you may want to purchase and use these.
Time Spent:
The Crochet Carrot Treat Bag is an extremely quick make! I was able to make my first bag in under 45 minutes. After I was familiar with the pattern, I made a second one in about 30 minutes.
Measurements:
The pattern lists the finished piece as measuring about 7 inches long. My finished piece was closer to 6.5 inches long. The opening of the bag is 2 inches in diameter at the bottom of the carrot top. The widest part of the carrot bottom is 2.75 inches wide.
Gauge:
Gauge is not important for this project. The author provides the finished measurements of just over 7 inches with an H hook and worsted weight yarn. You can adjust your hook size accordingly if you are not happy with your finished size.
Pattern Notes:
This pattern is extremely beginner friendly. It uses a mixture of single crochets and double crochets with very clearly written instructions. It is worked in the round beginning with a magic ring. The author provides an alternative option for those who may not be comfortable with a magic ring or who do not prefer that method.
The directions are very clearly written and really easy to follow. There is a detailed explanation of all the stitches involved, including common stitches like single crochet decreases and double crochet decreases. There are also pictures provided for multiple different stages in the pattern that make it easy to check if your piece is on track.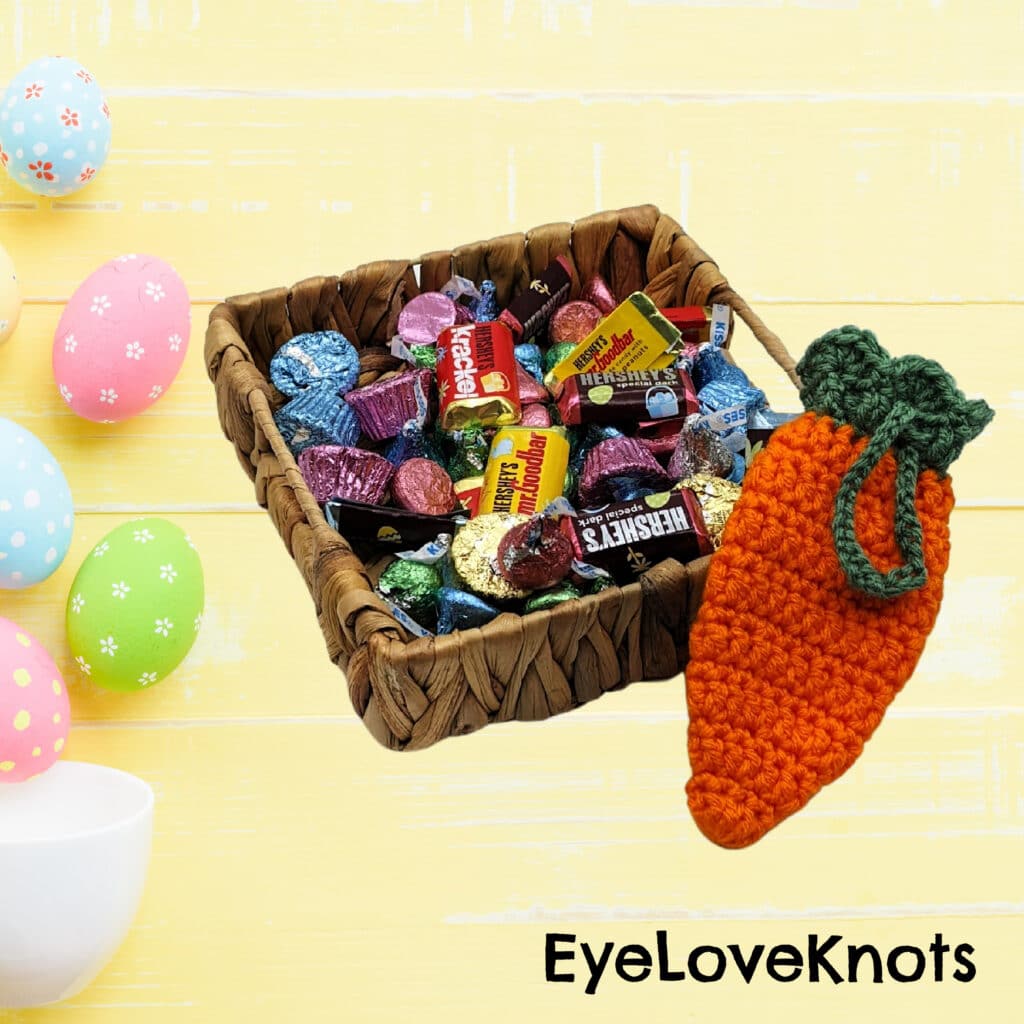 When making the carrot treat bag, you will begin with orange yarn to create the base of the carrot. The tip of the carrot is relatively tight together. I would suggest that you weave in your ends within the first two rows so that it isn't too difficult. When working with a magic circle, it is important that you secure the end of the circle so that it doesn't loosen over time. This is especially important for this type of bag since you will be stuffing it, which will add pressure to that part of the finished piece.
The cone shape of the carrot bottom works up really quickly and easily. It is spacious enough for plenty of treats. The stitches are tight enough together that you don't have to worry about pieces coming out of the bag between the stitches. The pattern also uses alternating rows of single crochets and double crochets, which makes for a really beautiful texture on the finished piece.
You only need a really small amount of green yarn to create the top of the carrot treat bag. The directions are really clear as to when to change colors. They also show how to attach the yarn and start with a new color to prevent a visible color change. A shell stitch pattern is used to create the ruffles in the carrot top, which works up really quickly.
The finishing touch to this treat bag is definitely the draw string! The simple drawstring weaves right into the finished piece without being noticeable. It provides the perfect cinch at the top of the bag to make the finished piece look like a real carrot. Plus, you could add knots or beads at the end of your drawstring for an added touch.
If you are looking for a quick make to gift or sell this Easter, this pattern is perfect for you! Kathy's Kozies also has a handful of adorable coordinating patterns like the Stuffed Egg Bunny and the Stuffed Baby Chick. All three of these patterns, plus a bonus pattern are included in her bundle option on Etsy. These would make for a perfect addition to an Easter basket!
If you decide to make one of these adorable carrot treat bags, be sure to tag @kathyskozies, @eyeloveknots, and @tandc_crafters on social media so we can see your finished pieces!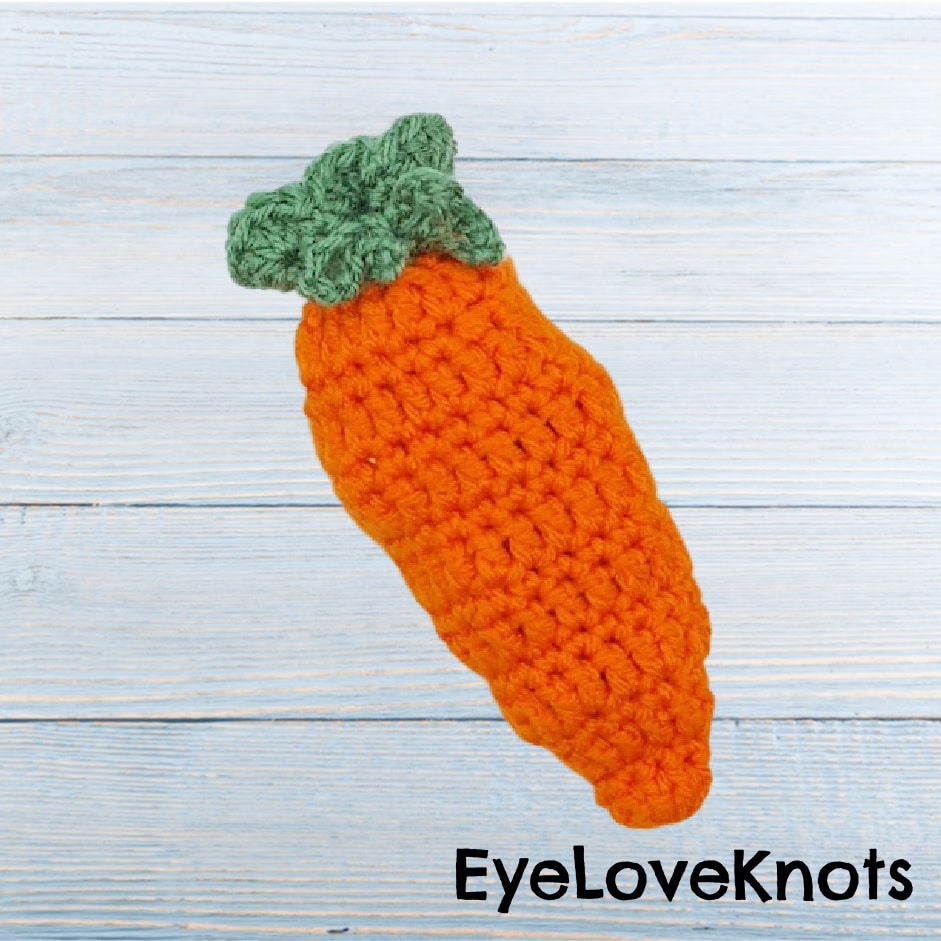 Don't forget to visit with me on Instagram for all kinds of awesome crochet makes and inspiration.
Join one of our awesome Facebook groups to share your creations, and see what others are up to!
– EyeLoveKnots Crochet & DIY Community
– DIY Home On Rockwood Lane
– Alexandra Lane Lifestyle
Linked Up To…