This is a crochet pattern review of the Ulla Top pattern designed by Teresa Chorzepa for a collaboration between Leisure Arts and Lion Brand Yarn. Review done by A Stitch Shy of Normal for EyeLoveKnots.
This post contains affiliate links for Leisure Arts and WeCrochet. If you make a purchase by clicking on them, I make a small commission at no extra cost to you. Thanks for your support!
Find the crochet pattern review below, or click here to purchase the e-book containing this pattern from Leisure Arts, or click here to purchase the crochet pattern kit with yarn from Lion Brand.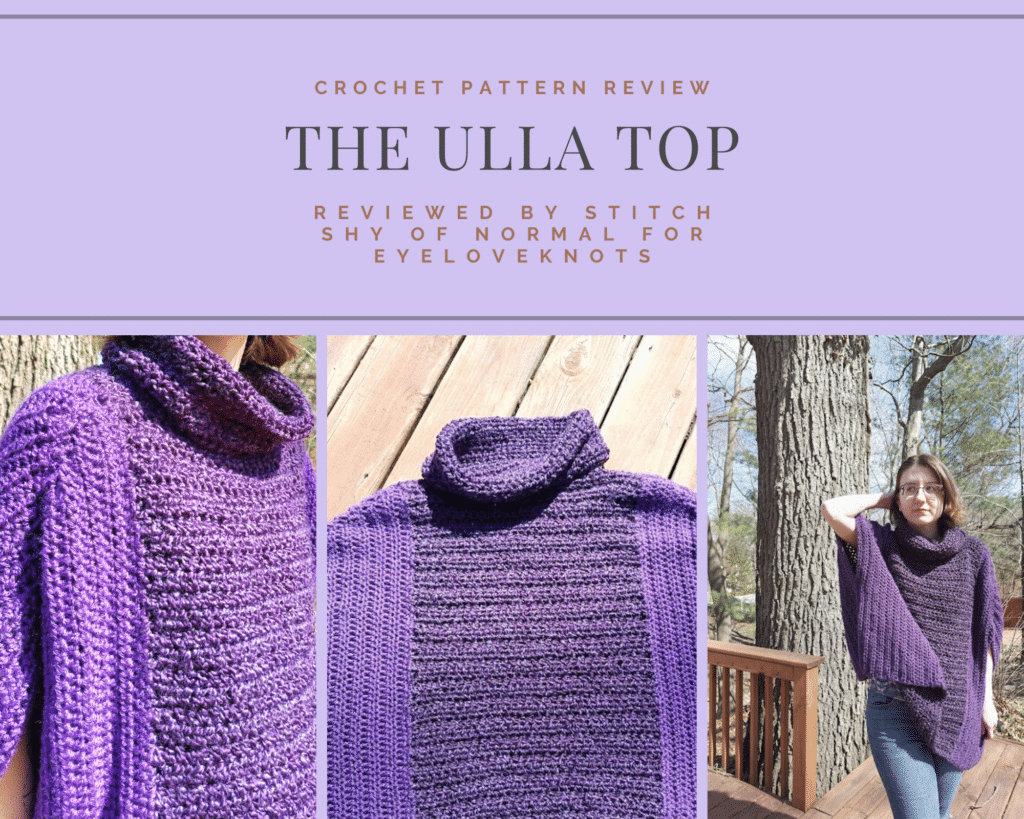 Visit with me on Instagram @astitchshyofnormal for all kinds of awesome crochet makes and inspiration!
I just adore when designers use fiber arts to emulate high fashion. It's just so fun to see gorgeous shawls and tops that you might expect to glimpse on the runway, but you can make them using affordable yarn and your own skills! This e-book "Northern Lights Crochet" pattern collaboration between Leisure Arts and Lion Brand Yarn is full of examples like this. It includes a luxe-looking faux fur cowl, delicately elegant shawls and scarves, as well as a couple tops that are absolutely breathtaking. And they're all inspired by the natural beauty of Iceland! I had so much fun browsing this book to pick which pattern I wanted to make.
But once I saw the Ulla Top, there was no longer a question in my mind. It was just beautiful, and looked relatively simple to stitch up as well. The example pic was in two shades of gray, one of my favorite neutrals when I need to take a break from color. And to top it all off (see what I did there?), it looked like a piece that could be gorgeous with nice jeans for a date night but also super comfy with leggings for a day at home. Anything that versatile is worth every stitch.
After making it, now I know I was right. This top can be dressed up or down, and would be perfect for any occasion. It's warm and comfy and more lightweight than it might look, and most of all? It made me use Homespun Yarn, my arch-nemesis…and I actually enjoyed it. I have loathed this yarn for years and only used it begrudgingly. I think I've discussed it in a previous review when I needed to use it. But now? I didn't mind this at all and I might actually buy the evil stuff again to try another one of these tops. This pattern was a joy from start to finish and I recommend it for yourself or as a nice gift for a friend or sister/brother (I feel like it could totally be a good androgynous piece, in my fashion-amateur opinion!).
What Materials Do I Need to Make This Top?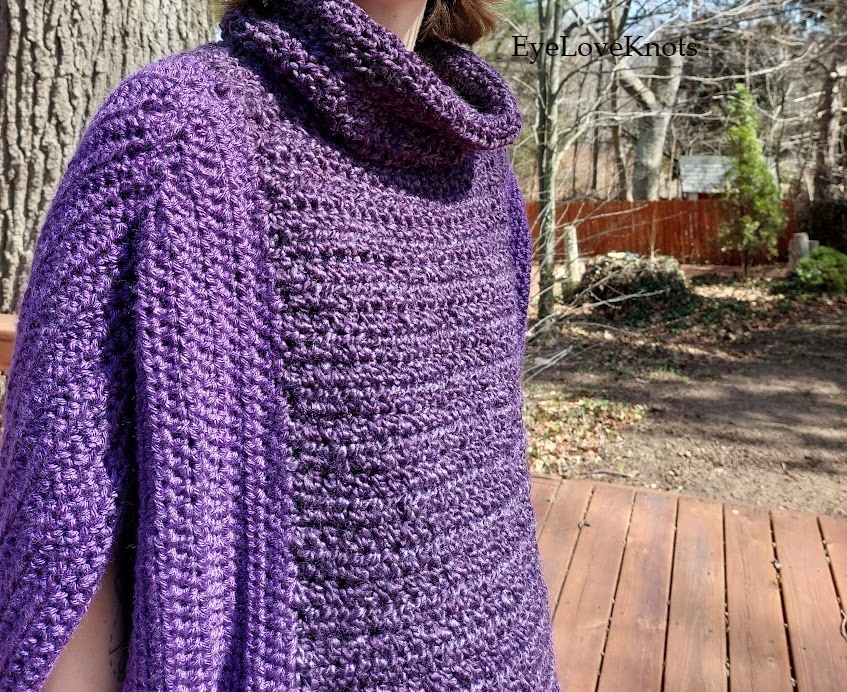 Material Notes:
I used the exact yarns suggested for this one, because the pattern was made for Lion Brand Yarn so I figured there was a good reason for using the yarns the designer chose. It actually worked really well, and I see why they picked the different textures. The Homespun gives a nice heavy warmth to the main body panels, and then the sides being worked in Heartland makes it not feel too thick and adds some sleek gorgeousness.
The potential color combinations between these two yarns alone have a lot of potential. You could do what the designer did (and I followed suit), and combine two shades of the same color for a nice contrast. I chose to do this because I thought it would look really cool, and I was totally right. But you could combine anything for a fun pairing. Red and green for the holidays, or a neutral middle with a pop of color on the "sleeves". You could also find very similar colors for both so it looks more like one continuous piece. There's a world of possibility!
Would I use these two yarns again? Surprisingly, yes. I would willingly buy Homespun, the one yarn I would have gladly erased from existence up until I made this pattern, just to make another one of these. I would probably pick a nice deep black or charcoal gray for the main body next time, and then a fun jewel tone for the outer sections. Heartland has a gorgeous blue that would be a lot of fun! Buying these six skeins can be pricey, but if you wait for a sale or strategically use your Joann coupons, you can make this on a budget. You could also definitely make it in other worsted yarns if you're trying to save cash. I would still recommend picking two different textures for the contrast, but that's just my opinion! I'm sure this would be gorgeous in one single yarn too.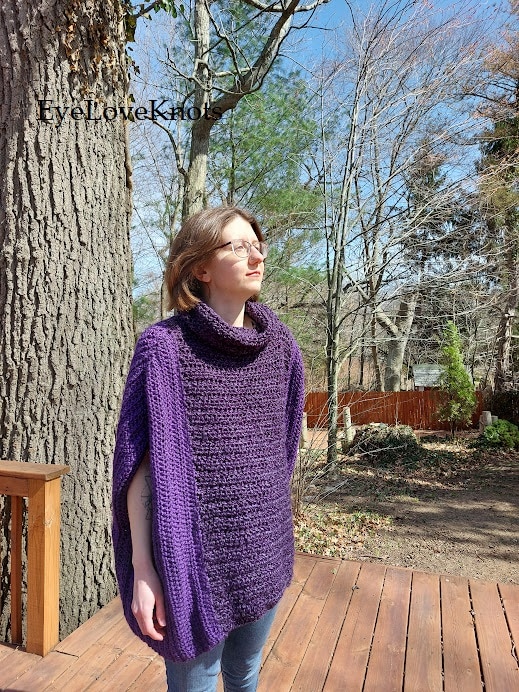 How Long Does it Take to Crochet a Top?
My top took me just about 12-13 hours by my closest estimate. It was a great project to just pick up and work on while watching television, since most of it is just straight rows. Even when you're working the outer sections it's a simple decrease pattern.
Gauge:
The pattern gives a thorough gauge breakdown with both yarns, and says the main color (Homespun) should have 12 HDC in about 4.75″. With the other yarn, Heartland, 12 HDC should measure 4.5″ wide and 10 rows should be 4″ tall.
I did not measure gauge, because I used the listed yarns and didn't care too much if my top was exactly the written size. But for me, my main panels have 12 HDC measuring just under 5 inches wide (pretty close!) and the outer edges are 8 rows/4 inches, and 12 HDC/4.5″ wide.
That probably looks confusing, so I'll break it down. My Homespun section has slightly wider stitches, with the same number being a fraction of an inch wider, so my panel is a little wider. On the outer sleeve panels, my rows were taller and I only have eight instead of ten in the listed height, so my sleeves go further down my arms. That's the only differences I had in gauge and neither one makes a huge difference in the finished item.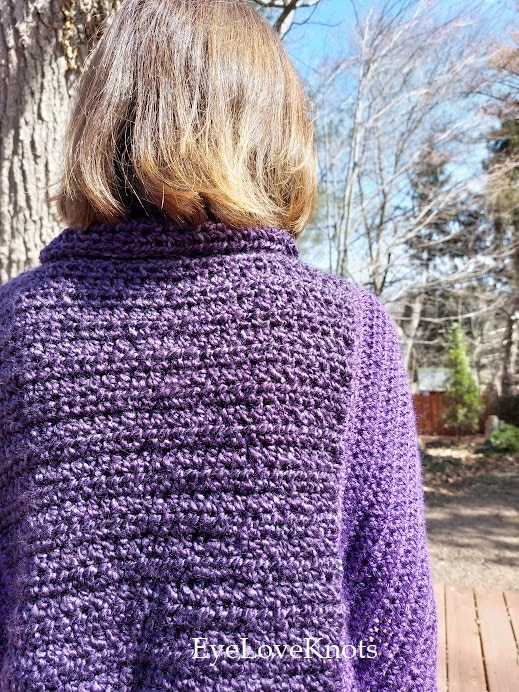 Measurements:
I'm not sure how they measured their panels, honestly. The listed measurement says 66″ wide for the S-L size (which is the one I made), and I'm guessing that must be with the two panels next to each other because there's no way their sample piece is more than 5 feet wide on the model. It goes to her elbows, and if it was more than 60 inches wide it would be basically her arm span. So I think it's supposed to be just about 33″ across when assembled. Mine measures about 39″, which makes sense when my middle panel is a little wider and my side panels were slightly taller in gauge (since those are worked sideways). For height, the top is supposed to be about 26″ tall without the cowl neck, and mine is 25″.
Learning that I probably added a couple inches of width to each section makes a lot of sense seeing that my finished top is about 6″ too wide. But I'm not upset about it, because it's big and comfy and beautiful! It seems like there can be some size variation without much issue. The pattern also does include a plus size version as well, measuring about ten inches wider and an inch longer.
Pattern Notes:
This pattern is so simple and yet very rewarding. You get into a rhythm working up the rows, and then before you know it you're finished! It takes a little while just because this piece is fairly large, but each section only takes a couple hours of work. There's just a lot of smaller sections involved. But the stitches are simple, and the directions are easy to follow. I would say this pattern is approachable for a confident beginner, and would make a good first garment if you're comfortable with decreasing stitches!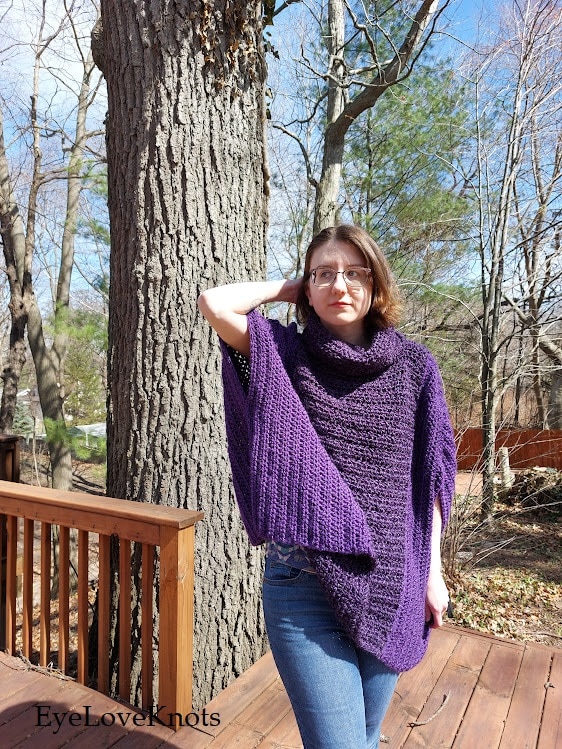 The most challenging part for me was getting the first row of the single crochet stitches to line up correctly across the side of the body panels. It's not anything particularly difficult, it's just hard to get seventy stitches distributed evenly across a large side! But I remembered a trick I like to use that helped me out a lot. You can take a few stitch markers and roughly mark the halfway point as well as the quarters, and then divide the total stitch count you want by this number as well. It's simpler to fix smaller numbers, and fitting only 17-18 stitches per quarter was easier than spreading out seventy across the larger width.
This top has pretty simple stitching, most of it is just plain half double crochet with just a few rows of single crochet mixed in. The most complicated stitch you do is a half-double crochet decrease, which can be challenging for some but isn't all that scary once you get used to it. I should clarify that I do use a modified version of this stitch that I learned from the Moogly website, because it gives a flatter look and blends in better with the plain half double crochet stitches. This is not how the pattern explains this stitch but it's the way I've done it for years since I first learned it.
My best tip regarding this pattern is to count every single row! I actually wrote out the decrease rows, keeping track of what the finished stitch count would be for each one and if I was decreasing at the beginning or end of the row (like "even-dec at end, odd-dec at beginning"). This combo really helped me keep track and I only had to adjust my stitch count a few times.
This project has very little in terms of assembly or sewing. After the front and back panels are complete, you sew the shoulders together as well as the sides, then crochet the neck directly on to the top opening. The instructions say for some reason to sew the shoulders, then add the cowl neck, and then seam up the sides, but I did both sewing steps before finishing with the cowl neck. It didn't affect anything, of course, just wanted to clarify that.
I can picture so many fun ways to style this piece. I chose right in the middle for these pictures, a casual outfit that I would wear with this to work or the grocery store. But I can easily see this being perfect with leggings for a casual look hanging out at home…or dressed up with some nice pants and boots for a date night! It's warm enough to be a comfy outer layer, but not too stifling that you wouldn't be able to keep it on once you're inside and out of the wind.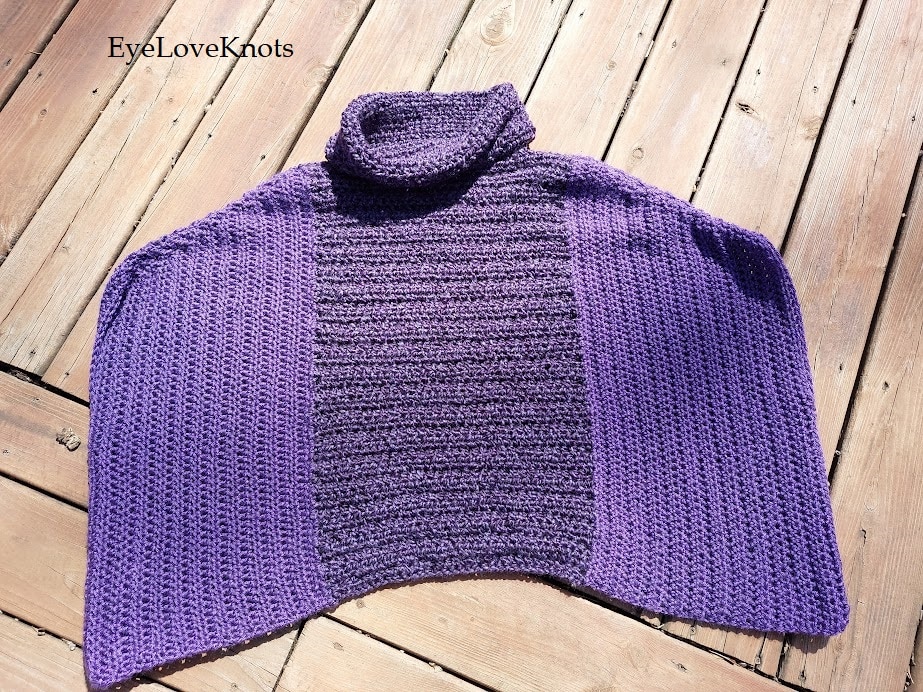 Although this pattern can be downloaded individually or purchased as part of a kit through Lion Brand, I'm happy that I bought the whole pattern booklet from Leisure Arts. The rest of this collection is just as gorgeous, and several of them are on my list for the next pattern to start working up. I will never be able to decide and I'll probably end up starting a couple of them in the next few weeks. I'm thinking the lacy Viveca Top will have to come next…but I can't say no to the Dalla Afghan either! Each pattern has a suggested Lion Brand yarn listed as well as the colorways used in the samples, making it easy to pick out a yarn if you don't want to come up with it yourself! And there's no yardage calculations if you make the given sizes, because the patterns list how many skeins or balls to buy. Plus the book has a good mix of smaller accessory patterns all the way up to cardigans and a blanket, so you can get your quick fix or start a longer project. Or, if you're like me, one of each!
Don't forget to visit with me on Instagram @astitchshyofnormal for all kinds of awesome crochet makes and inspiration.
Join one of our awesome Facebook groups to share your creations, and see what others are up to!
– EyeLoveKnots Crochet & DIY Community
– DIY Home On Rockwood Lane
– Alexandra Lane Lifestyle
Linked Up To…
Inspirations Link Party 2 – Pieced Pastimes
Confident Twosday Linkup – I do deClaire
Turning Heads Tuesday – Elegantly Dressed and Stylish
Style with a Smile – Style Splash
May Stylish Monday – Shelbee on the Edge
Spread the Kindness Link Up #274 – Shelbee on the Edge
Wow on Wednesday Link Up – Is This Mutton
Style on the Daily – Straight a Style
Thursday Fashion Files – Doused in Pink
Chic and Stylish Link Up – Mummabstylish
Remarkable Rags Link Up #5 – My Bijou Life
Neverending Style Link Up – The Grey Brunette
Fancy Friday Linkup – Nancy's Fashion Style
Style Link Up – Lizzie in Lace
Link Up on the Edge #295 – Shelbee on the Edge
Weekday Wear – Away from the Blue
Handmade Monday #277 – Sum of their Stories
The Really Crafty Link Party #315 – Keeping it Real
Link-up Potpourri #43 – My Bijou Life
Craftastic Monday Link Party – Sew Can Do
Happiness is Homemade Link Party #426 – Decor Craft Design
You're the Star Blog Hop – Decor Craft Design
The Happy Now Blog Link- Up #320 – JENerally Informed
Linky Ladies Party #224 – The Purple Poncho
637th Inspire Me Tuesday – A Stroll Thru Life
Fabulous Party 423 – Lou Lou Girls
Talent Sharing Tuesday Link Up – Scribbling Boomer
The Loop Scoop #37 – Moogly Blog
The Wednesday Link Party 450 – Oombawka Design Crochet
Team Creative Crafts Link Party #92 – Artsy-Fartsy Mama
Wonderful Wednesday – Oh My Heartsie Girl
Wonderful Wednesday Blog Hop – My Life Abundant
Thursday Favorite Things #540 – An Artful Mom
Creatively Crafty Link Party #327 – Try It – Like It – Create It
Encouraging Hearts and Home Blog Hop – My Slices of Life
Grace at Home No. 467 – Imparting Grace
Linky Party – Karins Kottage
Anything Goes Linky 329 – My Random Musings
Traffic Jam Weekend Link Up Party #323 – My Bijou Life
Create, Bake, Grow & Gather Party #519 – Shabby Art Boutique
Funtastic Friday Link Party #384 – Simply Beautiful by Angela
Saturday Sparks Link Party 514 – Pieced Pastimes
Pink Saturday – How Sweet the Sound
A Morning Cup of Joe – The Cottage Market
Craft Schooling Sunday – Creative Jewish Mom
Share the Wealth #19 – Big Fat Menopausal Life