This is a crochet pattern review of the Sleepy Collection designed by Kayte Marchese of KayteDid's Crafts. Review done by Candace of T&C Crafters for EyeLoveKnots.
This post contains affiliate links for Amazon, Etsy, and WeCrochet. If you make a purchase by clicking on them, I make a small commission at no extra cost to you. Thanks for your support!
Find the crochet pattern review below, or click here to purchase the pattern from KayteDid's on Etsy!
In a hurry? Pin it for later.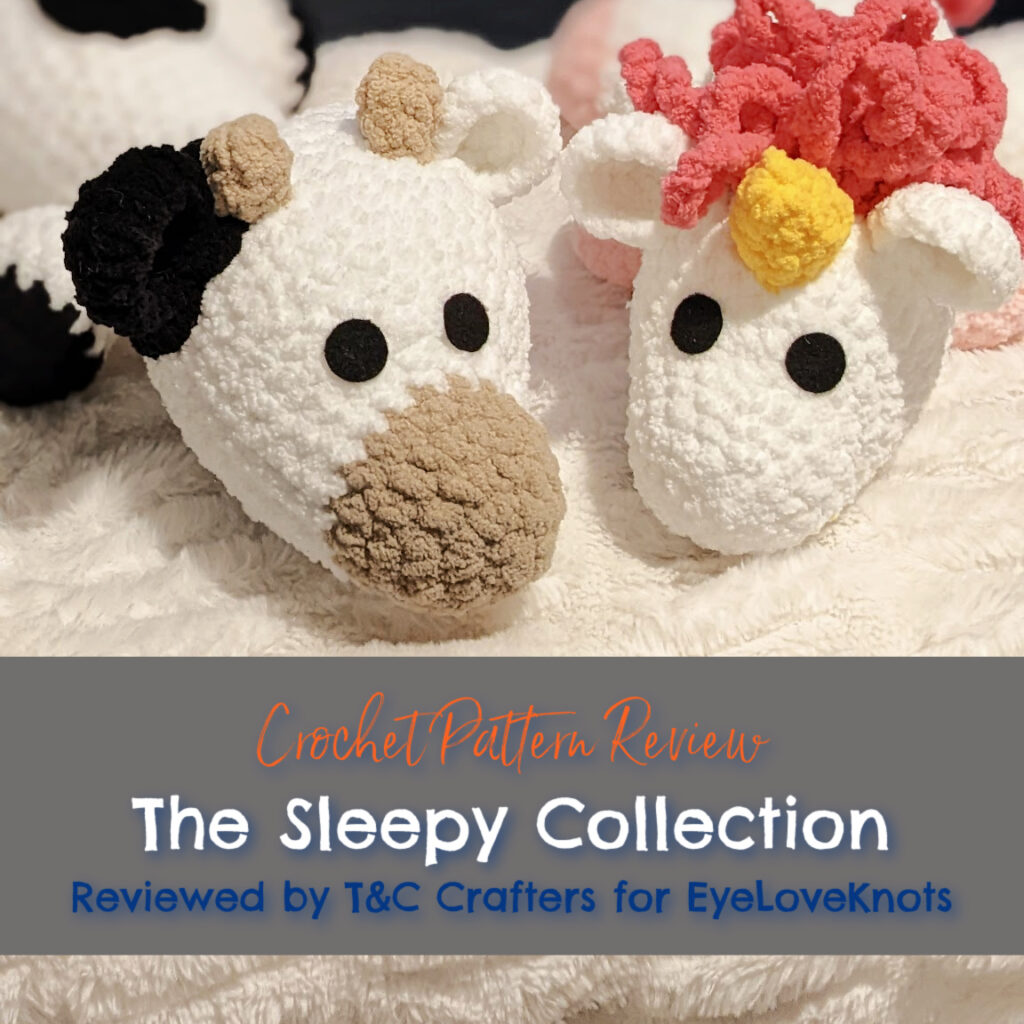 Visit with me on Facebook or Instagram for all kinds of awesome crochet makes and inspiration.
If you watch crocheting videos on TikTok, chances are you have seen KayteDid's pop up at least once! Over the past few years, she has gained tremendous popularity for her knitting machine tutorials and her signature bright-colored crochet stuffed animal patterns. She has released a variety of great patterns that work up quickly and easily, including her Hatching Hamster pattern that I reviewed last year! When I saw that she released her Sleepy Collection of stuffed toys, I knew I needed to snatch the pattern up right away!
The Sleepy Collection is a great pattern for anyone that loves to make soft stuffies for kids. Whether you are gifting them or selling them, this pattern provides four different animal patterns that are perfect to make for gifts or markets in just a few hours. With the purchase of just this one pattern, you will have directions to make a unicorn, a bear, a dinosaur, or a cow. The pattern modifications to create each animal and to customize your project are really easy to follow, and give you endless possibilities for new toys to make.
So far I have finished making a unicorn and a cow from this pattern, and I'm already working on a dinosaur! I have so many ideas in my head of how to customize these cute animals to stock up my inventory in my Etsy shop – that is, as long as I can keep them away from my kids! This pattern was definitely worth every penny, and I look forward to using it again and again to make products for my business and for gifts.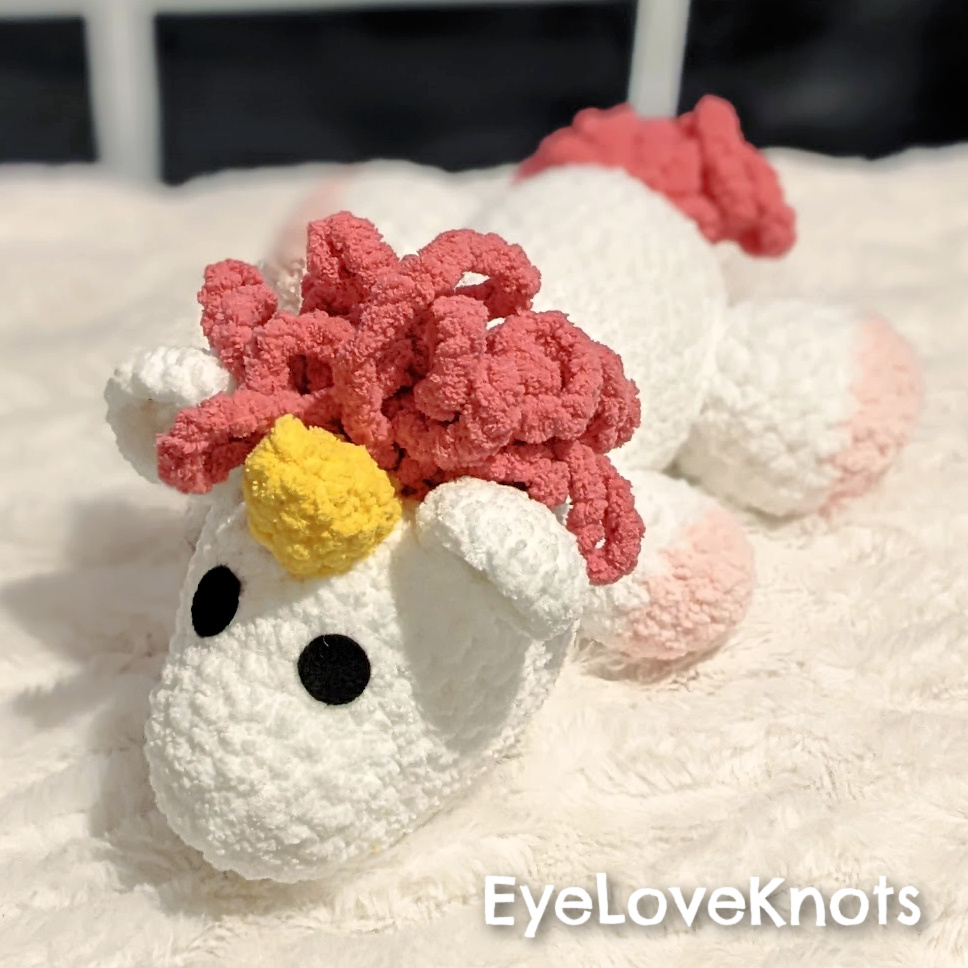 Materials I Used:
Bernat Blanket Yarn in Almond (Cow Nose and Horns), School Bus Yellow (Unicorn Horn), and Deep Fuchsia (Unicorn Mane)
Big Twist Cuddle Yarn in Bright White (Cow and Unicorn Bodies), Black (Cow Details), and Blush (Unicorn Feet)
J10/6mm Crochet Hook – I prefer the Clover Amour Ergonomic Crochet Hooks
Black Felt for Eyes
Hot Glue Gun and Glue Sticks
Yarn Needle
Sleepy Collection, Paid Crochet Pattern by KayteDid's via Etsy
Material Notes:
While this pattern is designed for a super bulky yarn like Bernat Blanket yarn, it can easily be made in any type of yarn. When adjusting yarn sizes, you want to keep into consideration what hook size is best for amigurumi at that weight of yarn. This typically means you will be using a hook that is smaller than what is recommended for that yarn type since you want your stitches to be very tight together to prevent gaps in your work.
If you follow KayteDid's on social media, you will see that the designer of this pattern uses a variety of different yarns when making her own patterns. In the materials section of her pattern, she provides suggestions for hook sizes, eye sizes, and amount of yarn for several different super bulky yarns. The yarns she mentions in the pattern include Parfait Chunky, Sweet Snuggles Lite, Sweet Snuggles, and Blanket yarn.
To make the eyes for the animals, you can either use safety eyes or felt circles for eyes. I typically opt for black felt eyes just to be safe, but the safety eyes can be really cute as well if you aren't worried about a choking hazard for a small child or animal. If you opt for safety eyes, the pattern provides suggested sizes for each of the super bulky yarns mentioned above. If you are using black felt for eyes, you can use the same sizing information to make your circles. I cut my felt eyes out using my Cricut machine. If you have a Cricut or another cutting machine and are interested in doing this as well, KayteDid's has a great tutorial on her Instagram!
This pattern uses a relatively small amount of yarn compared to some other patterns that create a similar size product. In the pattern, the designer provides estimates of how much yarn you will use, but they all are less than two rolls of super bulky yarn.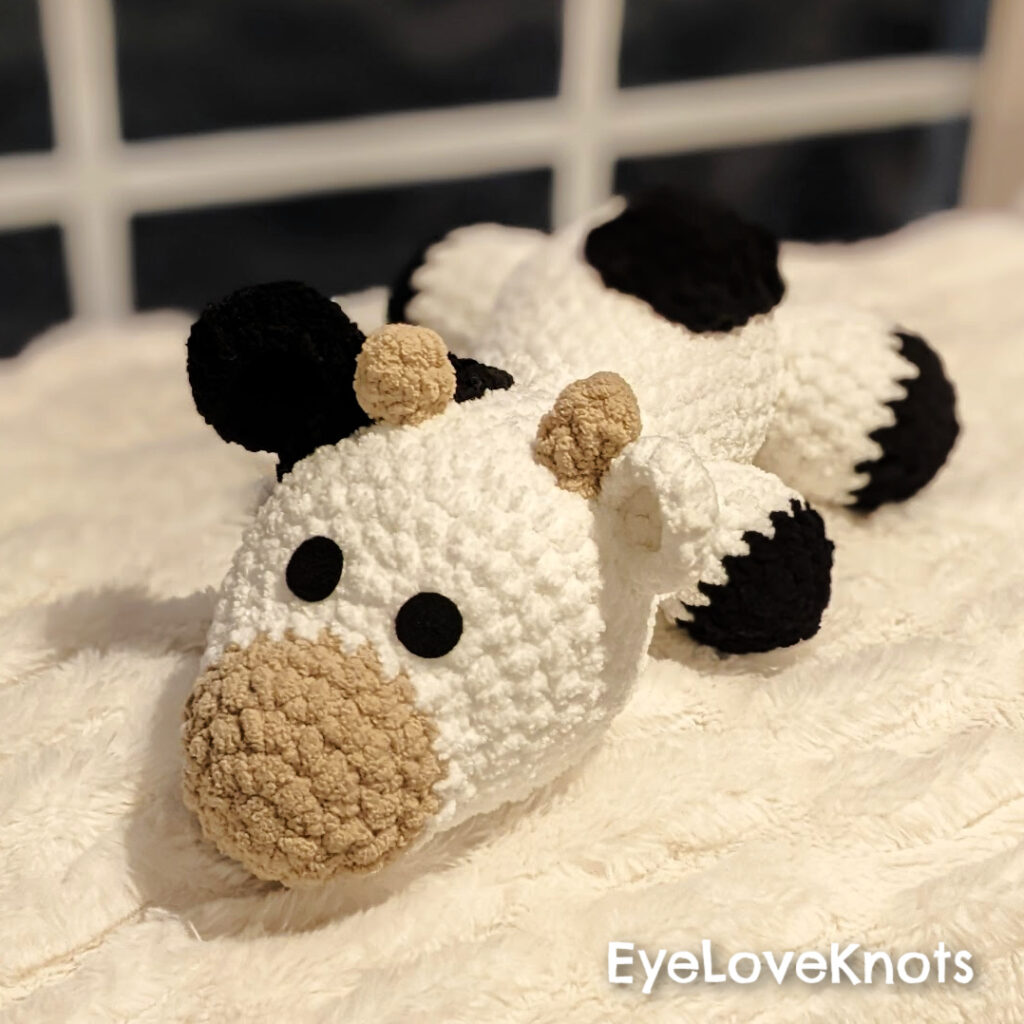 Time Spent:
Each of my finished stuffies took just over three hours to make. These are very quick to make for their size, and the more you make, the faster they go!
Measurements:
Both of my finished stuffies were about 6 inches tall and 8.5 inches wide at the back legs. The unicorn was about 12 inches long, and the cow was about 14 inches long.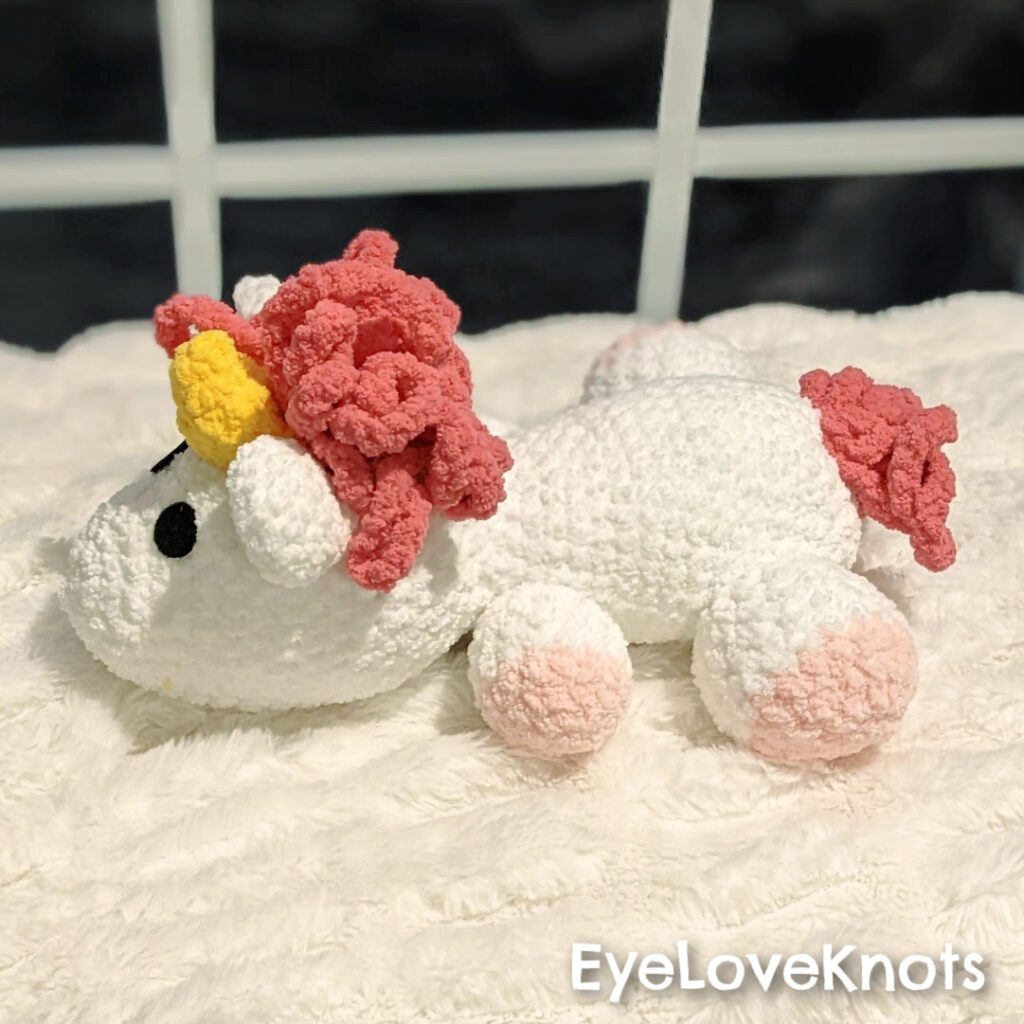 Gauge:
For the cow, a magic ring of 5 single crochets of Bernat Blanket yarn and a J10/6 mm crochet hook measured 1.25 inches in diameter. After increasing in each stitch, my swatch measured 2 inches in diameter.
When making the unicorn, I used a much tighter tension. My magic ring of 5 single crochets of Big Twist Cuddle yarn and a J10/6 mm crochet hook measured 1 inch in diameter. After increasing in each stitch, my swatch measured about 1.5 inches in diameter.
Pattern Notes:
This pattern is a relatively beginner friendly pattern. The head and body work up in one piece and are worked in the round. Within the pattern, the designer provides tips for when to add safety eyes, change colors for some of the modifications, and stuff the different parts. Once the body is made, The legs, ears, and other embellishments are made separately and sewn on afterwards. The sewing portion is where a little experience with amigurumi is helpful, but not totally necessary as the pattern provides detailed directions and pictures to help you attach each piece in the right spot.
Within this pattern, the basic directions and pictures show the process for making a unicorn. There are then modifications provided to make a dinosaur, a bear, or a cow. Within each modification, the directions explain where to attach the different components, as well as how to adjust the colors to make it appropriate for that type of animal. For example, the bear and cow patterns include when to change colors when making the head to make the nose a different color.
When I opened the file for this pattern the first time, I expected it to be super long due to all the modifications. However, the pattern is actually only a total of seven pages. The designer did a great job of including all of the important information for making this design without over complicating it. She also includes clear pictures that show exactly what you need to see right at the appropriate time.
While making my unicorn, the most challenging part for me was attaching the legs. I would recommend using pins or stitch markers to hold the legs in place while you stitch them on, at least for the first few times. My favorite part of making the unicorn was adding the mane and the tail. This part is really easy and fun, plus it provides a full and squishy mane and tail for the unicorn.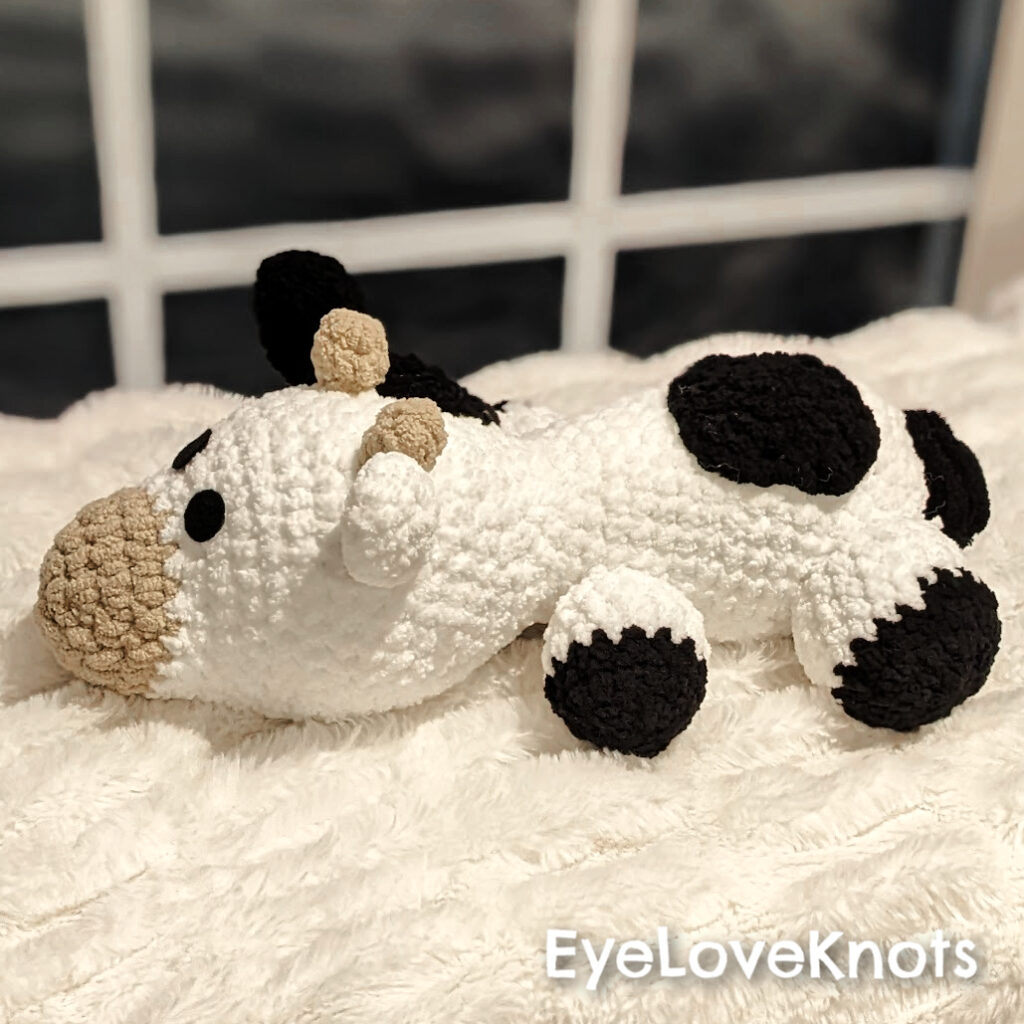 When I created the cow modification, I was a little concerned about having to do a color change for spots, since those are not my favorite. While that was an option provided in the directions, I really appreciated that the pattern also provided the option to create the spots separately and sew them in place. I opted for this because I don't like doing color changes in the round. The spots written in the pattern were circular. When I made my version of the cow, I used the spot from the pattern under the ear, but I also free-handed a different shaped spot for the cow's back to make it look slightly more natural. In addition, I added a tail of black yarn pieces to the cow at my two-year-old daughter's suggestion.
Both the dinosaur and bear modifications seem really easy to follow. The dinosaur uses the same body and leg base, and just adds spikes. The bear is really similar to the unicorn with some slight color variations, and a tail instead of a horn and mane.
I am really excited to make a lot more of these cute stuffed snuggle toys to stock up my Etsy shop. I think they will make great inventory for my craft shows and are going to be well-loved by their recipients. I am also excited to try to make some mini toys using this pattern with a lighter weight yarn like Bernat velvet to make toys for babies.
This is an extremely easy and versatile pattern, and I highly recommend it to anyone that loves making stuffed toys! If you decide to try this pattern out, I'd love to see what you make! Be sure to tag Kaytedid's, EyeLoveKnots, and T&C Crafters so we can see what you make!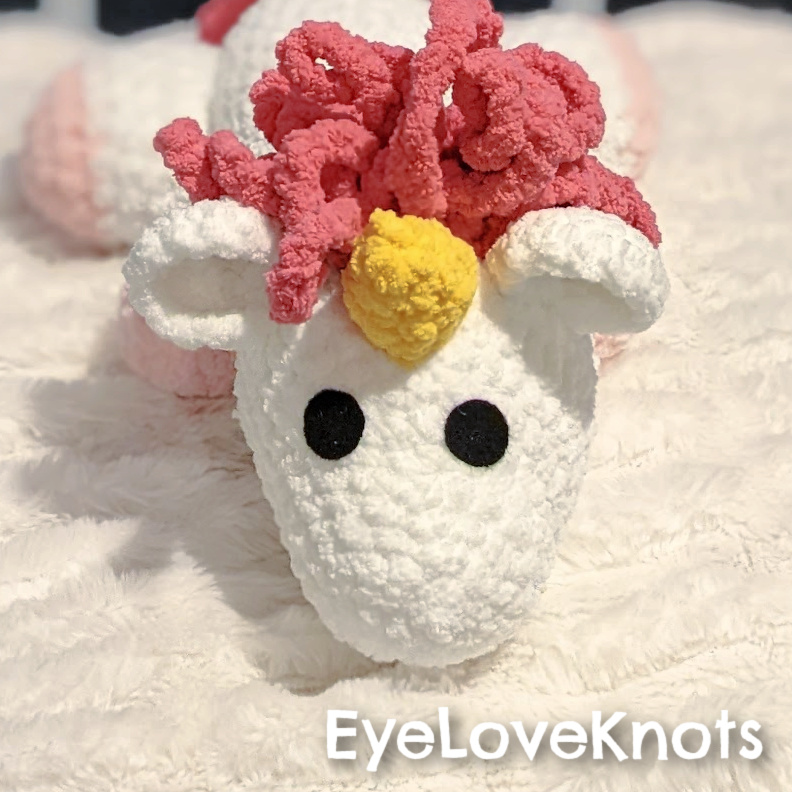 Don't forget to visit with me on Instagram for all kinds of awesome crochet makes and inspiration.
Join one of our awesome Facebook groups to share your creations, and see what others are up to!
– Yarn Crafts & Coffee Community
– DIY Home On Rockwood Lane
– Alexandra Lane Lifestyle
Linked Up To…
Happiness is Homemade Link Party – Decor Craft Design
Handmade Monday #306 – Sum of their Stories
The Really Crafty Link Party #343 – Keeping it Real
Craftastic Monday – Sew Can Do
Linky Ladies Party #231 – The Purple Poncho
All About Home #174 – Common Ground
The Loop Scoop 51 – Moogly Blog
The Wednesday Link Party 481 – Oombawka Design Crochet
Team Creative Crafts Link Party #124 – Artsy-Fartsy Mama
Creatively Crafty Link Party #358 – Try It – Like It – Create It
Crafty Creators Link Party #47 – Life as a LEO Wife
Saturday Sparks Link Party 544 – Pieced Pastimes
You're the Star Blog Hop – Decor Craft Design
Sundays on Silverado #123 – The House on Silverado
Hello Monday – Pink Lady
Anything Goes Linky 358 – My Random Musings
665th Inspire Me Tuesday – A Stroll Thru Life
Fabulous Party 454 – Lou Lou Girls
Talent Sharing Tuesday – Scribbling Boomer
The Happy Now Blog Link Up #351 – JENerally Informed
Wonderful Wednesday – My Life Abundant
The Wednesday Link Party #326 – To Grandma's House We Go
Thursday Favorite Things #570 – An Artful Mom
Encouraging Hearts and Home Blog Hop – My Slices of Life
Grace at Home No. 490 – Imparting Grace
Create, Bake, Grow & Gather – Shabby Art Boutique
Funtastic Friday Link Party #415 – Simply Beautiful by Angela
Home Matters Linky Party #410 – Modern on Monticello
Pink Saturday – How Sweet the Sound
A Morning Cup of Joe – The Cottage Market