This is a crochet pattern review of the Tolosa Vest pattern by Lena Skvagerson for Annie's Signature Designs. Review done by A Stitch Shy of Normal for EyeLoveKnots.
This post contains affiliate links for Annie's Catalog, Lion Brand and WeCrochet. If you make a purchase by clicking on them, I make a small commission at no extra cost to you. Thanks for your support!
Find the crochet pattern review below, or click here to check out the Annie's Catalog page for this pattern!
In a hurry? Pin this for later when you have more time.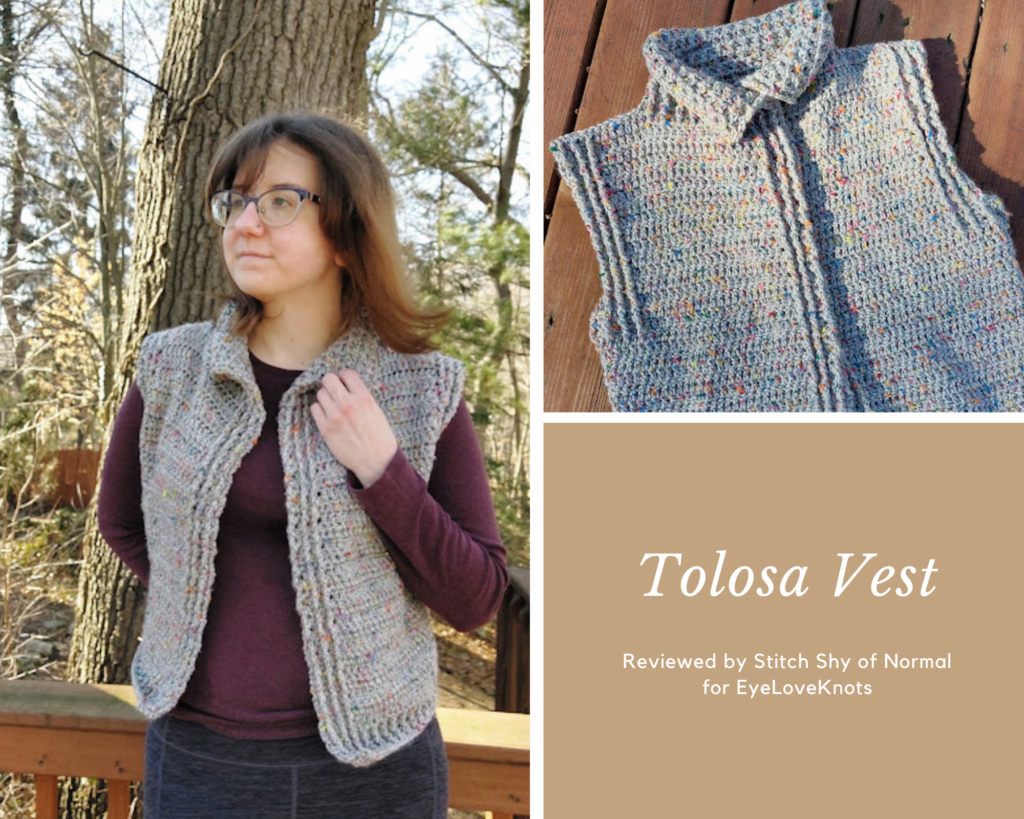 I know we're probably all getting tired of bundling up in winter gear at this point. Once it gets into February, my hopes begin to rise that each snow storm is the last one of the winter. Of course it never goes that way, and I've lived in the Midwest for almost my entire life so I'm fully aware of this, but I like to hope! What I like to do when the winter starts to drag on and on is to swap out my thick winter coat for other layering options. That's when I pull out my thick cardigans, or ponchos. They're just more interesting than my coat, and often far more comfortable!
This year I'm really into vests. My holiday present to myself was a nice colorblock vest that I wear to work at least once a week. I love the simplicity of popping a cute vest over a solid-color shirt and then it feels like a whole new outfit! And as someone who is always cold, if that vest can keep me warm as well? Then that's a win-win.
This is why I was drawn to the simple but beautiful Tolosa Vest crochet pattern. I fell in love with the picture and when I saw it was by Lena Skvagerson I knew it would also be a well-written pattern to make it even better! I swear I don't try to review this designer more than anyone else, but they have so many patterns and they're all so wonderful! Check out the other designs we've reviewed by Lena Skvagerson here on EyeLoveKnots. And in this case I was right, this was an enjoyable and easy pattern that gave me a comfy and adorable winter accessory.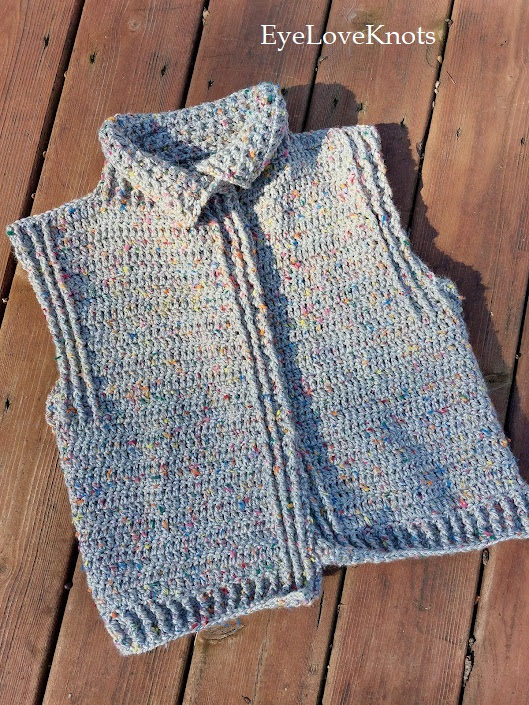 Visit with me on Instagram @astitchshyofnormal for all kinds of awesome crochet makes and inspiration!
What Materials Do I Need to Crochet a Vest?
Material Notes:
My initial thoughts when I considered this were just "awesome". So if that tells you anything, I can say my yarn was a great fit. The suggested yarn from the pattern is Premier Soft Deborah Norville yarn, and I haven't seen that in stores for a while but I remembered it feeling similar to Lion Brand Heartland when I used it in the past. Vanna's Choice would also be one along the same lines. All three of these are different, of course, but they all have that soft, squishy, yet warm and sturdy feeling. There are yarns that might feel more soft or others that are more durable, but I've always enjoyed that "best of both worlds" in the middle category.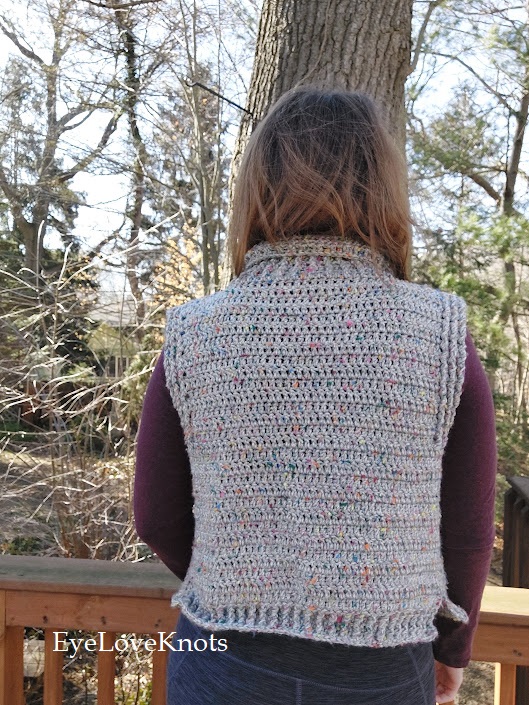 I used about 4 skeins of this yarn and that's not too bad in terms of affordability. With a good Joann coupon this is a great price range for a garment project! Plus Heartland Yarn is acrylic and holds up well in my experience–it's a yarn I've used countless times and will always come back to again and again.
Would I use this again? Absolutely. I can see this looking gorgeous in any basic neutral shade. Browns, black, any sort of gray or tan…it could also be beautiful in a blue or a forest green! But I'm glad I chose this tweed because it's the simple light gray with speckles of every color in the rainbow. This way it'll look good with any color–it has touches of blues, purples, orange, yellow, green and red! I have a ton of solid long-sleeve shirts that will work fine and it'll pull out the coordinating colors from the tweed.
How Long Does it Take to Crochet a Vest?
Roughly 11-12 hours for this one in my experience. It's a very simple pattern to work up and once I got the hang of the repeats, it was a breeze.
There's also very little assembly or sewing which makes it even easier!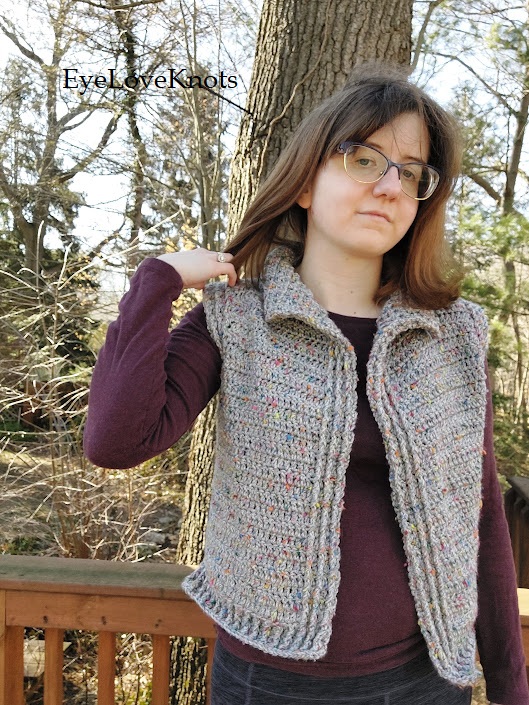 Gauge:
The pattern gauge is 4″ being equal to 12 stitches or 7 rows (in double crochet).
My gauge in my finished vest came out as 12 stitches by 7.25 rows, and that's surprisingly close! I made a note initially from my gauge swatch that it had come out "basically perfect" although I didn't write what that meant, so I'm guessing that's about what I had in my starting swatch. With the stitches being spot on that would mean the fit would be as intended, and if I was getting slightly above the row gauge that would just mean my finished vest might be an inch or two shorter than written. I have a shorter torso so I was okay with that, I'm sure.
Measurements:
To cover the actual numbers first, the vest is meant to be for a 37″ bust size and 19″ long in the size Small that I made.
As it overlaps slightly in the front when laying flat, I'm not entirely sure how I'm meant to measure this! With it flat and overlapping, it is about 19″ across, so I can see that working for a 37-38″ circumference. The pattern does seem like it's meant to overlap a bit in the front so you can wrap it around. My length comes out to 18.5 measuring from the shoulders (so not including the collar), and that makes sense with my gauge! I also did not block my vest, which the pattern does say to do. This might fix both of those things and give me perfect gauge + increase that length the extra half inch. I didn't realize until I was writing this up that I hadn't done that! I'll do that afterwards and see if I like the fit even better with it properly blocked.
I feel it fits accurately for a size Small in women's clothing, so I'm pretty satisfied with my fit.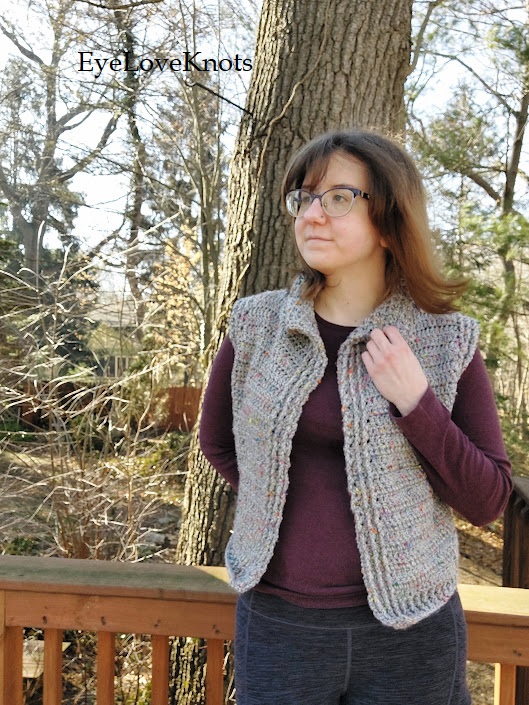 Pattern Notes:
The main takeaway I can give you from this review is how wonderfully simple this crochet pattern is! It's worked in three flat short panels (back, left front and right front) and then you attach the three to work the body followed by the armhole section. Then you seam up the shoulders and add the collar when it's sewn up!
Given the simple construction, I was taken aback when I put it on. The post stitching is quick to work up and looks like it only adds visual texture, but when you have it all sewn together and finished those stitches seem to add shaping and depth! The collar flips outward, the bottom ribbing can move freely to allow for stretch. The "edging" around the armholes makes it seem to hug your waist (really these are just post stitches worked at the edges of the flat panels!). I am blown away by how lovely this looks compared to how simple and easy it was to work up. If you are comfortable with post stitches, you'll be able to handle this one for sure!
I would call this an advanced beginner pattern. The rating on Annie's Catalog gives it 2 out of 4 or "easy", and I agree. The construction is easy enough and the stitching is almost entirely basic double crochet. The most complicated it gets is post stitches, and there's enough that it would give you good practice if needed but if you don't love these stitches it shouldn't scare you away. And if you're not a big fan of the post stitches, stick with it, please! I always loathed them and found them too difficult, and I avoided so many patterns for a year or two when I was a beginner. Then one day things clicked into place and I discovered the technique wasn't actually that scary, and now I use it all the time!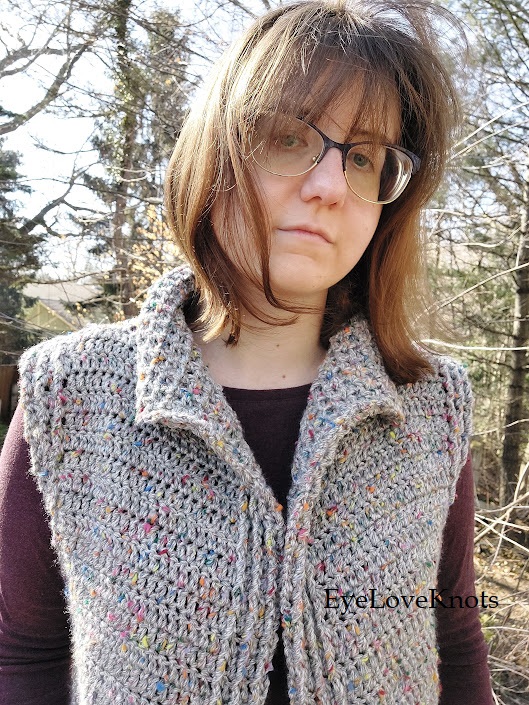 The length of this vest came out pretty perfect for me. Like I mentioned earlier, I did not block this vest although it is written in the pattern to do so. I don't remember why I didn't block it right after I finished, which would have been about a week ago. Knowing me it might have been late at night and I set it aside thinking I would block it the next day, then never remembered. I'll be blocking it to see how that changes things.
The best advice I can give on reading this crochet pattern is to pay attention to your numbers! I initially made one of my front panels a few stitches too short for some reason and I was nearly to the point of joining them all together before I realized and frogged it back. However this is a quick enough pattern that I was able to catch back up that same afternoon! Luckily it was one of the smaller front panels and not the back widest one. The first row of joining can be intimidating too, so I recommend following their suggestion of using stitch markers. It really helps! You can lay the panels out in the order you'll be stitching into them for that first row to help you not get mixed up. And just be careful that it doesn't twist as you do so.
I'm also very happy with how this piece fits. It's warm and not too tight, and it'll stretch a bit as I wear it so I'm glad the fit isn't loose to start with. I enjoy the slightly cropped length, but if I block it then it might become less so. I think this will be a staple piece over blouses and long sleeve tees this winter and I can't wait to see all the colors I can wear it with!
What color would you make one of these vests in? Would you stick with neutrals for the simplest outfit combinations? Or are you going all out with a bright color? I also would love to see this in stripes or color blocking! Please let me know what you would do so I can imagine all the gorgeous shades!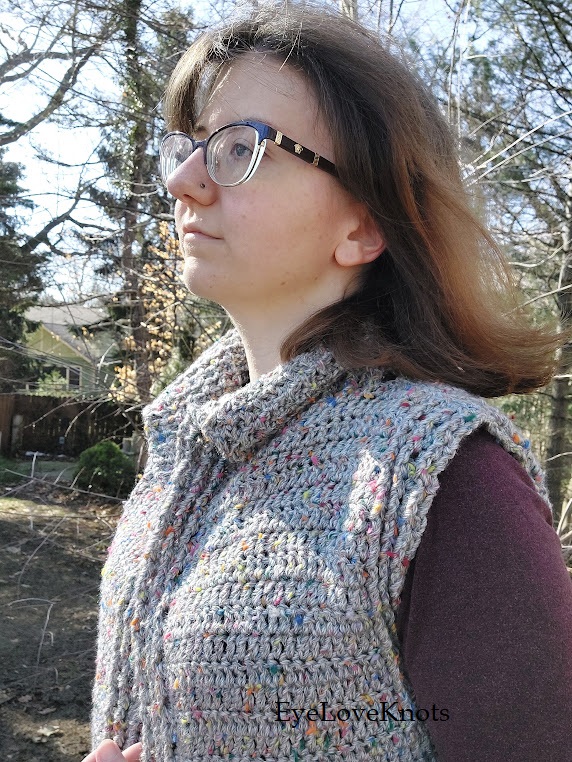 Don't forget to visit with me on Instagram @astitchshyofnormal for all kinds of awesome crochet makes and inspiration.
Join one of our awesome Facebook groups to share your creations, and see what others are up to!
– Yarn Crafts & Coffee Community
– DIY Home On Rockwood Lane
– Alexandra Lane Lifestyle
Linked Up To…
Weekday Wear Link Up – Away from the Blue
Confident Twosday Linkup – I do deClaire
Turning Heads Tuesday – Elegantly Dressed and Stylish
Style with a Smile Link Up – Style Splash
Style on the Daily – Straight A Style
Wow On Wednesday – Is This Mutton?
Fancy Friday Linkup – Nancy's Fashion Style
Chic and Stylish Link Up – Mummabstylish
Thursday Fashion Files – Doused in Pink
Craftastic Monday Link Party – Sew Can Do
Linky Ladies Party #233 – The Purple Poncho
The Loop Scoop 56 – Moogly Blog
The Wednesday Link Party 491 – Oombawka Design Crochet
Creatively Crafty Link Party #368 – Try It – Like It – Create It
Saturday Sparks Link Party 553 – Pieced Pastimes
Craft Schooling Sunday – Creative Jewish Mom
Happiness is Homemade – Decor Craft Design
Sundays on Silverado #133 – The House on Silverado
Handmade Monday #315 – Sum of their Stories
The Really Crafty Link Party #353 – Keeping it Real
Hello Monday – Pink Lady
Anything Goes Linky 366 – My Random Musings
673rd Inspire Me Tuesday – A Stroll Thru Life
Fabulous Party 464 – Lou Lou Girls
Talent Sharing Tuesday Link Up – Scribbling Boomer
The Happy Now Blog Link-Up #361 – JENerally Informed
Vintage Charm Party #377 – My Thrift Store Addiction
Wonderful Wednesday Blog Hop – My Life Abundant
Wednesday Link Party #336 – Grandma's House We Go
Encouraging Hearts and Home Blog Hop – My Slices of Life
Grace at Home No. 497 – Imparting Grace
Crafty Creators Link Party 57 – Life as a LEO Wife
Create, Bake, Grow & Gather Party #560 – Shabby Art Boutique
Funtastic Friday Link Party #425 – Simply Beautiful by Angela
A Morning Cup of Joe – The Cottage Market
Anything Goes – How Sweet the Sound
April Sunday Showcase – Chez Mireille