This is a review of the Crochet Octopus crochet pattern designed by Lil Crochet Love. Review done by Jessica Munroe for EyeLoveKnots.
This post contains affiliate links for Etsy, LoveCrafts and WeCrochet. If you make a purchase by clicking on them, I make a small commission at no extra cost to you. Thanks for your support!
Find the crochet pattern review below, or click here to purchase the pattern from lilcrochetlove on Etsy!
Short on time? Pin this for later when you have more time.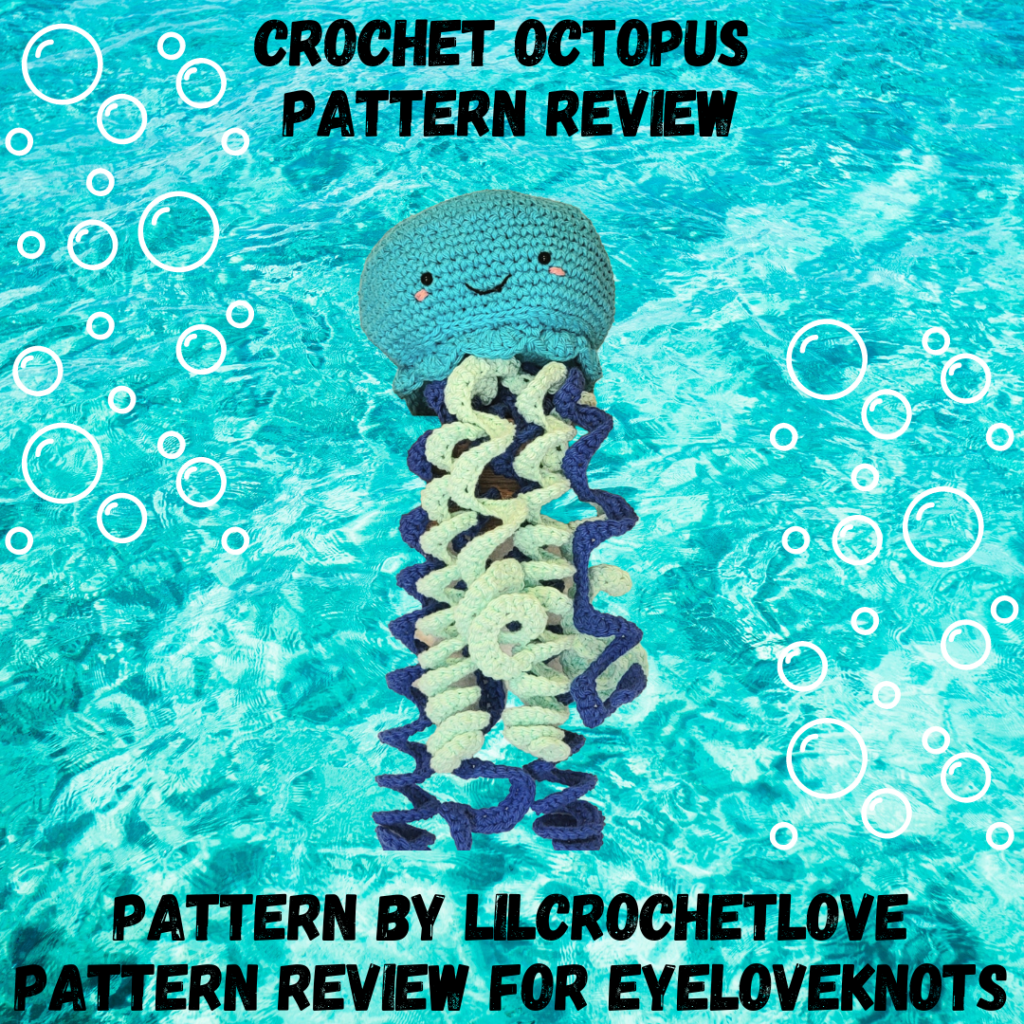 It's me, Jessica with Nice and Knotty.
Visit with me on Facebook or Instagram for all kinds of awesome crochet makes and inspiration.
I've seen these little crochet octopi for years and never had the courage to make one. I don't really know why; they are not hard and I'm an experienced crocheter. But for whatever reason, I always felt intimidated. When I was deciding what I wanted to make next, I saw the cute little octopus face and decided now was the time. And you know what? It was not hard at all!
Was it time consuming? Yes. Was it a bit tedious? Yes. Was it worth it? YES! The octopus is great as a little stuffy toy but it would be really cute hanging in the corner of a baby nursery or used as décor in an under the sea themed party!
What Materials Do I Need to Crochet an Octopus?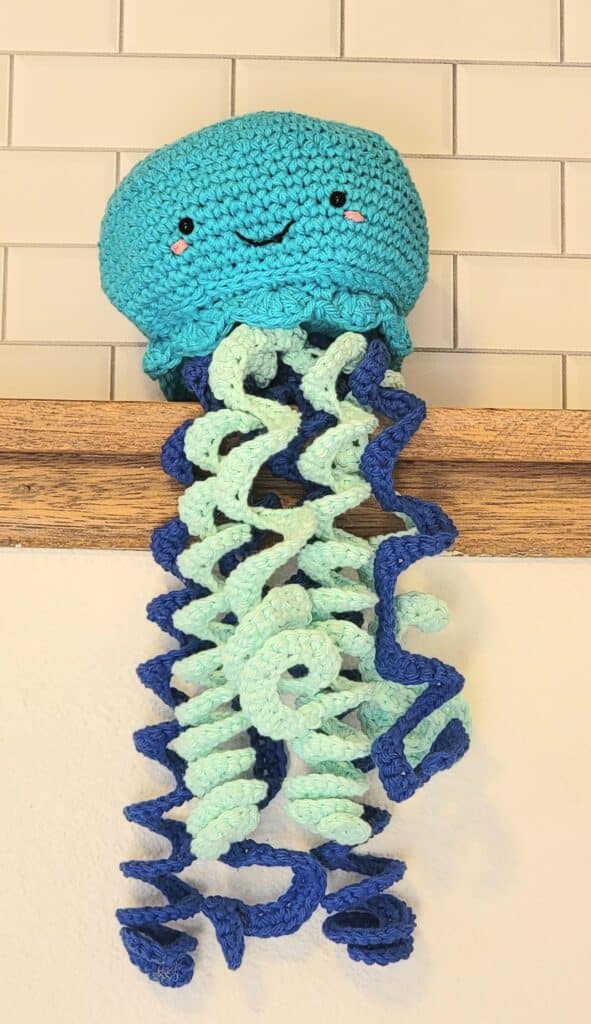 Material Notes:
I used 3 different shades of blue for my octopus and a tiny scrap of pink yarn for the blushing cheeks. You can use other yarn but I can't speak to how it will turn out.
I used a slightly larger hook than the pattern called for (I used a 3.5mm hook) and it was not my favorite size to use. I understand I needed a small hook to avoid stuffing from popping out of the stitches but it definitely made my hands ache!
How Long Does It Take to Crochet an Octopus?
This little guy took me 3 hours and 45 minutes to complete. It is time consuming but part of that could be due to my lack of experience with such a small hook and causing me to move slower because of the ache in my hands.
Measurements:
The measurement for the octopus is about 11 inches from the top of the head to the bottom of the tentacles.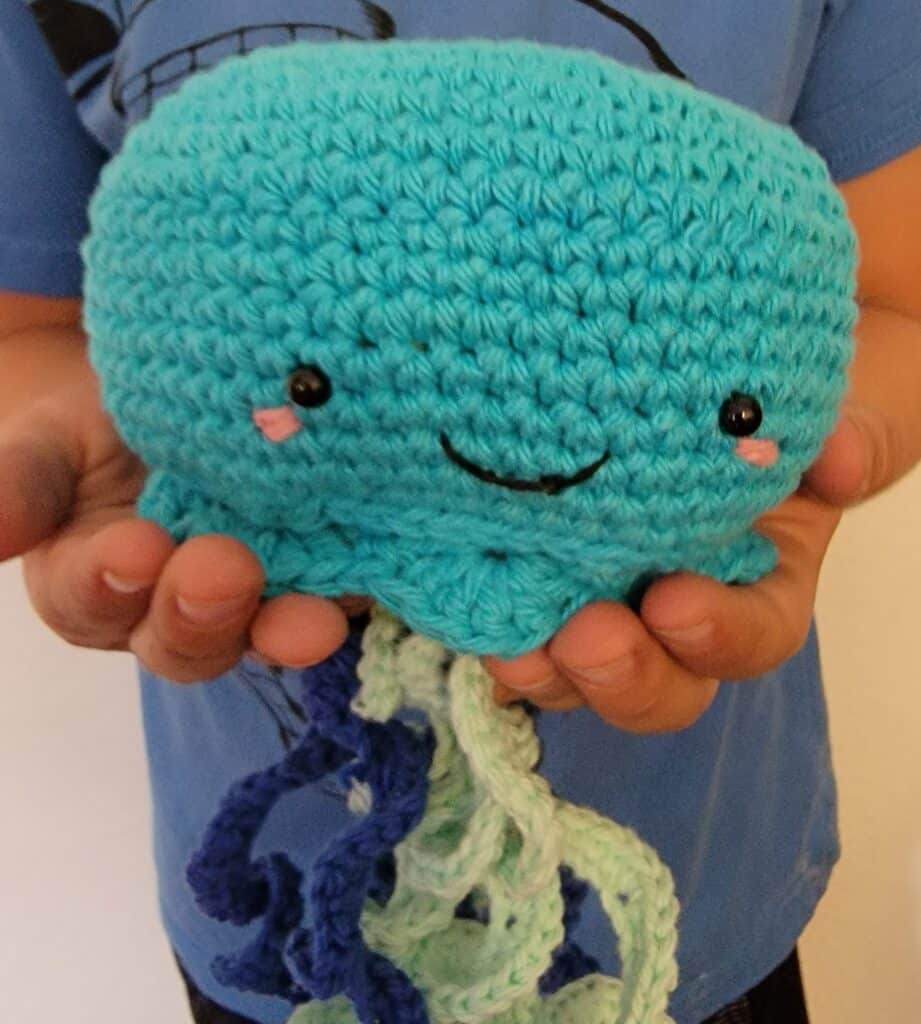 Gauge:
There is no gauge given for this pattern. This pattern is worked in a continuous round. My personal gauge is a diameter of 4.25 inches for the final round of the head.
Pattern Notes:
This octopus is super cute and easy to make. It does take quite a bit of time and the construction of all the pieces is a little tedious but in the end, you get the most adorable little sea creature!
I would love to know how you feel about crocheting these little guys and how long it takes you. Happy crocheting!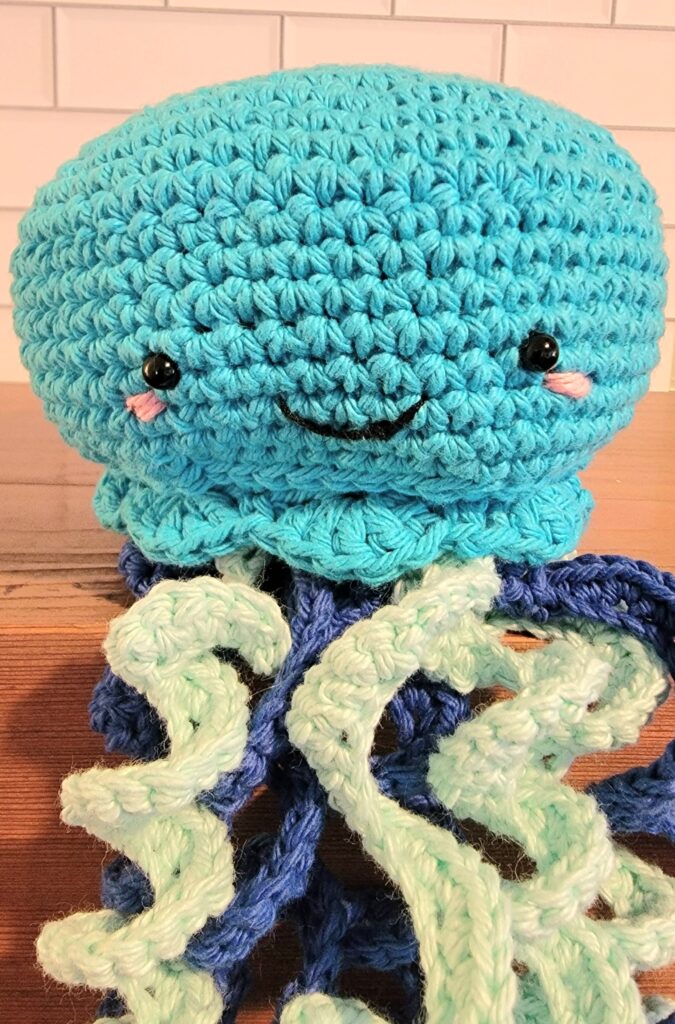 Don't forget to visit with me on Facebook for all kinds of awesome crochet makes and inspiration.
Join one of our awesome Facebook groups to share your creations, and see what others are up to!
– Yarn Crafts & Coffee Community
– DIY Home On Rockwood Lane
– Alexandra Lane Lifestyle