This is a crochet pattern review of the Ribbed Granny Cowl pattern from EyeLoveKnots. Review done by A Stitch Shy of Normal.
This post contains affiliate links for Lion Brand and WeCrochet. If you make a purchase by clicking on them, I make a small commission at no extra cost to you. Thanks for your support!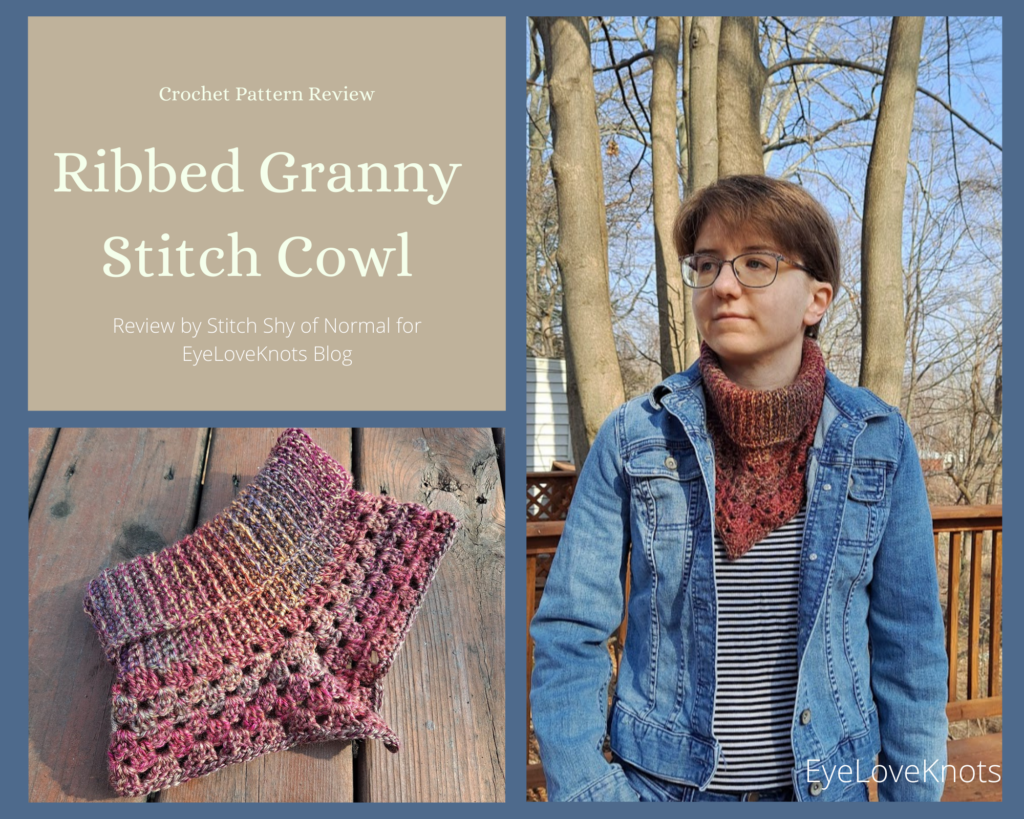 Visit with me on Instagram @astitchshyofnormal for all kinds of awesome crochet makes and inspiration.
In this transition season, I find myself putting away my bulkier and heavier accessories. I do sometimes end up regretting that choice when Michigan gets that one final week of bitter cold, but I stubbornly persist! This choice leaves me wanting in-between accessories, something to add a little style and a touch of warmth without being heavy. I don't want to have to carry around my big thick cowl the rest of the day when the afternoon decides to be sunny and in the mid-60s!
A couple of weeks ago when I started packing away my "true winter" stuff, I lamented the lack of a lightweight cowl. Then I remembered there was a cowl pattern I had tried and enjoyed before…well, it turns out I've actually made this pattern like 4 or 5 times. That's how good this pattern is, I keep coming back!
This pattern is so fun, simple, and easy. The ribbing takes the bulk of the time, and then suddenly you just do a few rows of basic shaping and it's done, you have a new accessory ready to go! The texture lends itself to both solid and variegated yarns beautifully, and lets you choose if you want a neutral to go with everything or a bright rainbow to add some pop to your outfit! (I think you guys know which one I'd be more likely to choose…)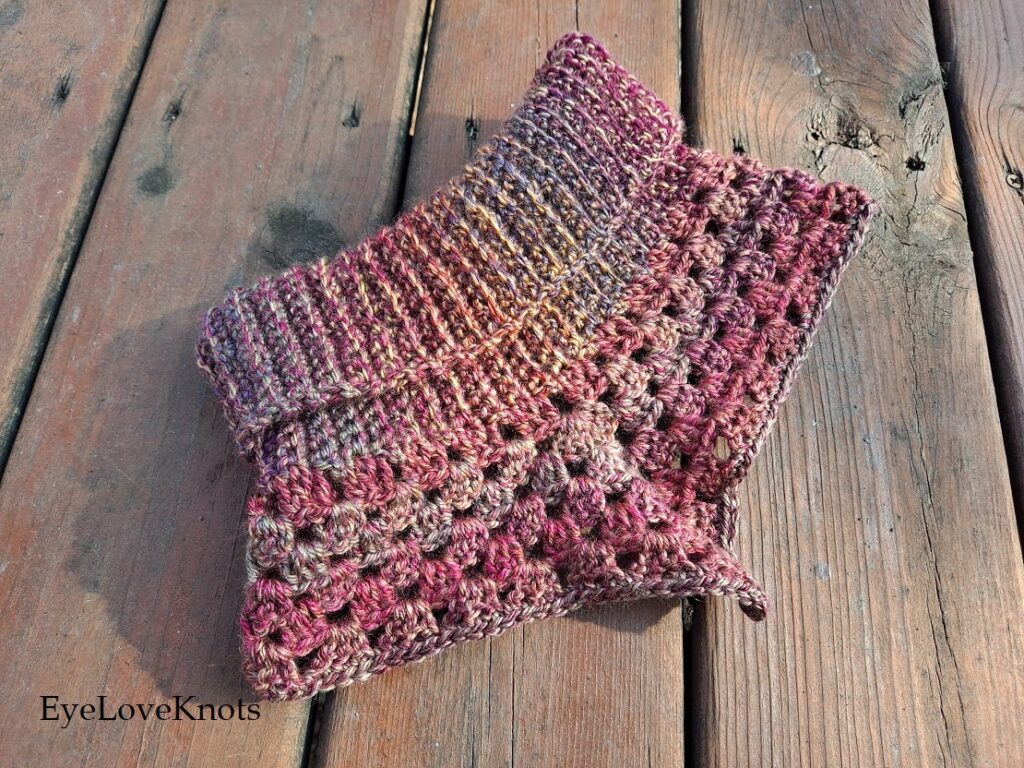 Materials I Used:
Almost exactly one skein of Hobby Lobby's "I Love This Yarn" in a color called "Rainbow" (that colorway no longer seems to exist on their website)
I9/5.5mm hook – I like Clover Amour Ergonomic Hooks
Yarn needle for weaving in ends
The (free!) "Ribbed Granny Stitch Cowl" pattern found right here on the EyeLoveKnots blog
Material Notes:
The pattern says it should take less than one skein of most worsted weight yarns, and it specifically calls for 218 yards. The yarn I used only has 196 yards, and I was able to complete it as written with the single skein, so I'd say most yarns around 200 yards per skein should be fine! This makes it a very yarn-efficient pattern for gifts or for craft sales.
My sizing was fine as well. I did not check gauge since this pattern begins with ribbing that goes around the neck and that row count decides the sizing for the granny triangle portion. This means that if my gauge ended up too small or large, I could just stop the ribbing earlier or continue it longer, then alter the granny stitch count using that number. As I mentioned, I have used this pattern before and I believe I did have to do this, although I don't remember specific details. I want to say I increased the row count and had to add more granny clusters. All I remember about that process was some quick math and I was right back to stitching!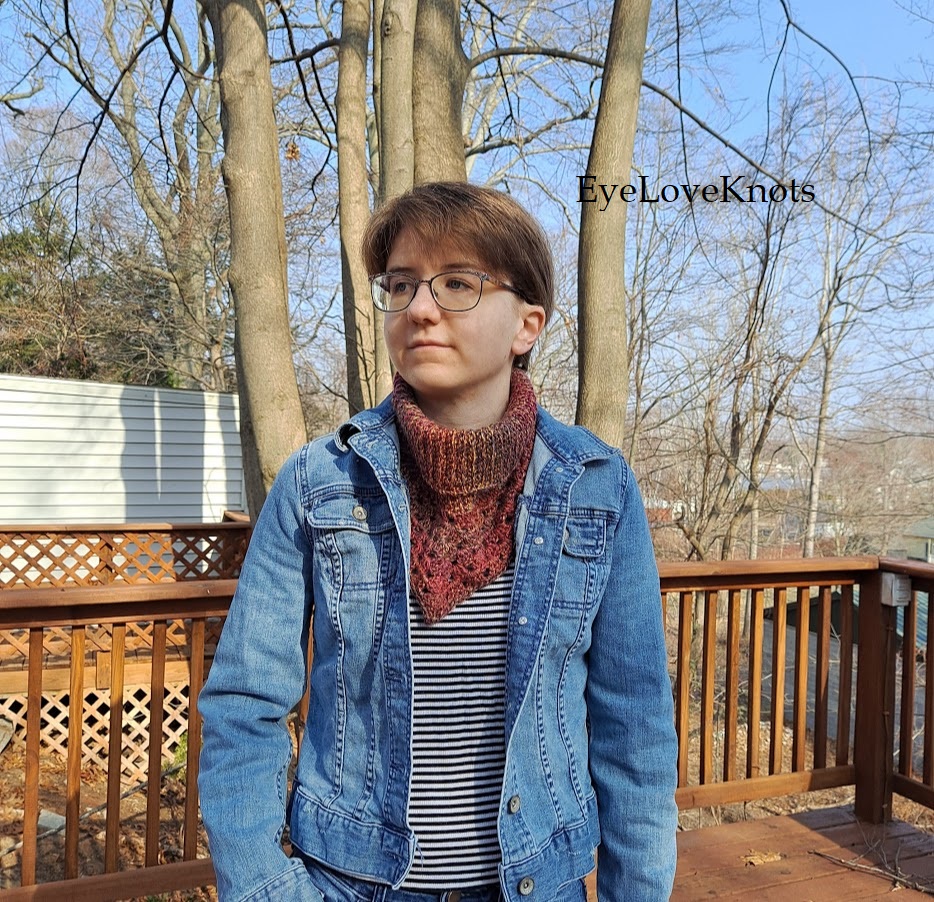 Would I use this yarn for this pattern again? Totally, although I almost never go to Hobby Lobby anymore. However, if I find any more "I Love This Yarn" skeins in my stash that need to be used up, this pattern will be on my mind for a good way to use it up! It's also 100% acrylic, meaning it should be fine to machine wash. Other comparable acrylics would be something like RH Super Saver. Lion Brand Basic Stitch, especially their Anti-Pilling line, would be wonderful too! (Like one of their new Skein Tones colorways…) In any of these options, with some quick sizing adjustments for variations in thickness, this cowl will be a nice sturdy piece to keep in your cold-weather wardrobe for years!
Time Spent:
I did this over only a couple of days, I would estimate that I spent something around 5-6 hours in total. The majority of this time frame is the ribbing, once you get to the granny triangle portion it's almost finished!
Measurements:
The written dimensions in the pattern suggest working your ribbing to 19″ long unstretched, which should then stretch to fit most average adult heads.
My ribbing ended up being a bit longer with the given row count, right around 20″, but I kept this because my head is on the larger size so some extra stretch would be great! And it does fit well, the ribbing lets it go over your head easily but then sit snug (not tight!) around the neck.
My dimensions on height were about the same, she lists 11.25″ at the tallest point (which I assume means the ribbing unfolded, then measuring down to the point of the granny triangle). My cowl is 11″ exactly at this spot, and a difference of a quarter inch is basically nothing.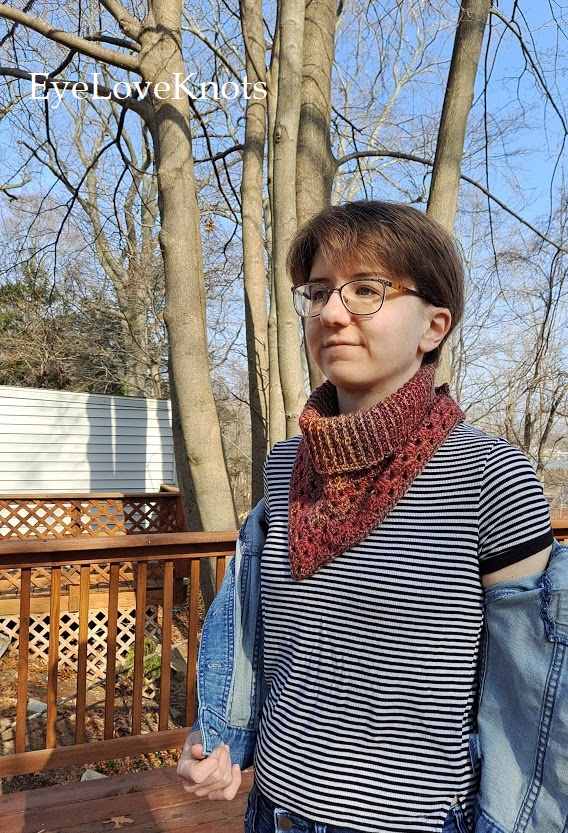 Gauge Info:
I personally did not measure gauge for this project. As I mentioned earlier, in a pattern like this that begins with ribbing, it basically allows you to decide your own sizing. Then that ribbing count gives you the starting point for the rest of the pattern! I really appreciate that it was constructed in this way, rather than making the bottom portion first and then needing to force a ribbing size to fit different heads.
Pattern Notes:
I think the best endorsement I can make here is that I have made this pattern before at least a few times. I think it's even how I first became aware of this blog!
The ribbing is extremely easy, and as I mentioned it would be simple to customize to a smaller or larger circumference with some basic math. She also mentions how to alter it for various changes such as wanting less wide ribbing (you could make the ribbing with fewer stitches and wouldn't even have to fold it over if you didn't want to!) Or you can make it nice and tall to cover your face even better when you wear it folded up.
Once you get to the granny section, there is only one basic setup row and then you're mostly just repeating a pattern to create the triangle shape! She explains it well, and once you've done the first row you'll see how simple it really is. I realized you could also keep this bit going to have more coverage if you want to block the wind! The back has great shaping so it doesn't get bulky or uncomfortable as you keep going.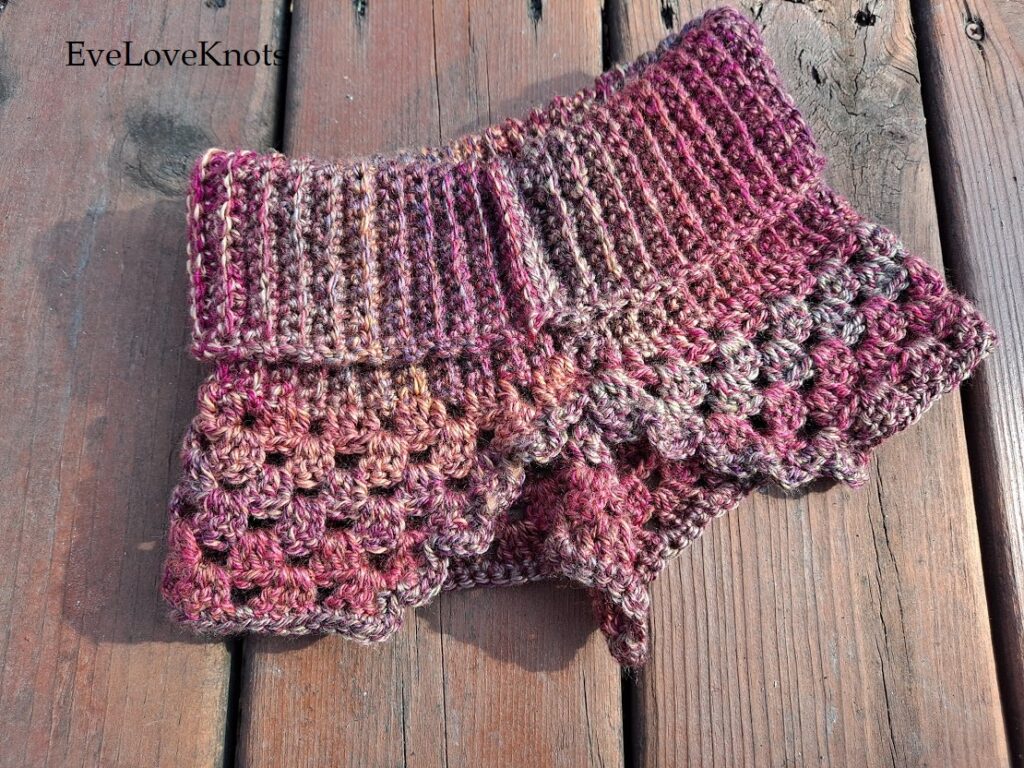 I don't have a ton of commentary here because that's just how quick and simple this pattern is! I didn't have any problems, and I enjoyed the whole process. This time around, I even remembered being surprised at how quickly the triangle portion is over, and it still got me. I looked for the next row and realized I was done!
I thoroughly enjoyed this pattern on (at least) my second time, and I will definitely remember this one for the future. I think when we're able to do in-person markets again, I'll likely have a stack of these on my table since they're quick and easy but oh so cute!
Would you make one of these in a gray/tan or another neutral, to blend in with any outfit? Or are you like me and contemplating which bright colorway of Red Heart Super Saver Stripes would stand out most in this pattern?
Don't forget to visit with me on Instagram @astitchshyofnormal for all kinds of awesome crochet makes and inspiration.
Join one of our awesome Facebook groups to share your creations, and see what others are up to!
– EyeLoveKnots Crochet & DIY Community
– DIY Home On Rockwood Lane
– Alexandra Lane Lifestyle
Linked Up To…
Craft Schooling Sunday – Creative Jewish Mom
Happiness is Homemade #367 – Decor Craft Design
You're the Star Blog Hop – Decor Craft Design
Unlimited Monthly Link Party 22 – Grammy's Grid
The Hearth and Soul Link Party – April, the 21st Century Housewife
Over the Moon 269 – Marilyn's Treats
Handmade Monday #220 – Sum of their Stories
The Really Crafty Link Party #259 – Keeping it Real
Grace & Gratitude #11 – A Simple Lovely Life
583rd Inspire Me Tuesday – A Stroll Thru Life
Fabulous Party 364 – Lou Lou Girls
Party in Your PJs #351 – The Apple Street Cottage
Your Whims Wednesday #503 – My Girlish Whims
Creatively Crafty Link Party #268 – Life Beyond the Kitchen
Artsy-Fartsy Party #337 – Artsy-Fartsy Mama
Encouraging Hearts & Home Blog Hop – Apron Strings and Other Things
Traffic Jam Weekend Linky Party #275 – My Bijou Life
Friday Favorites – Busy Being Jennifer
Funtastic Friday – Simply Beautiful by Angela
Create, Bake, Grow & Gather Party #462 – Shabby Art Boutique
Thursday Favorite Things #482 – An Artful Mom
Link Your Stuff – Annemarie's Haakblog
A Morning Cup of Joe Linky Party – The Cottage Market
Snickerdoodle Create Bake Make Link Party 378 – EyeLoveKnots
Craftastic Monday Link Up – Sew Can Do
Ginx Woolly Linx Party March – Ginx Craft
Linky Ladies Party #207 – The Purple Poncho
{Wow Me} Wednesday #497 – Ginger Snap Crafts
Loop Scoop #10 – Moogly Blog
Wednesday Link Party 391 – Oombawka Design
Creative Crafts Linky Party #34 – Laura Kelly's Inklings
Weekday Wear Link Up – Away from the Blue
Weekly Link Up #216 – Beauty by Miss L
Turning Heads Linkup – Elegantly Dressed and Stylish
Confident Twosday Linkup – I do deClaire
Style with a Smile Link Up – Style Splash
Style Six – Living on Cloud Nine
Style on the Daily – Straight A Style
Thursday Fashion Files Link Up #298 – Curly Crafty Mom
Chic and Stylish Link Up – Mummbastylish
Fancy Friday Linkup – Nancy's Fashion Files
Style Link Up – Lizzie in Lace