This is a crochet pattern review of the Boho Towel Ring designed by Dana Roush Hogan of Day's Crochet. Review done by Candace of TandC Crafters for EyeLoveKnots.
This post contains affiliate links for Amazon and Etsy. If you make a purchase by clicking on them, I make a small commission at no extra cost to you. Thanks for your support!
Visit with me on Facebook for all kinds of awesome crochet makes and inspiration.
Summer is a wonderful time to relax and enjoy the beautiful weather. I don't know about you, but when I'm sitting outside and crocheting in the sun, it's really hard to want to make blankets and beanies in warm weather. When the days start to get longer and the temperature is rising, I find myself looking for quick and practical crochet items that I can gift to others or use in my own home during the summer months.
I discovered Dana from Day's Crochet in a Facebook group several months ago, and immediately fell in love with her modern style and practical projects. After trying my hand at a few of her free patterns and watching her YouTube channel for more hours than I care to admit, I fell in love with her Boho Towel Ring pattern and just had to make one for myself.
This pattern works up extremely quickly, and makes a trendy and useful addition to your kitchen decor. They make great housewarming gifts, especially when paired with a cute kitchen towel. You can also easily make them larger to hold towels outside at the pool or in the bathroom. The possibilities are endless!
If you sell finished items like I do, these also make great inventory for your next market or for a space in a storefront. They can easily be made in a variety of color combinations, and accessorized to appeal to a large variety of customers.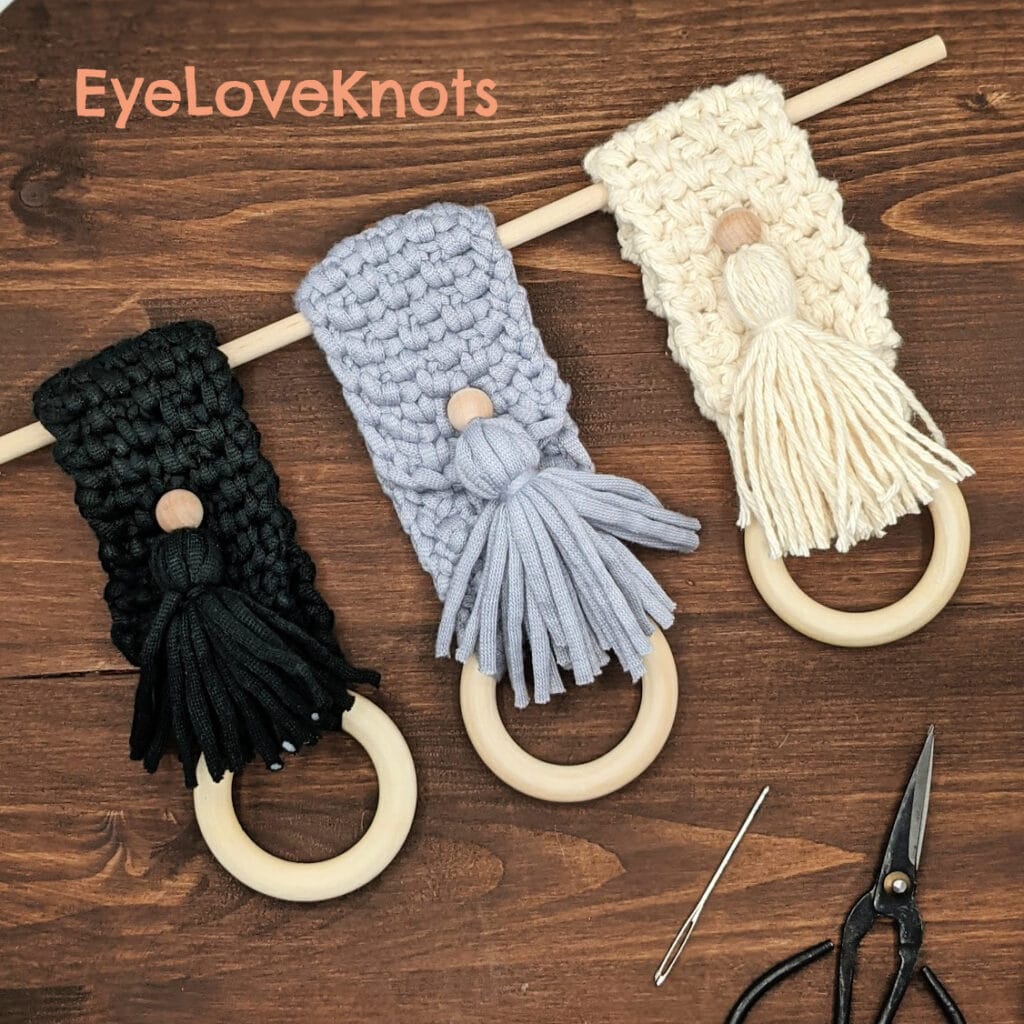 Materials I Used:
Approximately 40-50 yards of Red Heart Strata Yarn (Black and Grey) or 80 – 100 yards of Premier Home Cotton Yarn (Cream)
J – 6.0 mm Crochet Hook (I used Clover Armour)
Small Wooden Bead
Yarn Needle
Scissors
Small Button Around 3/4″ in Size for Closure Method
Boho Towel Ring, Paid Crochet Pattern from DaysCrochetNC via Etsy
Material Notes:
The pattern writer recommends using Bernat Home Maker Dec yarn or two strands of worsted weight cotton held together. I used Red Heart Strata yarn in place of the Bernat Home Maker Dec yarn since that was what I had in my stash, and it worked well to give it a modern look. The only problem I noticed with the use of this yarn was that the filling of the yarn is noticeable in the tassel. It was not super noticeable with the light gray yarn, but it is very obvious with the black yarn that there is a white filling. You could use a fabric marker to color in the ends of the tassel so you can't see the filling.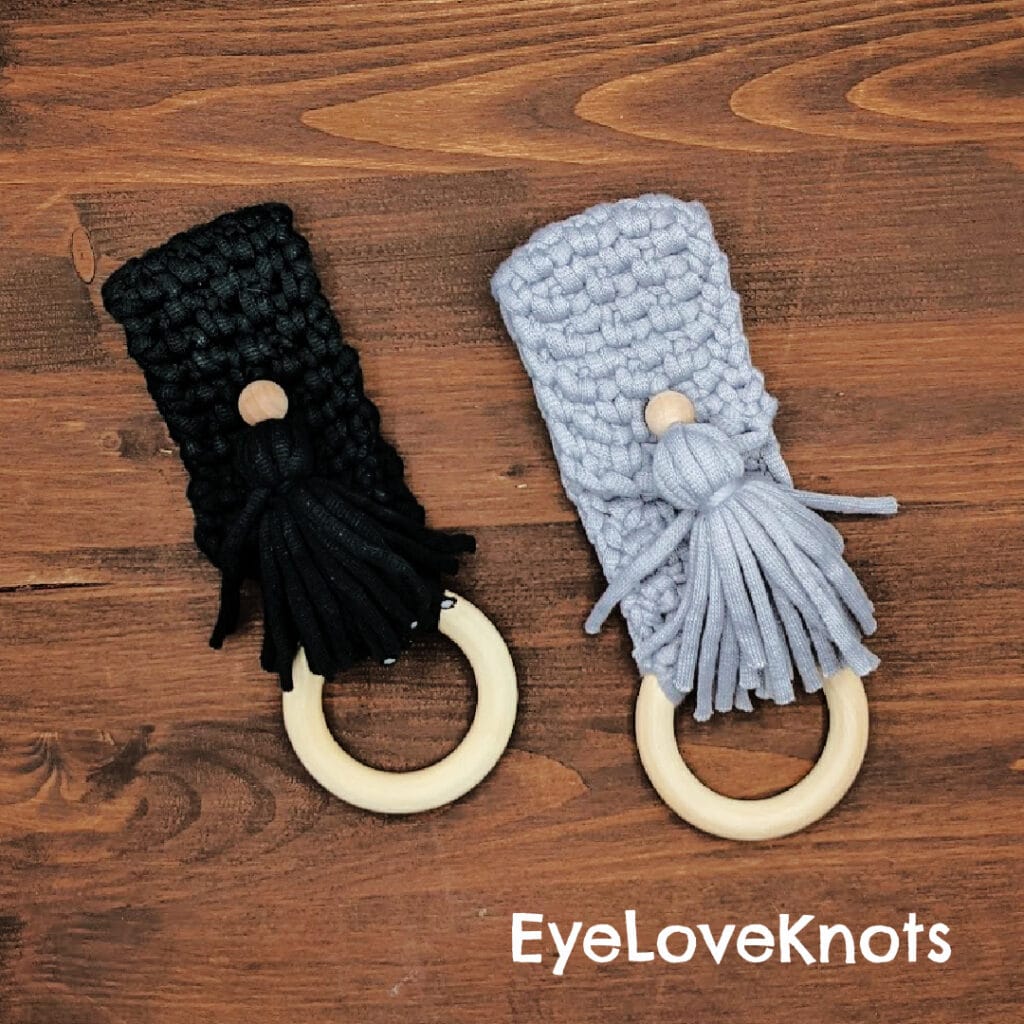 I definitely prefer the look of two strands of cotton yarn held together. This provided a really thick and stretchy finished piece, and gave me a lot more color options. I used several different cotton yarns when trying out this pattern, including Premier Home cotton, Lily Sugar 'n Cream cotton, and Peaches and Cream cotton. They all worked well. You could also use two strands of worsted weight acrylic yarn or a single strand of a bulky acrylic yarn since the piece itself will not need to be washed like a towel would be if it was by itself.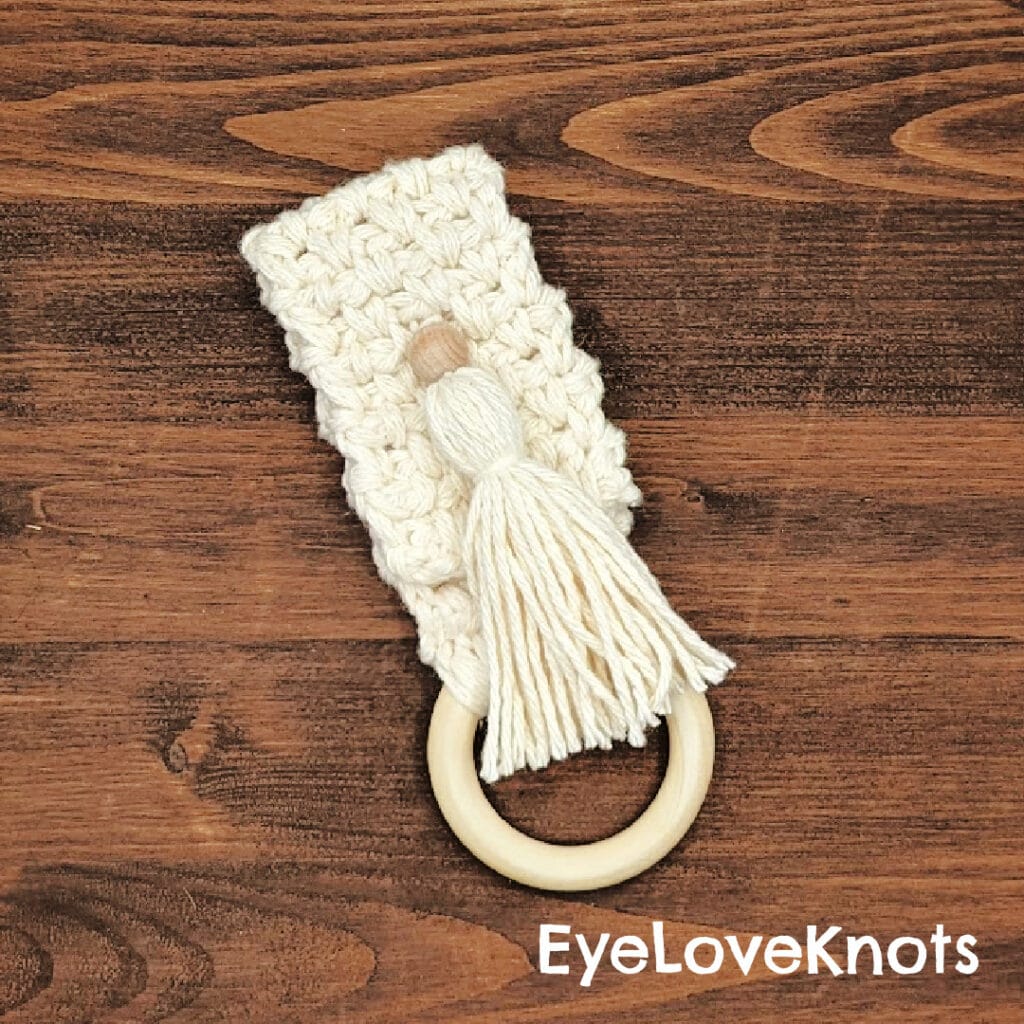 If you go with the Red Heart Strata or the Bernat Home Maker Dec yarn, I suggest using a blunt needle when sewing in your ends. It is really easy for the needle to go through the yarn instead of through the holes, which can make it really difficult to pull through and can impact your finished look.
The three inch wooden ring works well for thin towels, but if you are using a hand towel or a thicker kitchen towel, I would definitely recommend increasing the size of the wooden ring that you use. When trying out the three inch ring on my thicker kitchen towels, the towels bunched up and did not lay well, which I really didn't like.
Time Spent:
This pattern works up extremely quickly. I was able to make the main piece of this pattern in about 20 minutes, which makes it a great item for markets or last-minute gifts! The time consuming part of this piece comes from the embellishments. Making the tassel, attaching the button, the bead, and the tassel can take some time, but I realized that if you make them in bulk, you can make and add all the embellishments in less than 10 minutes. You can also forego the added embellishments and just use a regular button, which can save you time and provide you with a different aesthetic.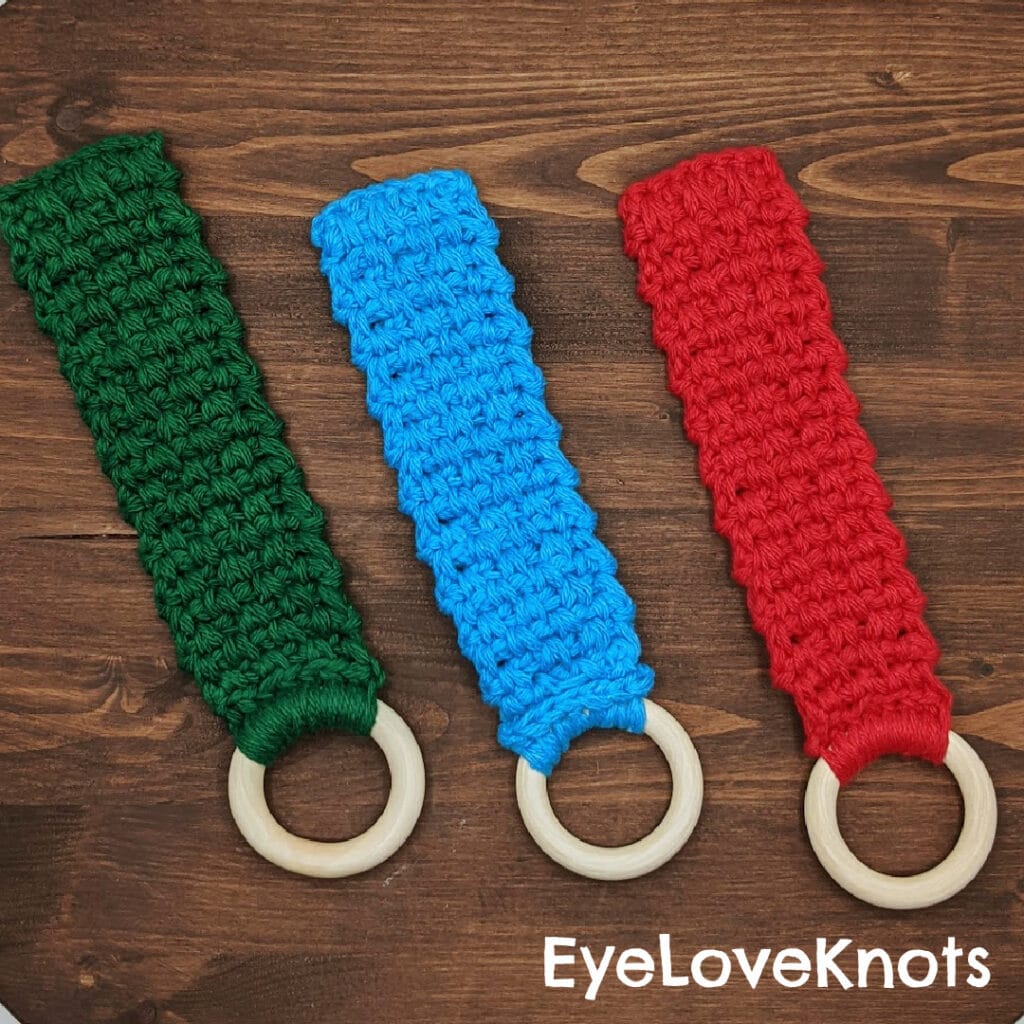 Measurements:
The crocheted portion of this piece measures approximately 2 inches wide by 7 inches long. When it is folder over, it measures about 4 inches long. The tassel can be made in any length that you desire, but I chose to make mine one and a half to two inches long.
Gauge:
Gauge is not important for this project. You can use whatever hook size you desire for the project and can chain any amount when starting. The directions include measurements for how long the piece should be rather than row counts.
Pattern Notes:
This pattern is extremely simple and works up really quickly. It uses only single crochets and chains, so it is great for beginners. Since there are less than 10 stitches per row, it goes quickly and is very satisfying to see your progress.
The designer uses an altered technique for the second row, which can be a bit confusing at first. She provides a video tutorial on her YouTube channel that shows exactly where to place your stitches, which helps make it much easier. This alteration helps to keep gaps from forming between the chain row and the first row of stitching, so I think it is extremely important to follow her suggestion. This part of the piece is very visible, so it is critical that it has the nice, finished look.
When chaining and turning to go from one row to the next, the designer recommends chaining loosely. This is extremely important to keep the sides of the piece as straight as possible. I normally use a lot of tension when crocheting, so I had to really think about using loose tension on the ends, but once I got the hang of it, it was just second nature. You can easily tell in your work if you chained too tightly because the next row will be difficult to place the hook in the correct stitches. I would recommend frogging and redoing the row with a looser chain if that happens.
Another challenging technique in this project is crocheting the main piece to the wooden ring. If you don't have experience crocheting around a circle, I would definitely recommend that you watch the video to see how to do this. I would also suggest that if you are struggling with this to go down a hook size or two and just use loose tension as you move around the ring. You want the ring to be attached tightly, but if you tension is too tight, it makes this step very difficult.
Overall, I think this pattern was extremely well written and thoroughly explained through both the pattern and the video. The designer includes how to make the entire project from start to finish and goes at a speed that is reasonable to keep up with, even if you are a beginner crocheter. The color combinations and finishing touches to this piece create endless opportunities to make this project your own. This is definitely a project I would suggest to anyone to try. What color would you make this in? Be sure to share in the comments below!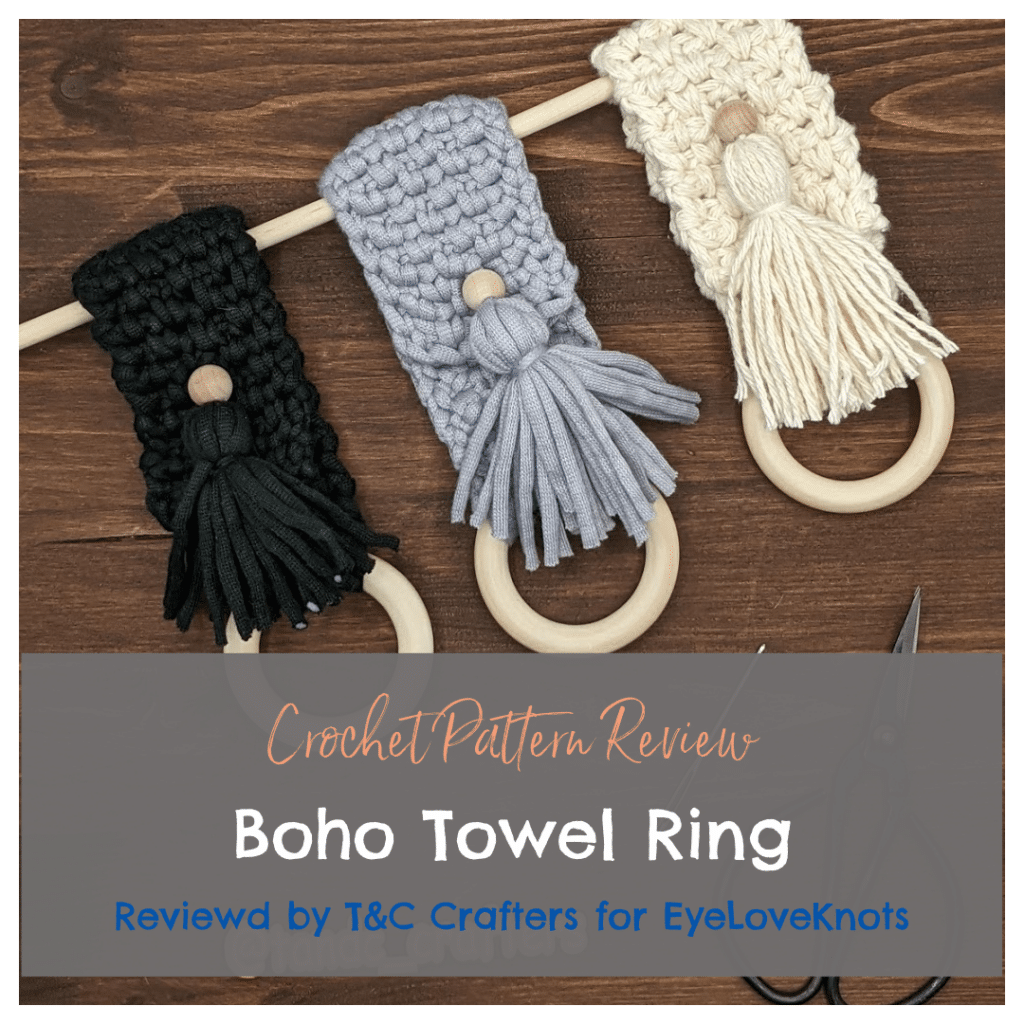 Don't forget to visit with me on Instagram @tandc_crafters for all kinds of awesome crochet makes and inspiration.
Join one of our awesome Facebook groups to share your creations, and see what others are up to!
– EyeLoveKnots Crochet & DIY Community
– DIY Home On Rockwood Lane
– Alexandra Lane Lifestyle
Linked Up To…
Craftastic Monday Link Party – Sew Can Do
Ginx Woolly Linx Party June – Ginx Craft
Linky Ladies Party 212 – The Purple Poncho
The Wednesday Link Party 402 – Oombawka Design Crochet
The Loop Scoop #15 – Moogly Blog
{Wow Me} Wednesday #508 – Ginger Snap Crafts
Creative Crafts Linky Party #45 – Creatively Beth
Creatively Crafty Link Party #279 – Life Beyond the Kitchen
Funtastic Friday Link Party #336 – Simply Beautiful by Jennifer
Saturday Sparks Link Party #426 – Pieced Pastimes
Craft Schooling Sunday – Creative Jewish Mom
Happiness is Homemade #377 – Decor Craft Design
You're the Star Blog Hop – Decor Craft Design
The Really Crafty Link Party #269 – Keeping it Real
Handmade Monday #230 – Sum of their Stories
The Hearth and Soul Link Party – April, the 21st Century Housewife
All About Home Link Party #95 – Follow the Yellow Brick Home
Party in Your PJs #362 – The Apple Street Cottage
Your Whims Wednesday #515 – My Girlish Whims
Thursday Favorite Things #493 – An Artful Mom
Artsy-Fartsy Party #348 – Artsy-Fartsy Mama
Encouraging Hearts and Home Blog Hop – Scratch Made Food for Hungry People
Traffic Jam Weekend Linky Party #285 – My Bijou Life
Friday Favorites – Busy Being Jennifer
Create, Bake, Grow & Gather Party #472 – Shabby Art Boutique
Home Matters Linky Party #335 – Modern on Monticello
County Road 407 – Farmhouse Friday #208