This is a crochet pattern review of Daphne the Dolphin designed by Theresa Kicher of Theresa's Crochet Shop. Review done by Candace of T&C Crafters for EyeLoveKnots.
This post contains affiliate links for Etsy and Amazon. If you make a purchase by clicking on them, I make a small commission at no extra cost to you. Thanks for your support!
Find the crochet pattern review below, or purchase the pattern on Etsy by clicking here.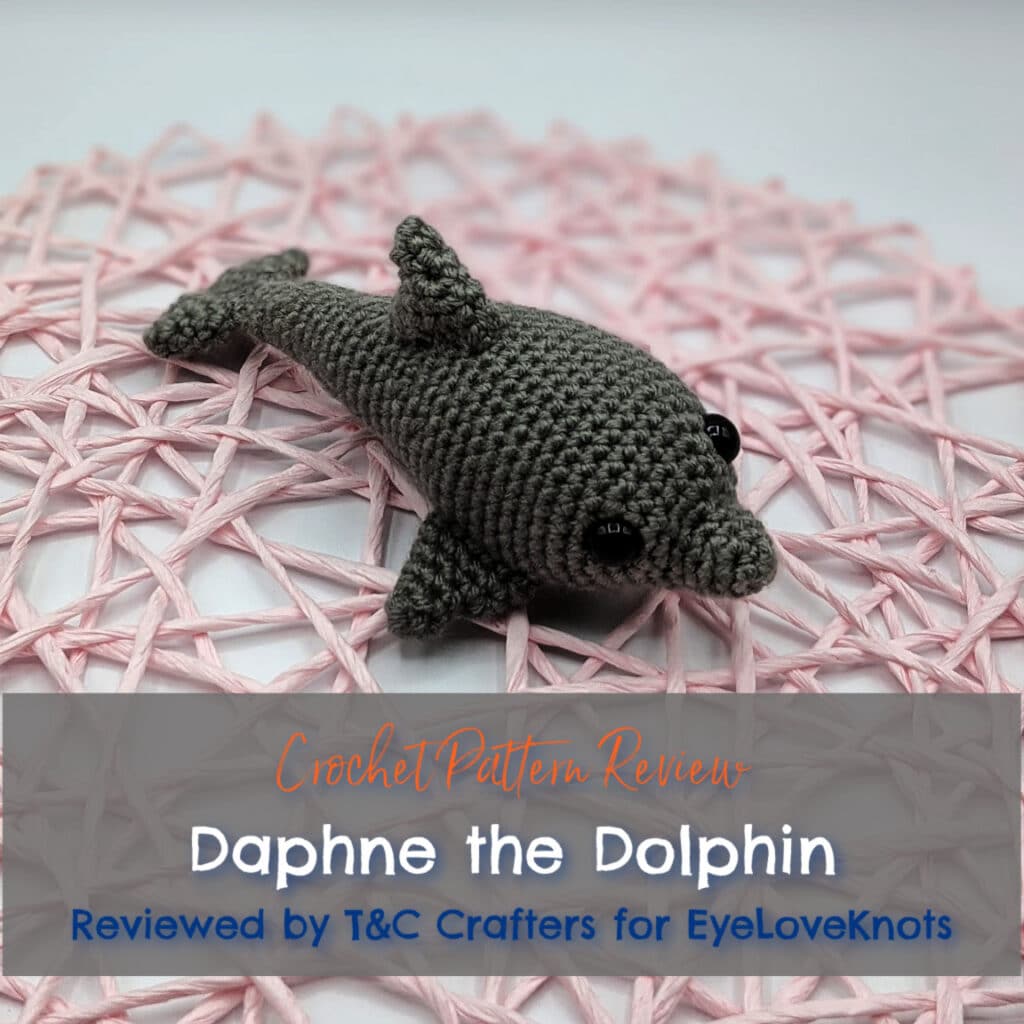 Visit with me on Facebook for all kinds of awesome crochet makes and inspiration.
A few years back, a family friend was looking for a math tutor for her daughter over the summer. That year, her daughter was going into third grade. I had been teaching eighth grade math for several years at this point, and I had just finished up my math coaching endorsement, so I thought teaching third grade math would be a fun challenge. It turned out to be a wonderful experience, and I have loved getting to watch this young lady grow over the years. Since we have developed a strong bond, I try to finish every summer by giving her a personalized handmade gift.
Two years ago, I made her some crocheted velvet scrunchies in her favorite colors. Last year, I made her a velvet twist earwarmer in her school colors. This year, I knew I really wanted to make her something special. I thought for weeks, and decided on making her a stuffed toy of her favorite animal – a dolphin. Since she's a teenager now going into her last year of middle school, I didn't want to make her a big stuffed toy. Instead, I just wanted a small dolphin that she could sit on her shelf to remember our sessions and the fun we had.
I set off to look for a cute dolphin crochet pattern on Etsy. I was assuming that I was going to have to alter a pattern to make the stuffed toy the size I wanted, but I was so excited to find the Daphne the Dolphin pattern by Theresa's Crochet Shop! I had actually favorited several other patterns from this Etsy shop in the past because they were so cute and well-made that I wanted to remember to come back to them. The pictures of the dolphin were adorable and looked like it would make the perfect size stuffed toy.
I am so glad I found this pattern. It turned out exactly how I wanted and made a wonderful gift. The young lady I tutor absolutely loved it, and even sent me a card afterwards thanking me for it once again. Now I'm trying to figure out who else would love a dolphin so I have a reason to make even more!
Materials I Used:
I Love This Yarn in Graybeard
G6 – 4.0 mm Crochet Hook (I used Clover Amour)
Yarn Needle
12 mm Black Safety Eyes or Black Felt for Eyes
Daphne the Dolphin, Paid Crochet Pattern from TheresasCrochetShop via Etsy
Material Notes:
This pattern calls for worsted weight yarn and a 3.75 mm crochet hook, but I went up a hook size to a 4.0 mm hook because I tend to crochet really tightly. This pattern can easily be made with chunkier yarn to create a bigger dolphin. I actually have already started on making one with Bernat Blanket Yarn in Dark Grey with a L-11/8.0 mm hook. This dolphin is going to be significantly larger and is perfect if you want to make a big stuffed toy.
I normally don't use safety eyes because I worry about them coming loose for small children. I chose to use them for this project only because I knew the dolphin was being given to a teenager that doesn't live with any small children or animals, so there was no concern of them being swallowed if they were to potentially fall out. I am working on some dolphins to sell, and for those I will definitely be cutting out circles of black felt to use for eyes rather than safety eyes just to be safe.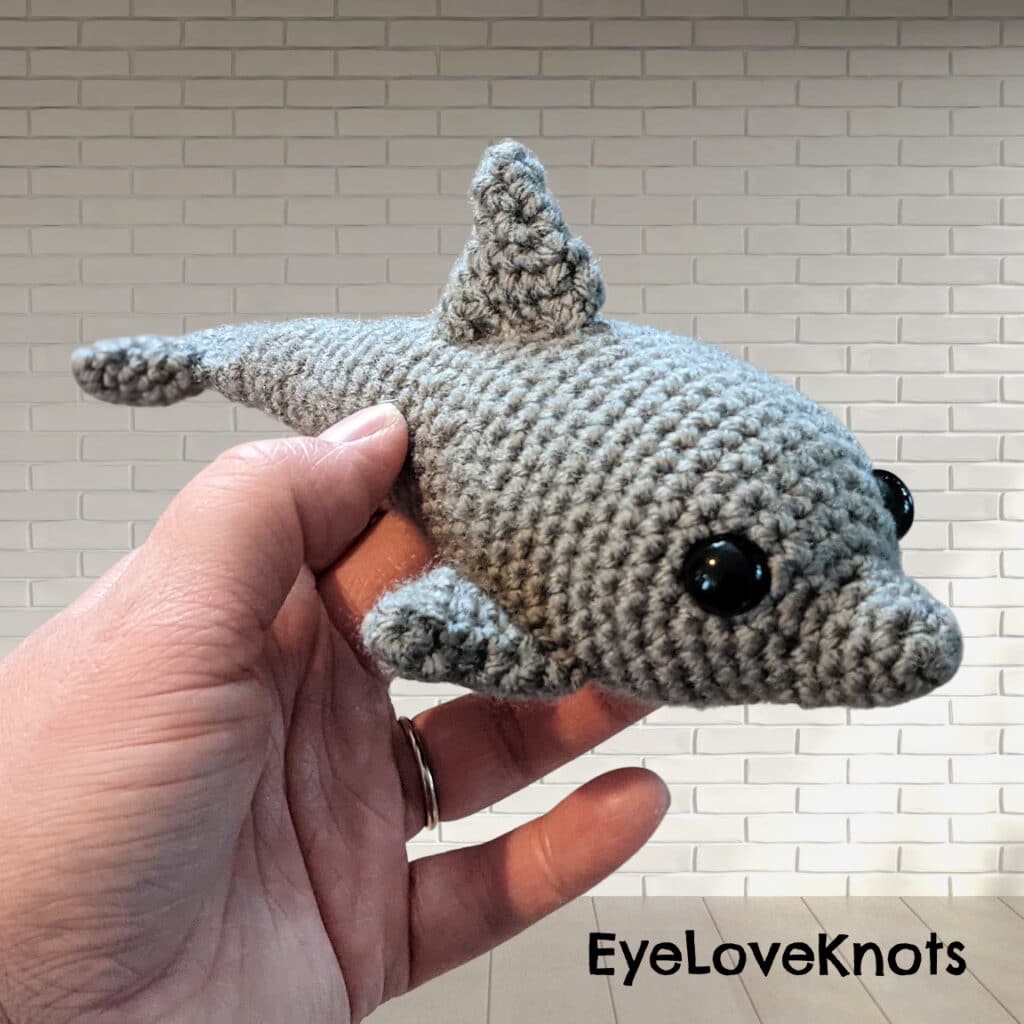 Time Spent:
This pattern provides for a relatively quick make. I was able to make the dolphin in about two hours, even with sewing on the fins and tail. These make great last-minute gifts or market prep! If you are making multiples, I suggest making all the bodies first, and then making the fins and attaching them. The fins all look different but they are slightly different, so you have to be careful to remember which one is which if you make them first.
Measurements:
The dolphin comes out somewhat small using worsted weight yarn. My finished dolphin measured 7 inches from nose to tail and 4 inches across. If you would like to make a bigger dolphin, you could use chunkier yarn or double strands of worsted weight yarn.
Gauge:
There is not a gauge provided for this pattern, and it is not really that critical as the size of the dolphin can vary without issue. However, like all amigurumi, you need to make sure that the stitches are tight enough together that stuffing doesn't come out between the stitches. If you notice that your stitches are not tight enough, go down a hook size or increase your tension.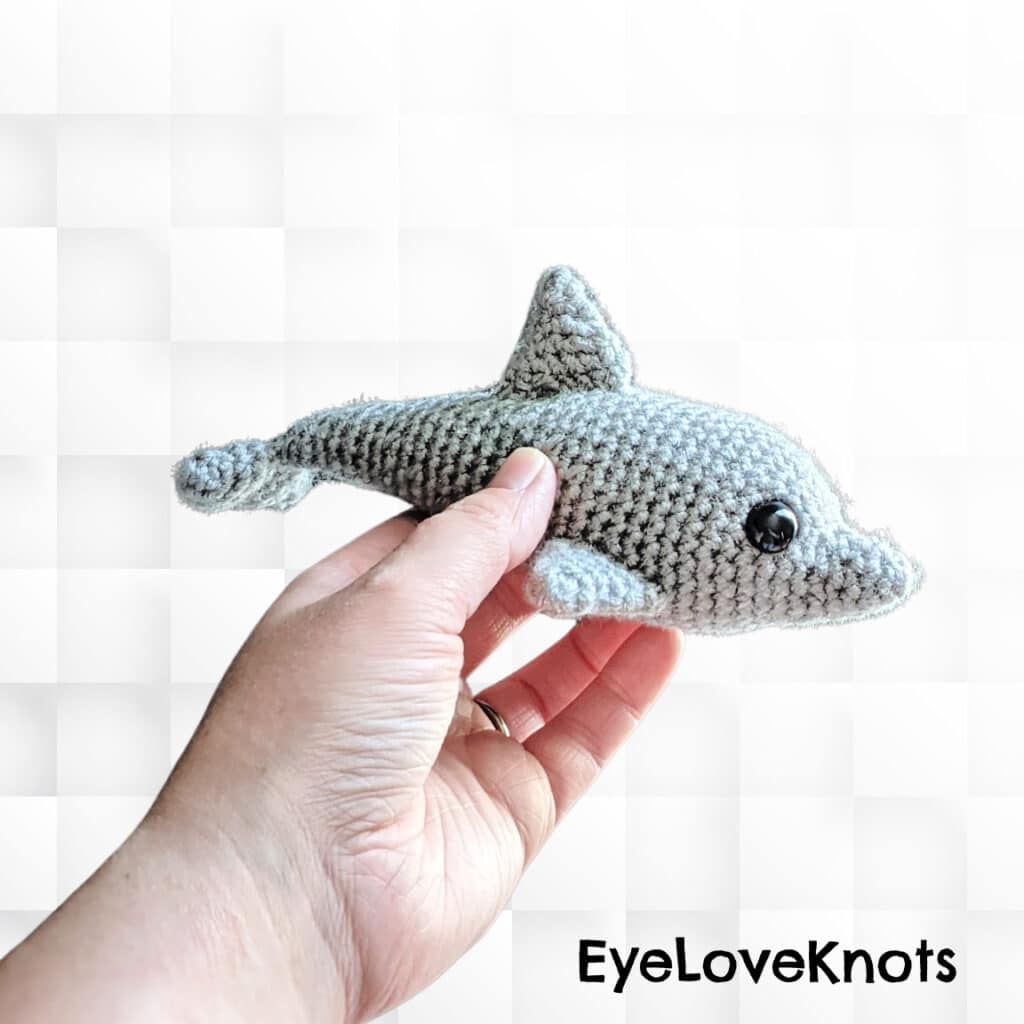 Pattern Notes:
Theresa from Theresa's Crochet Shop did an excellent job writing this pattern. The pattern is very easy to read, detailed, and provides pictures for critical parts of the pattern. I was extremely impressed by how easy it was to make a realistic-looking dolphin toy. I was most impressed by how just a few rows of different stitch counts made a clearly-defined face of the dolphin that made it really easy to place the eyes and see what direction it should lay.
For anyone that is skeptical about making amigurumi because of sewing on pieces at the end, the finishing details are relatively easy for this dolphin! I had to be careful when making all my fins to remember which one was which, because they are pretty similar to one another. The pattern provides really explicit instructions for where to attach each of the fins. The directions for attaching the fins is right after the directions for each type of fin, so if you want to make sure you don't confuse the pieces, you could easily attach them as you finish them.
This pattern uses primarily single crochet, increases, and decreases. It is made working in the round, so you will need some experience with working in the round. I used the magic ring method when starting all my pieces, but the directions provide instructions on how to start either with a chain two or a magic ring.
The most difficult part of this pattern for me was the end of the body piece and the fins because the pieces were so small. It probably took me about as long to make the last six rows of the body as it took me to make the first ten rows of the body because I found it tricky to keep my stitches consistent with small rounds. I'm currently working on a dolphin made with chunky yarn, and I'm noticing the last few rows are easier to complete with the larger weight of yarn. Regardless of the difficulty of the last few rows, I still plan to make a lot more dolphins! I'm sure they will get easier and easier with time.
My favorite part of the Daphne the Dolphin pattern was the first page where Theresa included some fun facts about dolphins! These facts would be great to use in social media posts about your makes or to include with the dolphin if you are giving it as a gift. I would definitely recommend this pattern to anyone that is looking to make a cute dolphin or make great-selling items for markets! I am definitely going to be buying some of Theresa's other patterns to try out soon!
If you decide to make one of these dolphins, be sure to give Theresa's Crochet Shop the credit, but it would also be awesome if you tagged @eyeloveknots and @tandc_crafters so we can see what you made! Let us know what you think of the dolphin pattern in the comments below!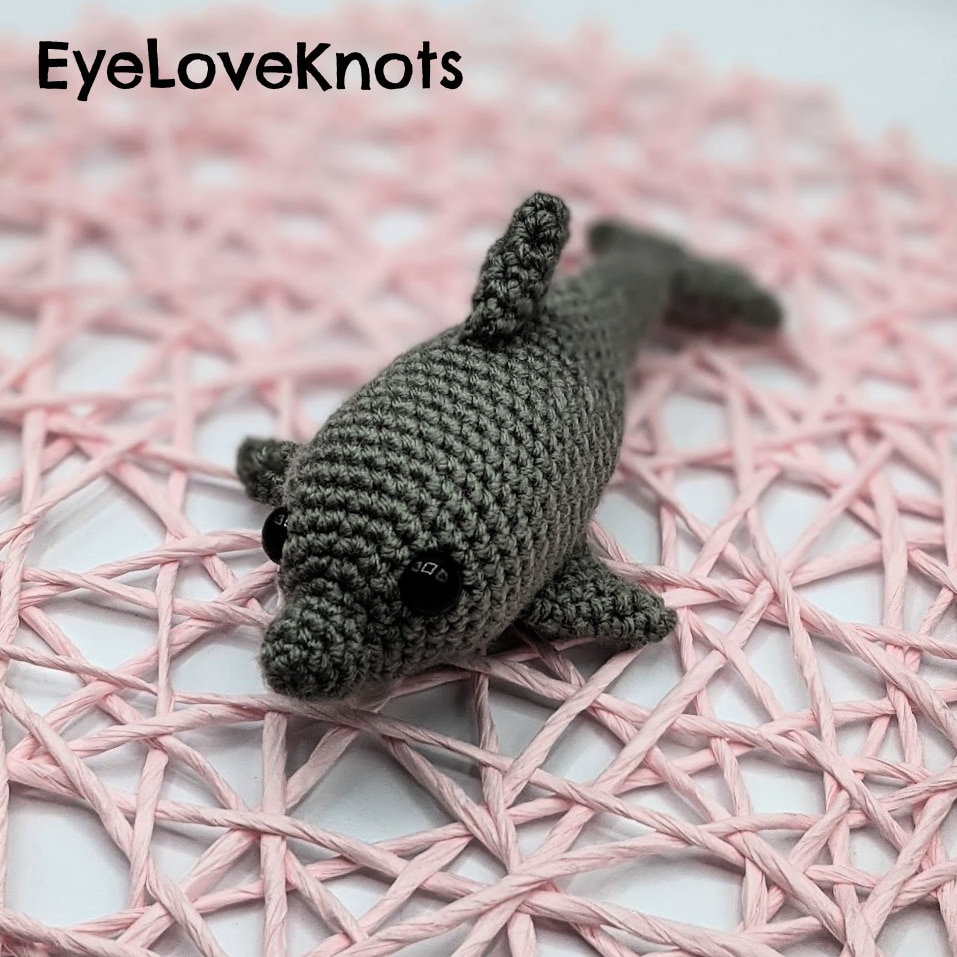 Don't forget to visit with me on Instagram for all kinds of awesome crochet makes and inspiration.
Join one of our awesome Facebook groups to share your creations, and see what others are up to!
– EyeLoveKnots Crochet & DIY Community
– DIY Home On Rockwood Lane
– Alexandra Lane Lifestyle
Linked Up To…
Home Matters Linky Party #348 – Modern on Monticello
Beautifully Made Link Party 181 – Across the Blvd
All About Home #110 – Common Ground
Craft Schooling Sunday – Creative Jewish Mom
Unlimited Link Party 33 – Grammy's Grid
Ginx Woolly Linx Party – Ginx Craft
Thursday Favorite Things #507 – An Artful Mom
Creatively Crafty Link Party #293 – Life Beyond the Kitchen
Encouraging Hearts and Homes Blog Hop – Scratch Made Food
Grace at Home No 438 – Imparting Grace
Traffic Jam Weekend Link Party #294 – My Bijou Life
Friday Favorites – Busy Being Jennifer
Create, Bake, Grow & Gather Party #486 – Shabby Art Boutique
Funtastic Friday Link Party #350 – Simply Beautiful by Angela
A Morning Cup of Joe – The Cottage Market
Saturday Sparks Link Party 440 – Pieced Pastimes
Link Your Stuff – Annemarie's Haakblog
Hearth and Soul Link Party – April, the 21st Century Housewife
Handmade Monday #246 – Sum of their Stories
The Really Crafty Link Party #282 – Keeping it Real
Craftastic Monday Link Party – Sew Can Do
Link Up Potpourri #10 – My Bijou Life
Fabulous Party 390 – Lou Lou Girls
Linky Ladies Party #216 – The Purple Poncho
606th Inspire Me Tuesday – A Stroll Thru Life