This is a crochet pattern review of the Terry the Terrific Traffic Cone designed by Mel's Crocheted Creations. Review done by Candace of T&C Crafters for EyeLoveKnots.
This post contains affiliate links for WeCrochet and Etsy. If you make a purchase by clicking on them, I make a small commission at no extra cost to you. Thanks for your support!
Find the crochet pattern review below, or click here to purchase the pattern from Mel's Crocheted Creations on Etsy!
In a hurry? Pin this for later when you have more time.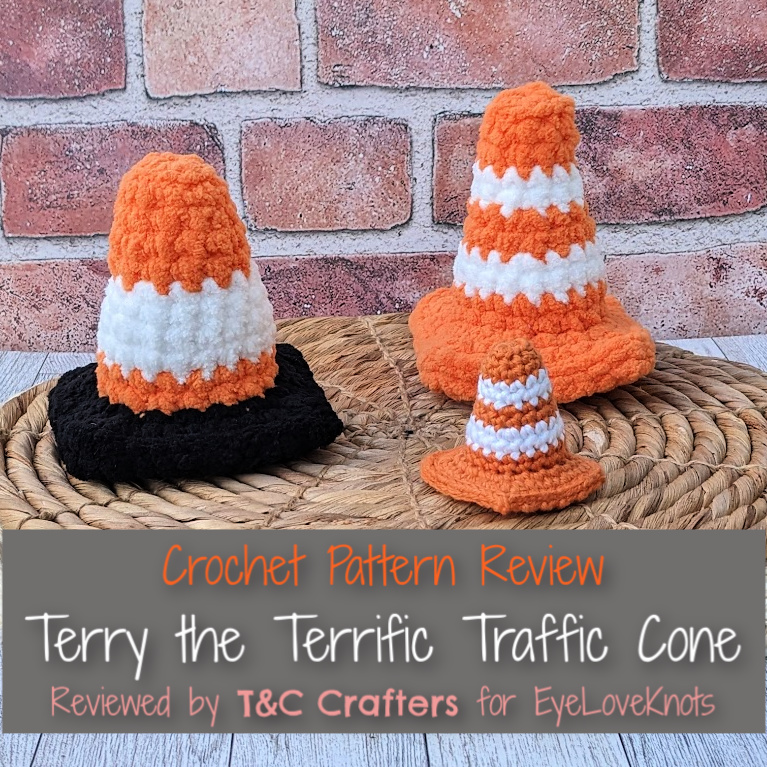 Visit with me on Facebook or Instagram for all kinds of awesome crochet makes and inspiration.
After I fell in love with the Tank the Turtle pattern, I started following along actively with the designer, Mel's Crocheted Creations. She recently released her pattern for Terry the Terrific Traffic Cone, and I knew I needed to make some up for my car-loving little boy!
Just like Tank the Turtle, the pattern for Terry the Terrific Traffic Cone is no-sew and easy to follow. It works up quickly with well-written directions and pictures included throughout the pattern. The pattern includes two color variations and can be adapted to different weights of yarn. I love how easy this pattern is to work up, and I'm making a bunch to take along to my next market!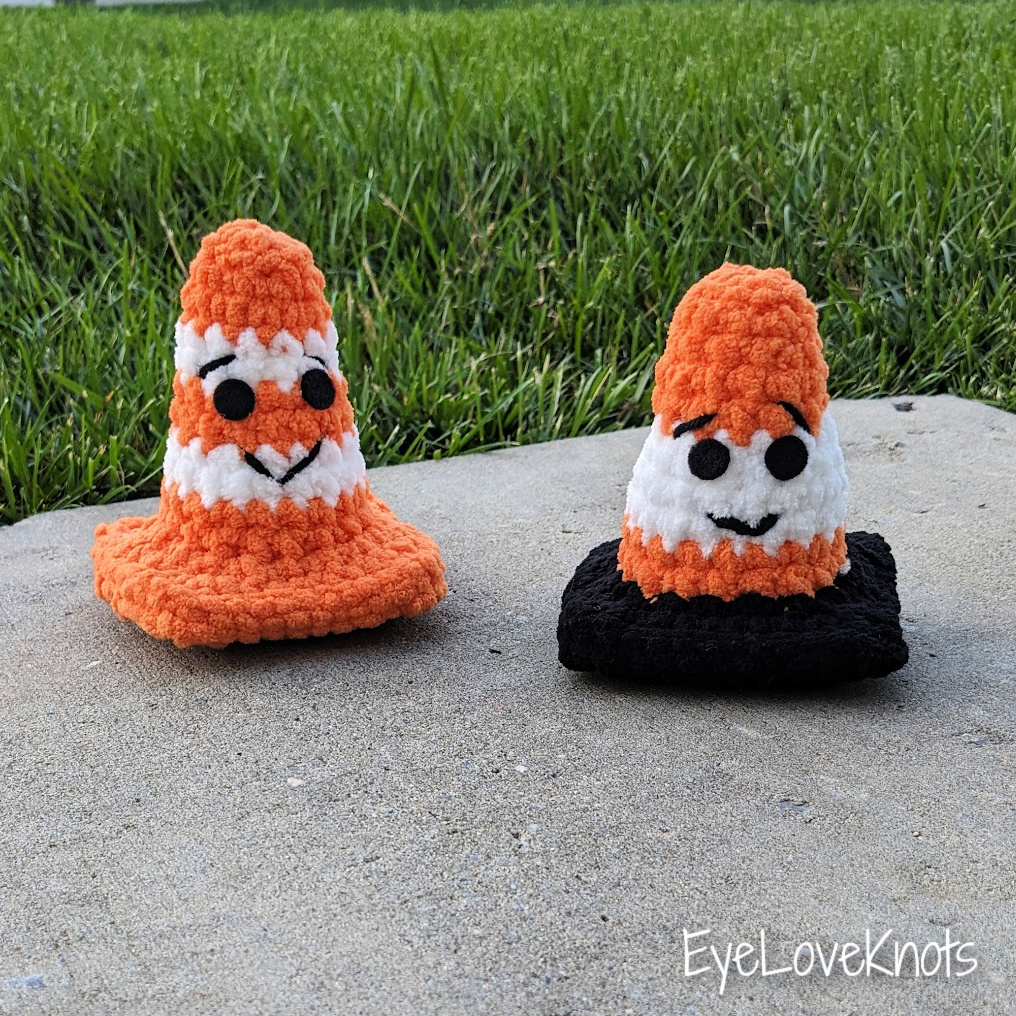 Materials I Used: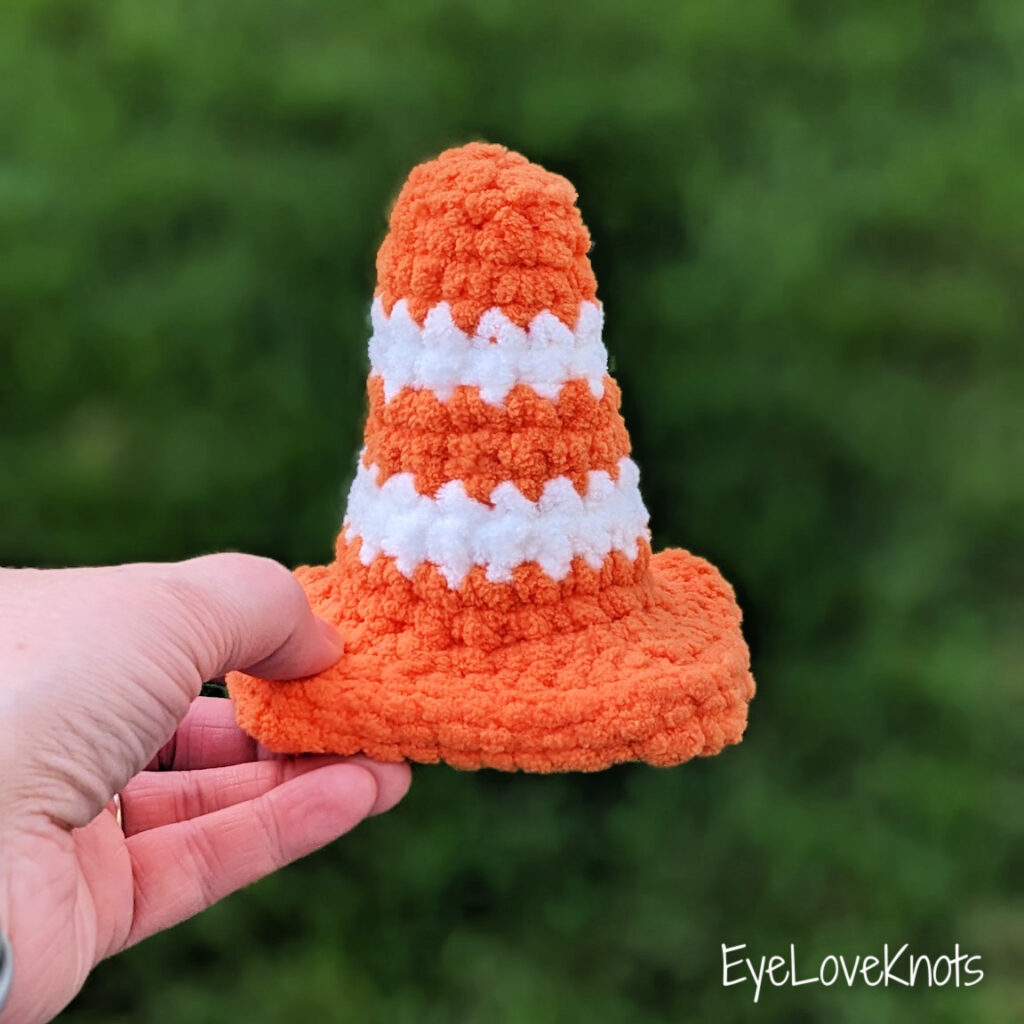 Material Notes:
The traffic cone crochet pattern calls for Bernat Blanket yarn or Sweet Snuggles Lite and a 6.5 mm crochet hook. I chose to use Bernat Blanket yarn because that's what I had on hand and typically use for chunky amigurumi. I prefer using a J10/6mm crochet hook for this yarn to make sure my stitches are close enough together.
If you are using the traffic cones as party decor or want them to be a little more serious, you could leave off the facial features, which would mean that you don't need the felt eyes or worsted weight black yarn. The yarn needle is mainly used for adding these features and weaving in the final end when finished, so you would want to choose your needle based on what is easiest for adding facial features.
This pattern only requires a small amount of yarn. You can make a whole road's worth of these little cuties with a skein of each color. You also don't need very much stuffing for this pattern. Only the top part of the cone will need to be stuffed.
The piece of plastic canvas is used to keep the stuffing from coming into the bottom and helping to keep the bottom of the cone flat. You could also use a piece of cardboard or other structured material in place of plastic canvas. There are also directions provided if you choose not to use something to stabilize the base.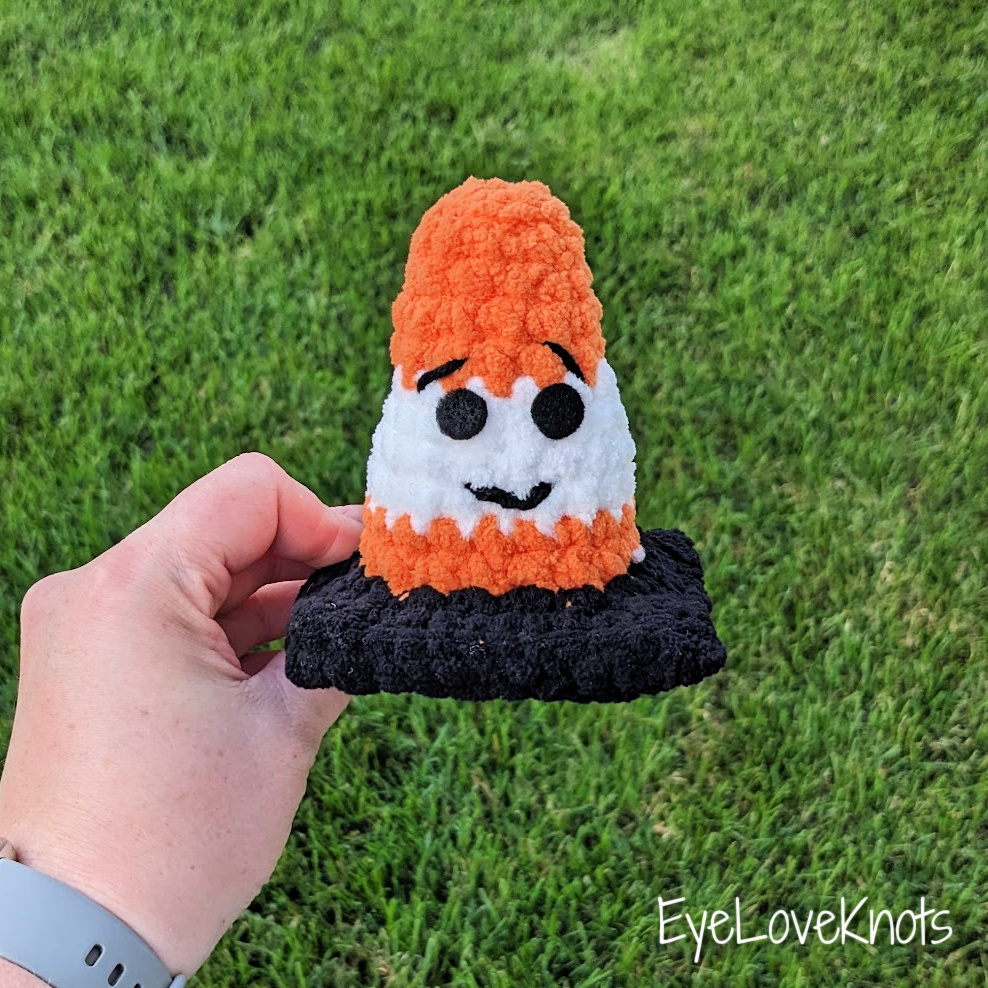 Time Spent:
This was a really quick project. I made my first two traffic cones in about 45 minutes, and after I got the hang of it, I was able to make the rest in just about 30 minutes from start to finish.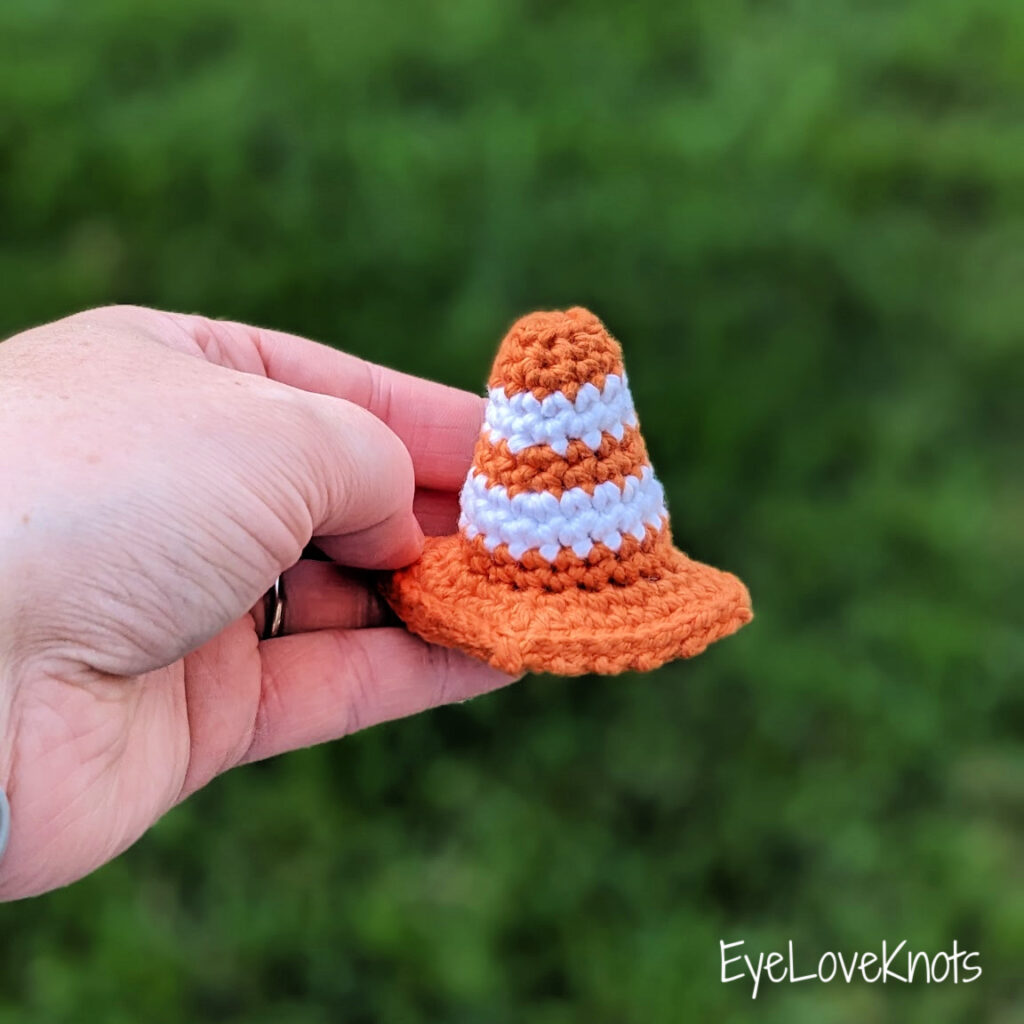 Measurements:
My larger traffic cones made with Bernat Blanket yarn measured 4.5 inches tall with a base that measured 3.75 inches by 3.75 inches. My smaller traffic cone made with cotton yarn measured 2.25 inches tall with a base that measured 2 inches by 2 inches.
Gauge:
Gauge is not provided for this pattern and is not necessary. You just need to be mindful that your stitches are close enough together that you don't have gaps forming between your stitches that would allow stuffing to come out between the stitches.
If you would like your finished pieces to turn out the same size as mine, you can use the information about my gauge:
When using Bernat Blanket yarn and a J10/6 mm crochet hook, a magic circle with 9 single crochets measures about 1.5 inches in diameter.
When using Dishie cotton yarn and a E4/3.5 mm crochet hook, a magic circle with 9 single crochets measures just under 1/2 inch in diameter.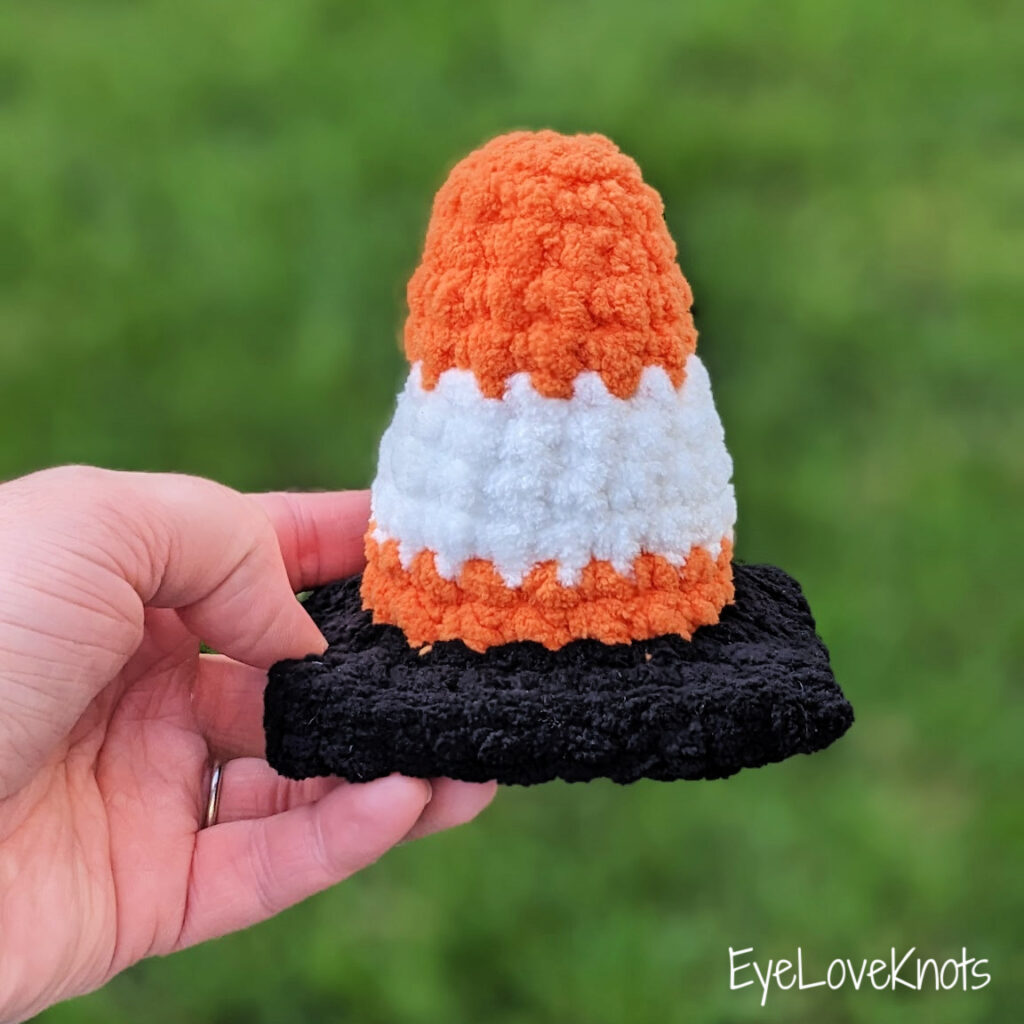 Pattern Notes:
The Terry the Terrific Traffic Cone or Terraffic Terry is an easy, no-sew pattern that works up really quickly! While this is a super easy pattern, you do need some experience working with amigurumi and chunky yarn. This pattern includes directions that require you make a magic ring, single crochet, half double crochet, slip stitch, and work in the front loop or back loop only. You will also need to be able to change colors.
This pattern, like others from Mel's Crocheted Creations, is really thorough and detailed, and includes tips and helpful photos throughout the pattern. I really appreciated that she provided information about exactly where to change colors and how to join after each round.
There are two variations of the pattern included. Specific directions are provided for making a cone with two stripes and an orange base and a cone with one stripe and a black base.
The facial features are not necessary for this pattern if you don't want to make your traffic cone into a character. I think a set of these would be really cute for a little boy that likes to play with cars. My 5-year-old son said that he thought the face was "silly" and that it should be left off, so you may want to make some each way if prepping for a market. I personally really like the facial features, so I made some each way!
I also tried this pattern out using cotton yarn and a smaller hook. I liked how the cone turned out, but I did have to add a few rows to the bottom piece when making it with cotton yarn so that it would fit against the top portion correctly. I plan on adding a keychain to it to appeal to construction or road workers that may enjoy that type of keychain.
I highly recommend you try out this fun and easy pattern! If you decide to make some traffic cones of your own, I'd love to see them! Be sure to tag the designer (Mel's Crocheted Creations), EyeLoveKnots, and myself on social media so we can what you made!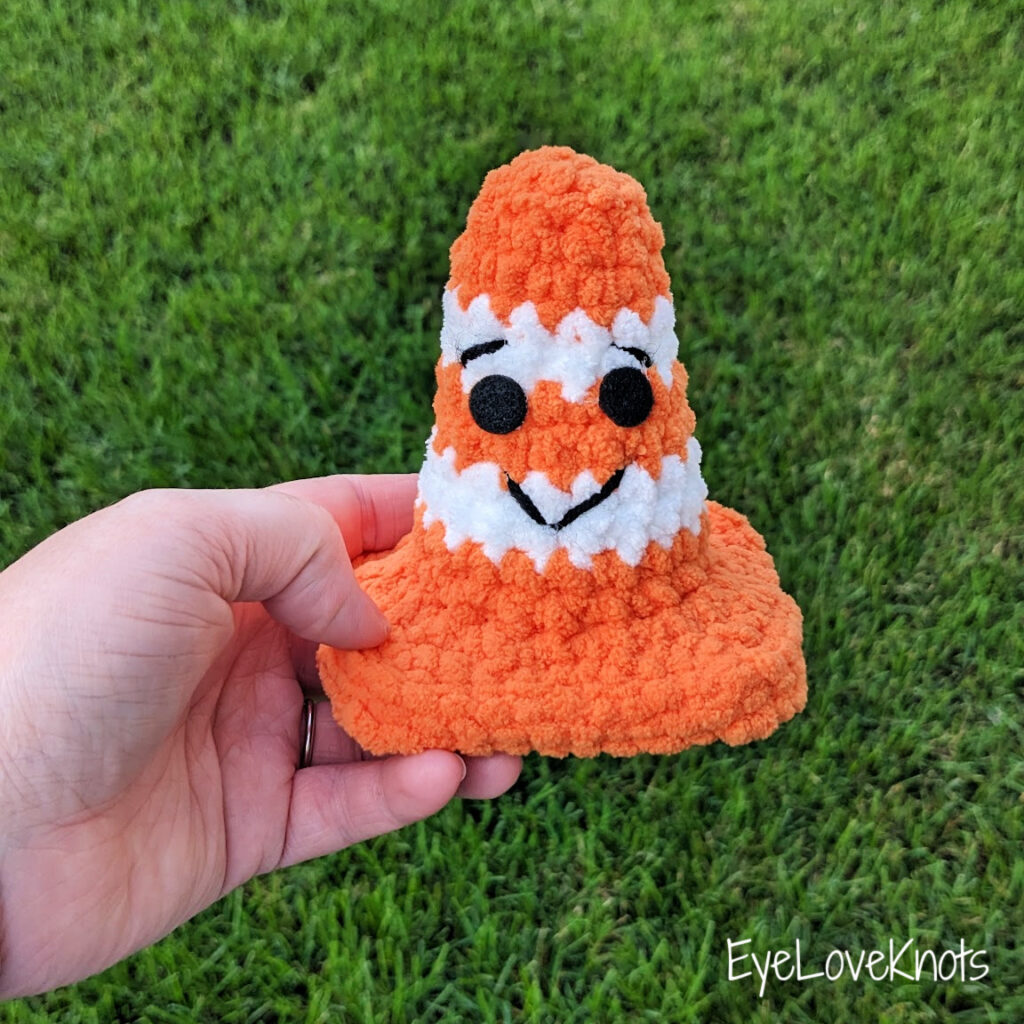 Don't forget to visit with me on Instagram for all kinds of awesome crochet makes and inspiration.
Join one of our awesome Facebook groups to share your creations, and see what others are up to!
– EyeLoveKnots Crochet & DIY Community
– DIY Home On Rockwood Lane
– Alexandra Lane Lifestyle
Linked Up To…