This is a crochet pattern review of the Bobble Stitch Hot Pad pattern by designer Colorful Christine. Review done by A Stitch Shy of Normal for EyeLoveKnots.
This post contains affiliate links for WeCrochet and Lion Brand Yarn. If you make a purchase by clicking on them, I make a small commission at no extra cost to you. Thanks for your support!
Find the crochet pattern review below or click here to check out the free pattern on the designer's website!
In a hurry? Pin this for Later when you have more time.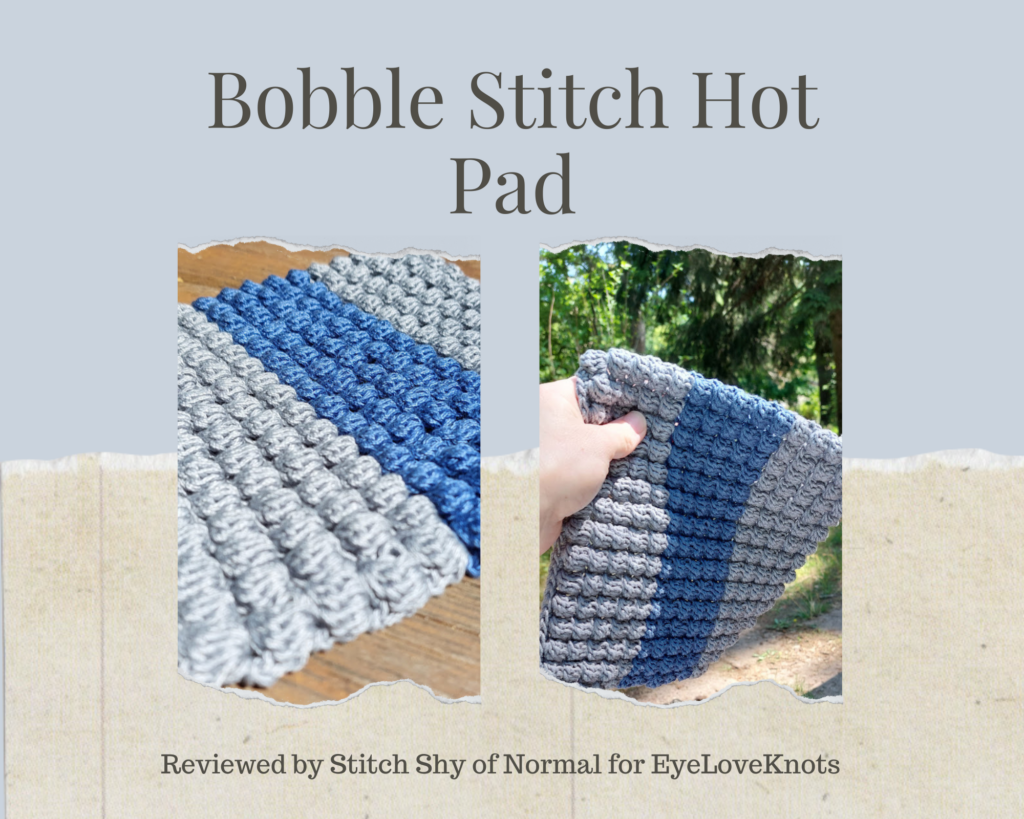 I know I like to do these reviews on big projects like garments, but considering that I'm 5 months pregnant it was time to start slowing down a little bit and maybe focus more on useful things around the home. After all, most of my recent projects or WiPs right now are meant for the little dude, like blankets and cute tiny sweaters, but I couldn't truly test those yet until he's here!
So I chose a short and sweet project, a hot pad that can be made in just a couple of evening sessions but becomes something that you reach for in the kitchen time and time again. I finished it last weekend and put it straight into my kitchen drawer next to the stove, and already used it a few times! It's cute and holds up well to use. To be fair, I don't cook a ton (that's my husband's role in our house), so I've only personally used it maybe 3-4 times. I can't really vouch for the longevity after months or years, but I know this is a quality yarn and I feel like I can trust it to last.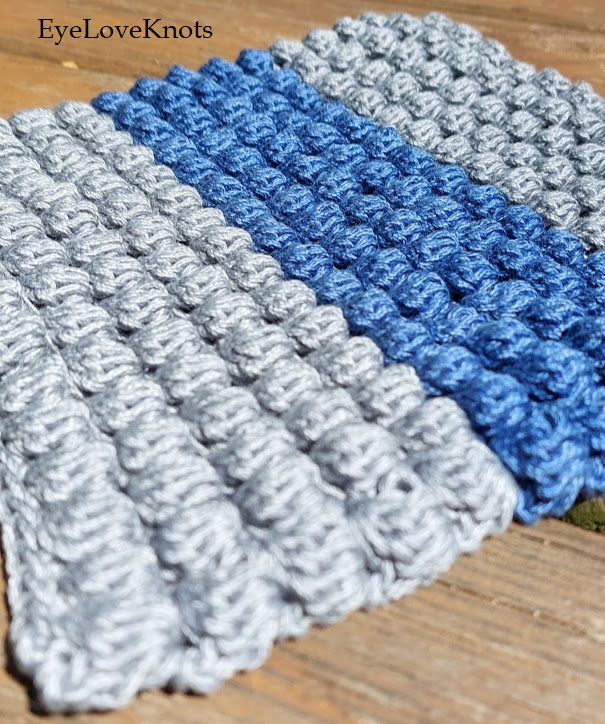 Visit with me on Instagram @astitchshyofnormal for all kinds of awesome crochet makes and inspiration!
What Materials Do I Need to Crochet a Hot Pad?
150ish yards of worsted weight cotton, I used Lion Brand 24/7 Cotton and used roughly 2 ounces of Silver with an ounce or so of Denim–don't necessarily take me at my word on those names, these were unlabeled skeins in my stash but I do know they were 24/7 Cotton for sure.
7/4.5mm Crochet Hook – I like to use Clover Amour Ergonomic Hooks
Yarn needle and scissors for weaving in ends
Bobble Stitch Hot Pad, Free Crochet Pattern on the Colorful Christine site
Material Notes:
I love the finished texture on this project. If you've used the 24/7 Cotton yarn before, you know the gorgeous stitch definition it can give! Everything just looks so crisp and clean and beautiful. It's sort of a stiffer cotton, which also really lent itself to this bobble stitch and made the bumps pop right out.
The only downside I found with this combination was the strain on my hands. Because it's a stiffer yarn, with a stitch that requires consistent tension, and a hook slightly on the smaller size…it made my forearms a little sore after working on this for a while. That could just be me and how I hold my yarn, it might not happen to anyone else! I just wanted to put out a warning that if you're more prone to soreness from longer crochet sessions with tighter-tension projects, this one might be one of those. The designer used Lily Sugar'n Cream, which I think might have been less troublesome with the tension since it's a thick cotton but it's on the softer side.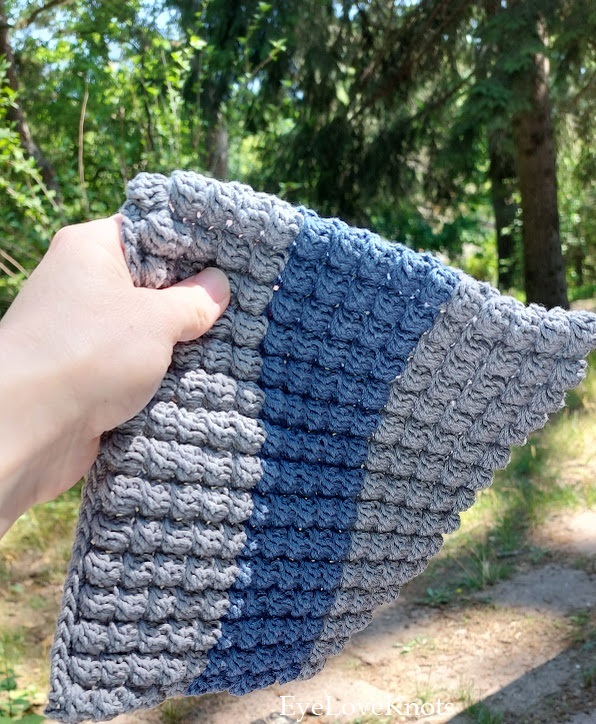 That being said, would I do it again? Yes, I would use this yarn for another hot pad with this pattern. I would just break it up into smaller work sessions next time and watch my tension. If you made it in one color like the original pattern, you would get one full cloth out of one skein. I just didn't have full skeins of either color but thought they would look really neat together and I hoped I had enough between the two. I just barely did, there was not much left of the Silver when I was finished! You could also use most medium cottons for this, they would all work great.
How Long Does it Take to Crochet a Hot Pad?
I'd estimate I spent about 3-4 hours on this. I did it across two evenings, I think it was the long weekend of the 4th of July. But you could quickly whip up a set of a few of these for a gift basket across a few days if you wanted! It's a quick and satisfying stash-buster (I assume you also have tons of cotton in your stash because it's addicting to collect the pretty colors.)
Gauge & Measurements:
This crochet pattern is pretty open-ended on size and does not provide gauge or measurement information.
The designer talked about how they used one ball of each colorway of Sugar'n Cream to make the original cloths, and since that yarn comes in different yardage for the different lines, the cloths ended up different sizes. I chose to follow the row count of the larger option, since that one used about 3 ounces and I figured that's about what I had.
If you're interested in a basic comparison size, mine used about 2.75oz of yarn and I did 15 sets of bobble repeats, and my finished hot pad is about 7.75″ wide by 7.5″ tall. I find this to be a good size to hold smaller things like my tea kettle or a pie plate. It's also a nice size to use for grabbing the baking tray out of my toaster oven!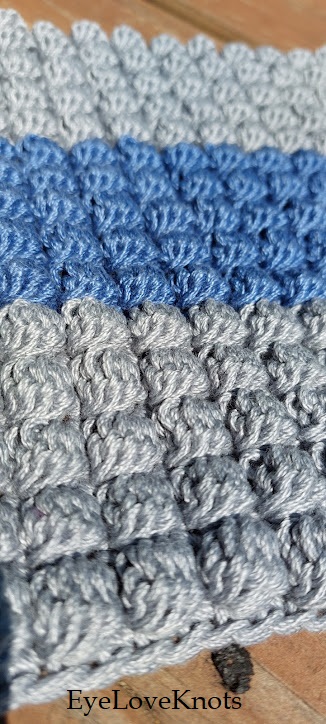 Pattern Notes:
I adored working this up. The bobbles are really satisfying, and doing a plain row of single crochet in between each one gives your hands a quick break. You can literally see the texture build up each and every row of bobbles you do! It's awesome, and makes a fun sensory experience holding it as a WiP. I found myself rolling up the cloth and squeezing it each time I was done, because it felt kind of cool.
I found it a nice and thorough pattern for being such a small item! The designer takes care to give tips and tricks throughout, such as reminding you to work your initial chain looser to avoid the cloth bunching up on the starting side. They also walk you through how to customize the size, and give the weight information to help you figure out what size of cloth you should be able to make based on how much yarn you have to work with.
The pattern does not have anything about changing colors or striping, I just chose to do that myself since I didn't have enough of either color to make a full cloth with this stitch (it's a yarn-eater!). I did some quick math and thought I should be able to make the size roughly the same as the designer's 3-ounce version, and they did 15 rows with that one. I had started with Silver before I planned things out, so I did the math and figured I had less of the Denim so I could do three chunks of 5 rows and make it sort of color-blocked. This worked out great! I used up all but a couple inches of my middle shade so I couldn't have planned it better. You could do this in one solid color, use variegated yarns like the designer, or stripe through multiple colors like me! It's very open to modifications in the row count or even the width, so you can make any combination work out if you're willing to crunch some numbers.
The pattern recommends blocking the cloth, which I just realized I did not do. It wouldn't have changed much but it might look nicer laying in the drawer! However, it functions just fine as it is. I would probably block another one if I make it, and I might try blocking this one to see how it looks. I just can't verify how it blocks from my own project since I forgot. Whoops!
Like I said, I really enjoyed this pattern. It's nice to find a free pattern for something small and quick, and end up with a highly useful (and cute!) item in the end. I love how my color-blocking came out, and I definitely recommend this pattern if you're wanting to use up some stash cotton or even buy something new.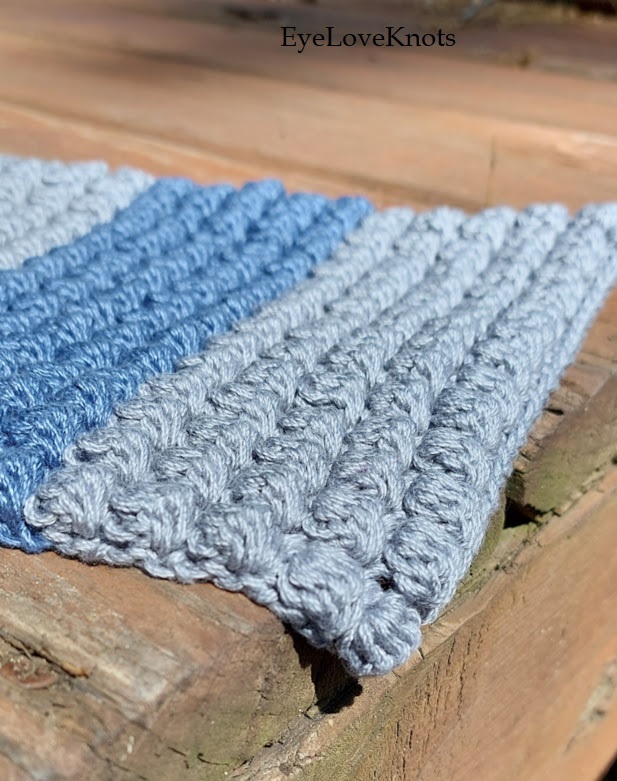 Don't forget to visit with me on Instagram @astitchshyofnormal for all kinds of awesome crochet makes and inspiration.
Join one of our awesome Facebook groups to share your creations, and see what others are up to!
– Yarn Crafts & Coffee Community
– DIY Home On Rockwood Lane
– Alexandra Lane Lifestyle
Linked Up To…