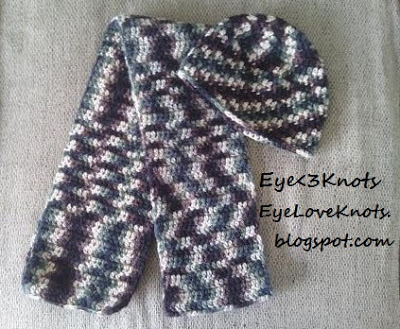 This is part of the last scarf and hat set as part of my camo series.

I have made this as a gift to a friend, Matt. He kept mentioning a camo beanie that he wanted so why not have a set, right?

Materials:
– 595 Yards of Worsted Weight Yarn – I used about one and 2/3 skeins of Hobby Lobby's I Love This Yarn in Green Camo
– I9/5.5mm Hook
– #18 Tapestry Needle for Weaving in Ends

Material Notes:
Yarn Alternatives: Berroco Vintage, Red Heart's With Love

Time Spent:
For each two rows, it took about 3 minutes for a total of roughly three and a half hours.

Gauge:
With I Love This Yarn and an I9/5.5mm Hook = 4″ x 4″
Chain 16, DC in the 4th stitch, and in each stitch across. (14 DC)
R2 – R8: Chain 2, turn. DC in the 2nd stitch, and each stitch across.
Fasten Off.

Measurements:
6.5″ wide by 70″ long

Abbreviations:
DC – Double Crochet

Pattern:
Chain 23. DC into the 4th chain, and each chain across. (21 DC)
Rows 2-140: Chain 2, and turn. DC into the 2nd DC and each DC across. (21 DC)

Row 141: Chain 1, and turn. Slip stitch into the 1st DC, and each across. (21 slip stitches)

Fasten off, and Weave in Ends.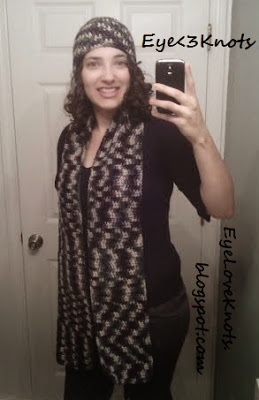 Please feel free to make and sell your own Doubled Scarves using this pattern, but please DO NOT claim this pattern as your own nor should you sell my pattern, and DO NOT re-publish my photos as your own. DO NOT copy and paste my pattern anywhere, link to it instead.

With so many size, yarn type and color options, I would love to see them! Join the EyeLoveKnots Crafting Community to share your creations, and see what other's are up to!

Check out the EyeLoveKnots Ravelry page to keep track of all your EyeLoveKnots favorites in your que, and share your WIPS and finished projects!

Don't miss out on new crochet patterns, reviews, jewelry tutorials and more! Subscribe to EyeLoveKnots by using the box on the right side toolbar, or follow me via Bloglovin! You can also find me sharing on the EyeLoveKnots Facebook page, and @EyeLoveKnots on Twitter!


Don't Crochet but Interested in Purchasing a Crocheted Beanie?
Visit the EyeLoveKnots Etsy Shop to see what I have available! Use the search box to type in what you have in mind, or feel free to send me a message with your custom request. I am happy to make in any custom size and/or color. View color options here: I Love This Yarn.

Adsense: