Before I go into the post, I would just like to say this has been sitting in my draft box since January! Just waiting on pictures and final editing. Man, I have been slacking. Geez!
This hat and scarf will still come in handy to those of you still experiencing snow, however, in the state of Florida, I'm not sure that it can be used. Who knows? Today, I left the house for work in 48 degree weather!


Onto the post…


I bought some white Red Heart Soft yarn back when I made the Gingerbread Man and Woman hat and fingerless glove set. It was used for the icing, but then I hadn't done anything with it since. 
Friday's are Chad and I days. The only thing we do is whatever we feel like. Ha. Usually sleep in, run errands, sight see around town, sometimes go to music shows, go out to eat together, but almost always (95% of the time), we end the day (before dinner) at Barnes and Noble. We share some coffee together while reading the magazines and/or books we have on our wish list. 
This past Friday, while looking through a crochet magazine I flipped to a page that had a picture tutorial of how to make the treble stitch, or the triple crochet. Although I did know how to do the triple crochet prior to seeing it in the magazine, something about it caught my eye. I thought how great would that stitch look on a scarf? When I got home, I pulled out the soft white yarn and started working out a few different ideas. Sadly, none of them quite came together though. 🙁 I'm blaming the white-ness. I'm planning on picking up a different color and trying again, in the future.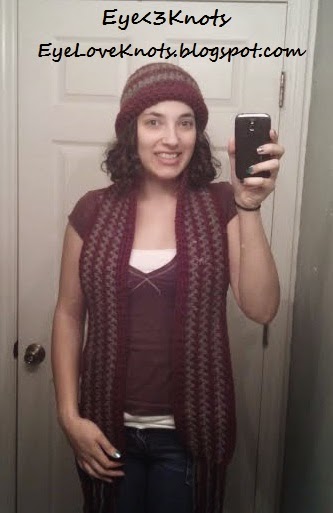 So….. I was browsing through the Yarnspirations site, and came across this neat Scarf and Hat set. It uses Roving yarn, which I found online as Martha Stewart/Lion Brand and Bernat. The Bernat brand is the one the pattern calls for, but the Martha Stewart one has more colors to choose from.
As I did not have this chunky yarn on hand, I decided to improvise. I pulled out the Red Heart Soft white yarn and some I Love This Yarn in Forest Green, doubled my strands and started working. The pattern is VERY easy to follow and works up fairly quickly, taking approximately ten minutes per row for the scarf and an hour and a half to two hours for the hat. If I had used the bulky yarn (5), it would have taken even less time, I'm sure! 
1) NON-ROVING SCARF: I made a beginning chain of 168, instead of 130. This measures 54″ – my ideal scarf length. The gauge for this was 7 chains = 2″, before any stretch.
2) HAT: Even though, I finished the non-roving scarf before the roving hat and scarf, I did not make the non-roving hat until after completing the roving set. I chose not to add any strips in this one. For the hat – check out my Basic Beanie, All Sizes (Free Crochet Pattern).
A note when making the scarf, the two rows that you alternate START differently. Don't make the mistake of adding instead of missing like I did. Uneven scarfs aren't attractive and pulling out yarn is frustrating, so save yourself the trouble.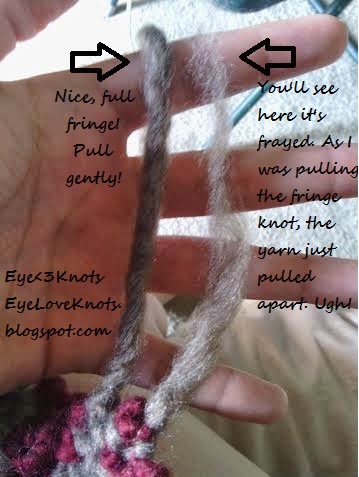 1) ROVING SCARF: I made a beginning chain of 186, instead of 130. This measures 60″ – the length of the scarf according to the pattern. The gauge was around the same, before any stretch. 
*Side note for scarf: when doing the fringe, be careful when knotting the yarn NOT to pull too hard. It WILL pull apart! I suppose 'too' is very vague, but proceed with caution.


2) ROVING HAT: The original measurements/instructions weren't very accurate. I added an extra round of increases for a total of 48 single crochets, but the hat still came out kind of tight.  
Upon finishing the hat according to the pattern, it also came out too short! It stopped just covering the top part of my ears. If you like it this way, it's just fine but I like my hats to cover my ears. 
**Rather than continue to go around with this hat, being that I had an unknown number of rows to add and would have needed to buy another ball of the Bark yarn to continue the stripping pattern, I decided to just cut it as is and restart. You can find my FREE hat pattern here.