This is a review of the Summit Hooded Scarf crochet pattern designed by The Velvet Acorn. Review done by Jessica Munroe for EyeLoveKnots.
This post contains affiliate links for Etsy. If you make a purchase by clicking on them, I make a small commission at no extra cost to you. Thanks for your support!
Find the crochet pattern review below or click here to purchase the crochet pattern on Etsy.
In a hurry? Pin this for later when you have more time.
It's me, Jessica with Nice and Knotty.
Visit with me on Facebook or Instagram for all kinds of awesome crochet makes and inspiration.
I finally got to make a hooded scarf. I know it may seem like a silly accomplishment, but I have always been intimidated by them. Turns out, it's not at all as complicated as I had built it up to be! This pattern was so easy to follow, and it turned out amazing!
My daughter is always chilly waiting on the school blacktop, and I thought this would be the perfect thing to keep her warm and cozy in the mornings. It isn't just a scarf because it has a hood (built-in hat) and pockets at each end of the scarf (built-in mittens), making it a champion in winter apparel!
What materials do I need to crochet a hooded scarf?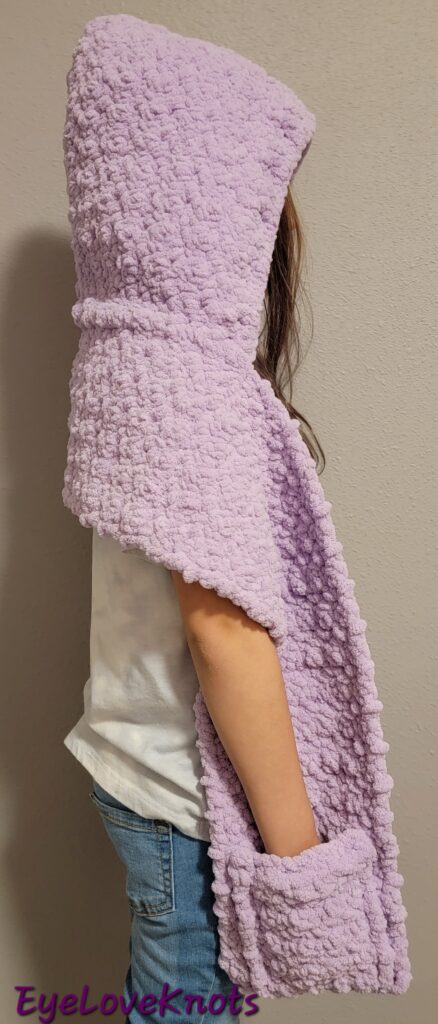 MATERIAL NOTES:
A crochet hook is size M13/9mm is what is recommended for this pattern, but I don't have that size hook, so I opted for my L hook (my next size up from M was going to be way too big). The pattern also calls for buttons to close up the pockets, but I left those off of my scarf.
This pattern also has a pom for the back of the hood, but I don't have one on my project because I ran out of yarn. Depending on your tension, you may need more or less yarn than I used but I used up every inch of my two skeins of yarn!
HOW LONG DOES IT TAKE TO CROCHET a HOODED SCARF?
This entire project took me approximately 3.5 hours. While the plush yarn can be wonderful at hiding seams when stitching pieces together, I find it to be more challenging to get my hook in and out of the stitches, so it takes me a little longer to crochet with this plush yarn.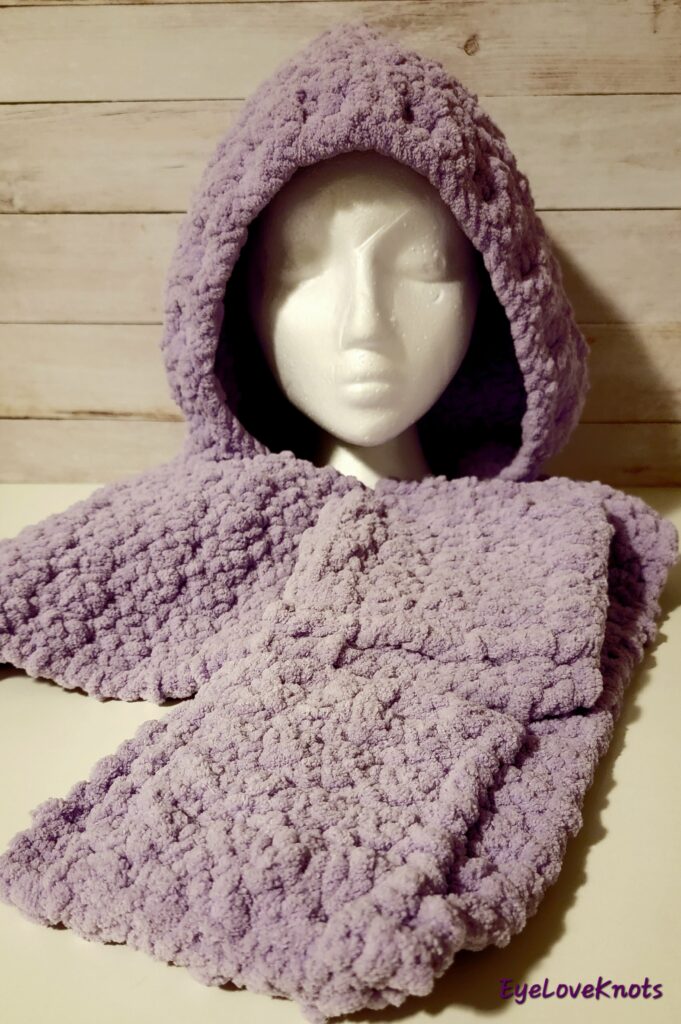 MEASUREMENTS:
The pattern gives measurements to create five different sizes of hooded scarf. I chose the child sized scarf since my daughter is an elementary-aged girl. The length for the scarf you want to make can be measured by checking the distance from fingertip to fingertip with arms stretched out to each side.
GAUGE:
This pattern has a gauge of 8 stitches/6 rows equals a 4×4 inch square done in half double crochet stitches.
PATTERN NOTES:
This pattern was very easy, and I love the look of the stitchwork. My only complaint is that there were no pictures or more detailed directions for how to sew the hood and the scarf together but now that I've done it, it is easy to figure out.
This scarf is so pretty that I think I am going to make myself one too! Even my son asked for one. This would make a great gift for anyone who likes to be bundled up in the winter!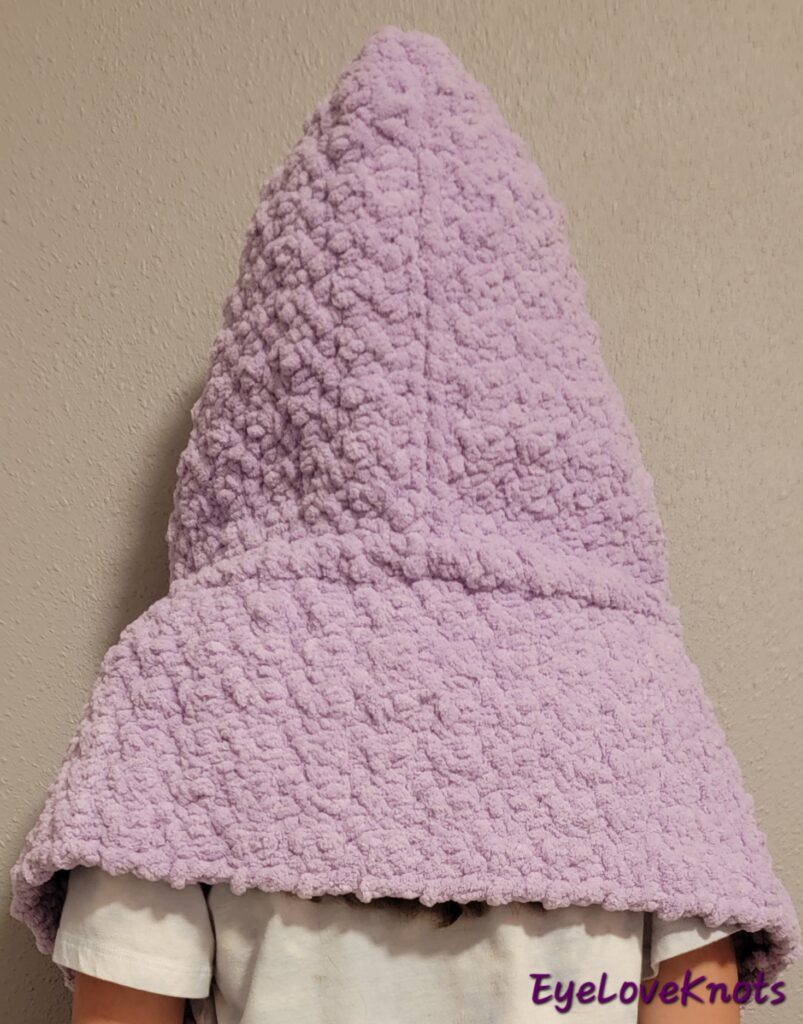 Don't forget to visit with me on Facebook for all kinds of awesome crochet makes and inspiration.
Join one of our awesome Facebook groups to share your creations, and see what others are up to!
– EyeLoveKnots Crochet & DIY Community
– DIY Home On Rockwood Lane
– Alexandra Lane Lifestyle