This is a crochet pattern review of the Belly Friend Giraffe designed by Madeline Mae Spence of Madeline Mae Co. Review done by Candace of T&C Crafters for EyeLoveKnots.
This post contains affiliate links for WeCrochet, Amazon, and Etsy. If you make a purchase by clicking on them, I make a small commission at no extra cost to you. Thanks for your support!
Find the crochet pattern review below, or click here to purchase the pattern from MadelineMaeCo on Etsy!
In a hurry? Pin this for later when you have more time.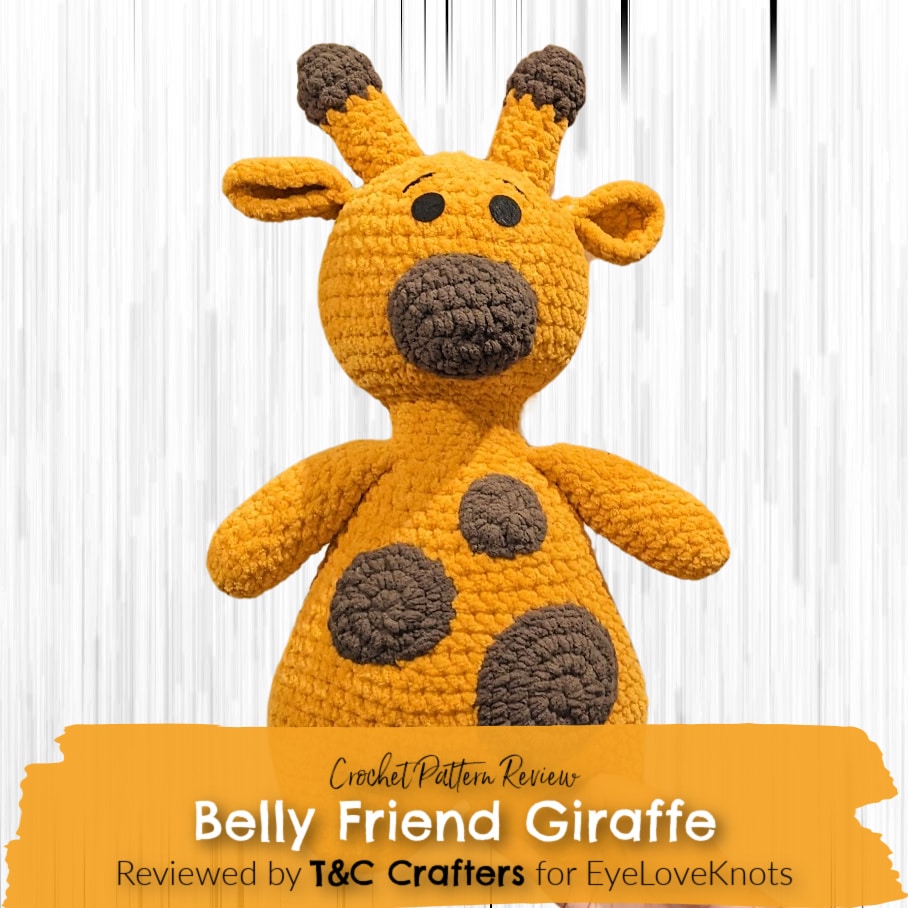 Visit with me on Facebook and Instagram for all kinds of awesome crochet makes and inspiration.
I bought my first pattern from Madeline Mae Co. in November of 2022, and I have been obsessed with her designs since then! I previously reviewed the Bitty Belly Ellie pattern that she wrote, and I wanted to make sure to share this adorable giraffe pattern with you as well!
This Belly Friend Giraffe by Madeline Mae Co. is not only one of the cutest stuffed toys ever, but it's chunky belly and massive size make it quite the showstopper! This is my fourth time working up this pattern, and I absolutely love how the finished pattern turns out every time! I had this big stuffed toy at my last market, and while he is still in my inventory (for now), he got so many wonderful complements! I also had some smaller belly giraffes in my stock, and I give him credit for all the smaller stuffed giraffes selling.
Whether you are relatively new to amigurumi or are relatively advanced, this pattern is very accessible and fun to work up. The pattern is really well written and provides plenty of details to help you make an absolutely adorable giraffe.
Materials I Used:
Material Notes:
The pattern calls for worsted weight (weight 4) yarn, but I chose to use super bulky weight 6 yarn for my giraffe. A G6/4 mm crochet hook is recommended when working with worsted weight yarn. I used a K10.5/6.5 mm crochet hook with the bulkier yarn. I typically use a J10/6mm crochet hook, but I wanted to provide a little more give when making my giraffe this time. The hook size seemed to work out great, so I will definitely be using the K10.5/6.5 mm hook in the future.
This pattern requires a LOT of yarn. I used a little over one full big ball of Bernat Blanket yarn in burnt mustard. The brown accents required almost half of a small ball of Bernat Blanket yarn. Make sure you have plenty of your yellow yarn in the same die lot before you begin so there are no noticeable color changes.
You will also need to make sure you have plenty of fiber fill for stuffing your giraffe. The neck of the giraffe needs to be very full to hold the head up correctly, so you want to have plenty of stuffing. I would recommend having a large bag of stuffing or more available before beginning to stuff this project.
There is some sewing involved in the assembly of this giraffe. I recommend using a metal (I prefer steel) yarn needle to sew together your pieces. The tension involved when sewing can be really difficult if you don't have a sturdy yarn needle. A slightly longer needle with a blunt end would be best for this project.
For the eyes, the designer recommends 16 mm safety eyes and notes that this size works well with worsted weight yarn and Parfait Chunky yarn. I prefer to use felt eyes over safety eyes, so I hot glued 15 mm black felt eyes instead.
You may also want to have some stitch markers and pins when working up your giraffe. I did not use these items, but they can be helpful. The stitch markers will help to keep track of your stitches as you work in the round. The pins can help you with assembly when sewing the pieces on to the body.
Time Spent:
While the pieces of this giraffe work up quickly, it is such a large project that it takes a good amount of time. It took me about 8 hours from start to finish to make this giraffe.
Measurements:
This giraffe is one of the largest stuffed toys I have made. It measures about 21 inches tall and about 12 inches wide.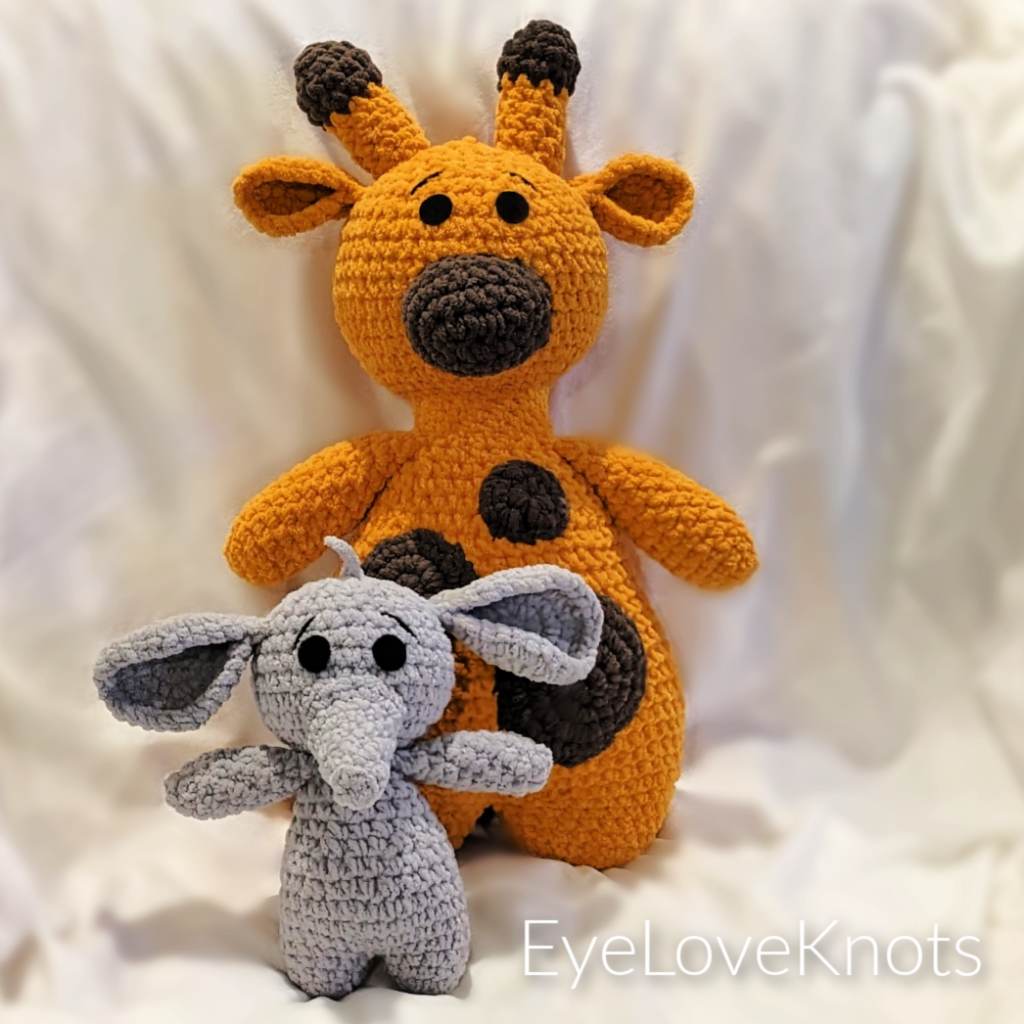 Gauge:
Gauge is not critical for this type of project, but you do need to make sure that your stitches are close enough together that stuffing doesn't get through between the stitches.
If you want to make your giraffe the same size as mine, a magic circle with 6 single crochets made with chunky blanket yarn and a K10.5/6.5 mm hook should measure 1.25 inches in diameter. After increasing in each stitch around, it should measure 1.75 inches in diameter.
Pattern Notes:
Like all of Madeline Mae Co.'s patterns, the Belly Friend Giraffe is an easy pattern to follow that works up quickly for its size. You begin by making all the individual pieces that will get connected to the main body. The arms, horns, ears, nose, and spots all get made and put aside. All these pieces are really easy to make with only the horns requiring one color change. While all of these pieces can be made after the body, it is important that you make the arms before making the body if you want to use the designer's no-sew method for attaching the arms.
The legs begin the body of the giraffe. They are made as two separate pieces and then crocheted together to make the body so that the body becomes one big piece. The designer does a great job of making a few really simple adjustments to the body that create the most adorable belly on this giraffe.
The body is definitely the most time-consuming part of this pattern, but mainly because it is the biggest. I made the entire body in one sitting, and the weight of the body as I stuffed it gave me a bit of an arm workout while crocheting. I would imagine that if you are using less bulky yarn, it wouldn't be as bad.
It is important to stuff the body as you go to make sure it is properly stuffed the whole way through. The designer provides directions in the pattern to make sure you know when these critical points are. The most important part of the body to stuff adequately is the neck. If you don't put enough stuffing in the neck, the neck will be floppy, which doesn't look good for a giraffe.
Attaching the features of the giraffe are pretty easy compared to most amigurumi. The designer provides specifics on placement for all of the different parts of giraffe. The part I found most difficult was the mouth of the giraffe, mainly because I just wanted to make sure it was symmetric and straight.
If you use safety eyes, the designer also makes sure to provide information about where to put them when crocheting the head. I chose to just add felt eyes above the nose after I finished all my sewing. I would highly recommend taking the extra few seconds to add some eyebrows to your giraffe, as they are sure to add some extra character!
Overall, I highly recommend this pattern, as well as all of Madeline Mae Co.'s patterns. Madeline has quickly become one of my favorite designers, and I buy all of her new release patterns as soon as they come out! She has recently designed some adorable farm animals that have been great sellers at my markets, and is now coming out with some cute new designs that are great for young boys. I can't wait to work up her alien and yeti for my son!
If you decide to try out the Belly Friend Giraffe pattern or one of Madeline Mae Co.'s other patterns, be sure to let me know what you think in the comments below!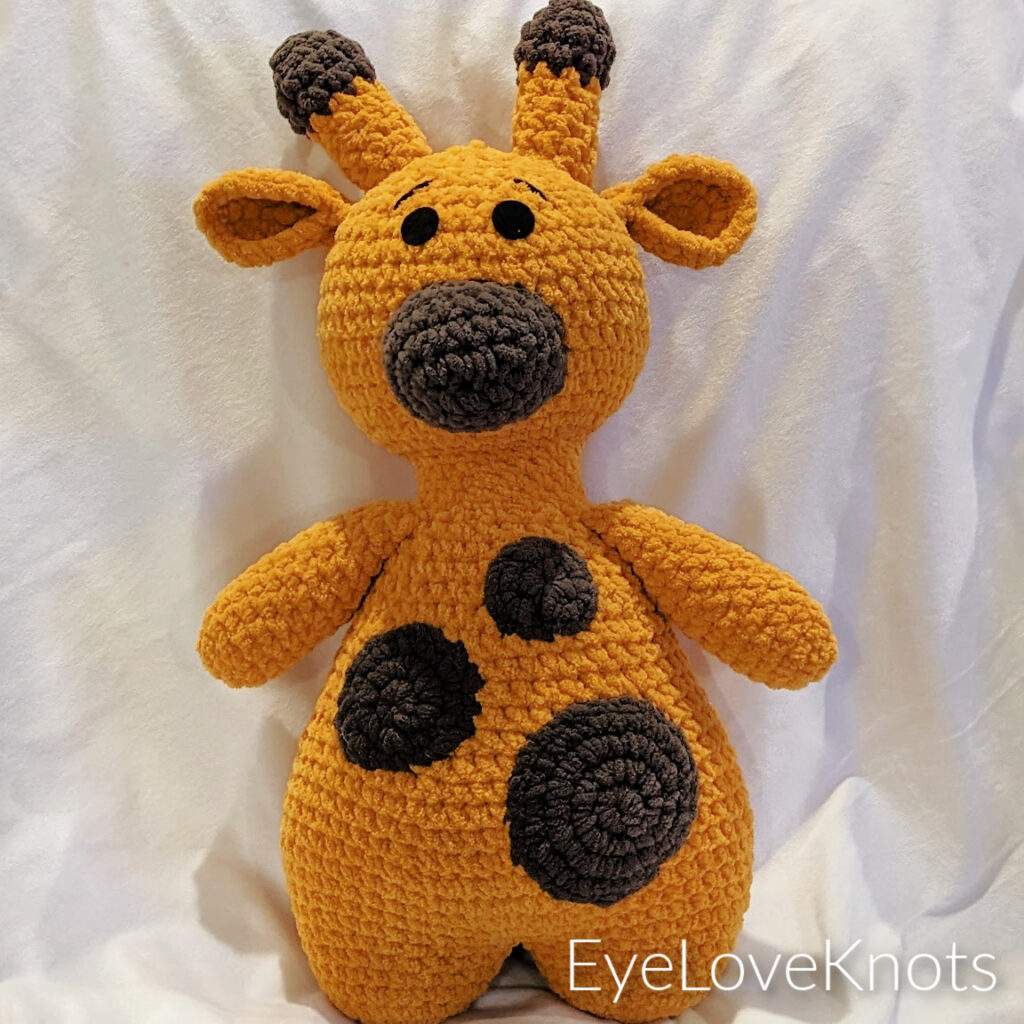 Don't forget to visit with me on Instagram for all kinds of awesome crochet makes and inspiration.
Join one of our awesome Facebook groups to share your creations, and see what others are up to!
– Yarn Crafts & Coffee Community
– DIY Home On Rockwood Lane
– Alexandra Lane Lifestyle
Linked Up To…