This is a crochet pattern review of the Ollie the Mini Octopus Pattern designed by Knots Merry Yarn. Review done by Candace of T&C Crafters for EyeLoveKnots.
This post contains affiliate links for Amazon, Etsy, and WeCrochet. If you make a purchase by clicking on them, I make a small commission at no extra cost to you. Thanks for your support!
Find the crochet pattern review below, or click here to purchase the pattern from Knots Merry Yarn on Etsy!
In a hurry? Pin this for later when you have more time.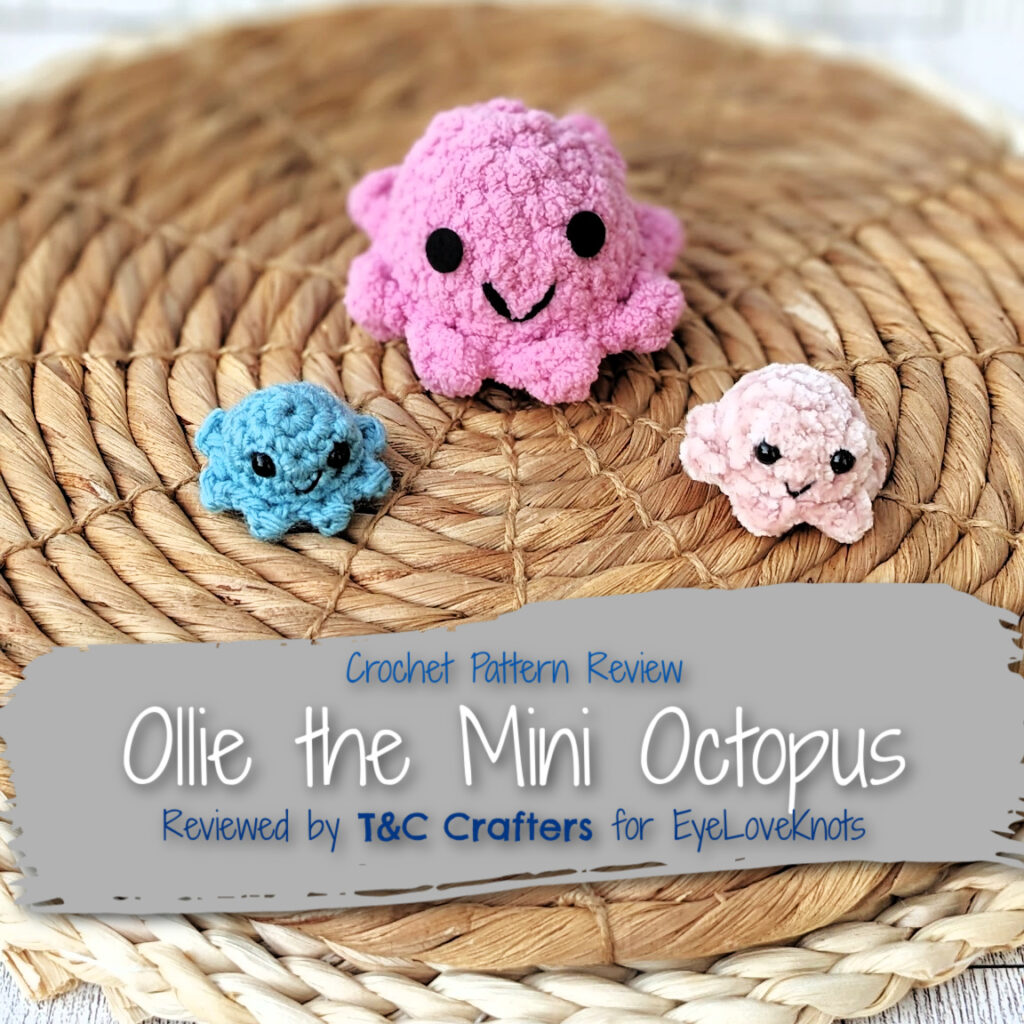 Visit with me on Facebook and Instagram for all kinds of awesome crochet makes and inspiration.
When it comes to market-prepping, quick makes are the best! I recently saw Knots Merry Yarn post about how the adorable Ollie the Mini Octopus pattern worked up in about ten minutes, and I immediately had to add it to cart! I can honestly say, I have no regrets!
The Ollie the Mini Octopus pattern works up super quickly and makes an adorable little, squishy octopus. Made in super chunky yarn, it makes a great little toy or pocket pal, but it can also double as a perfect keychain in any weight yarn. I have a feeling these little guys are going to be a huge hit at my next market, so if you need me in the next week or two, I'll be making more mini octopi!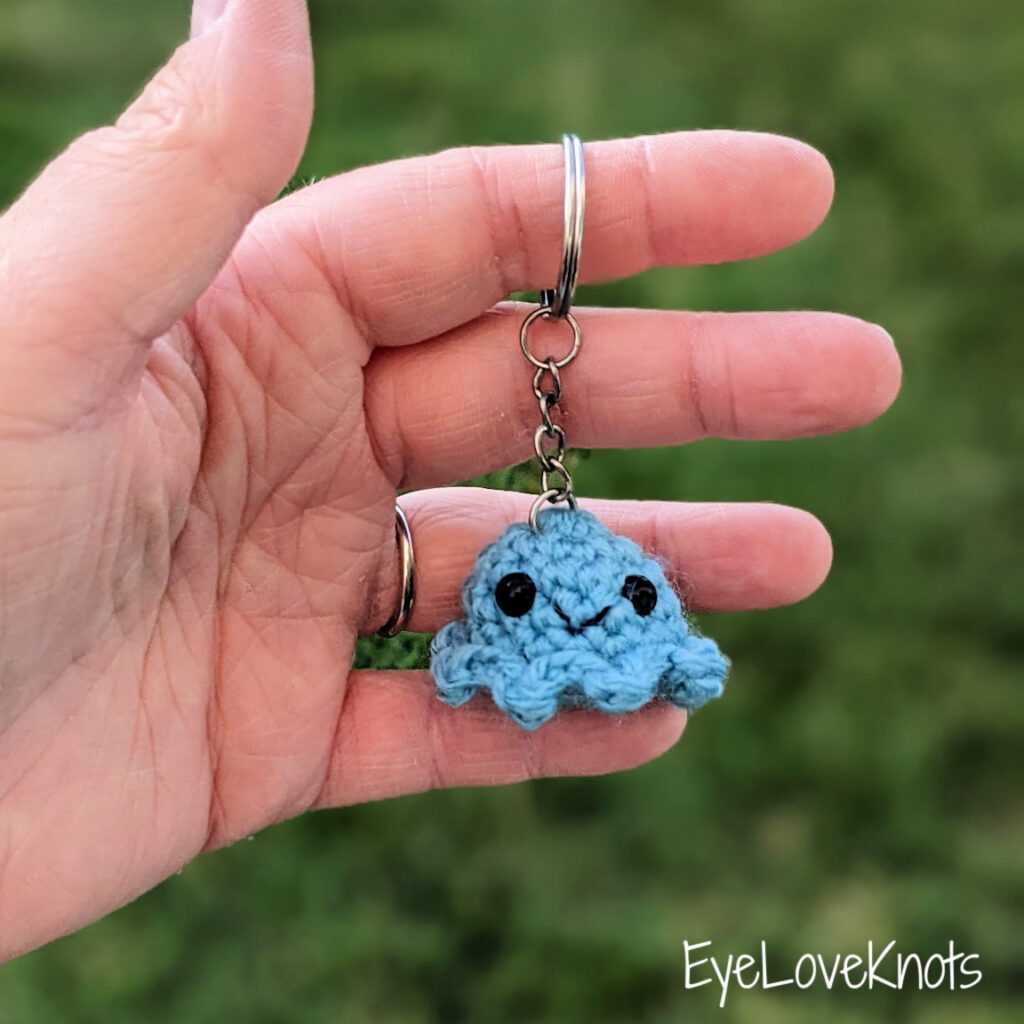 Materials I Used:
Yarn: I used a variety of different yarns to try out this pattern, including:

Bernat Baby Blanket Yarn (this color has been discontinued)
Bernat Baby Velvet Yarn in Potpourri
Red Heart Super Saver Yarn in Country Blue

G6/4mm and J10/6mm Crochet Hook – I love using the WeCrochet Dots hooks for amigurumi!
Small Amount of Polyfil
Keychains (Optional)
Ollie the Mini Octopus, paid crochet pattern by Knots Merry Yarn via Etsy
Material Notes: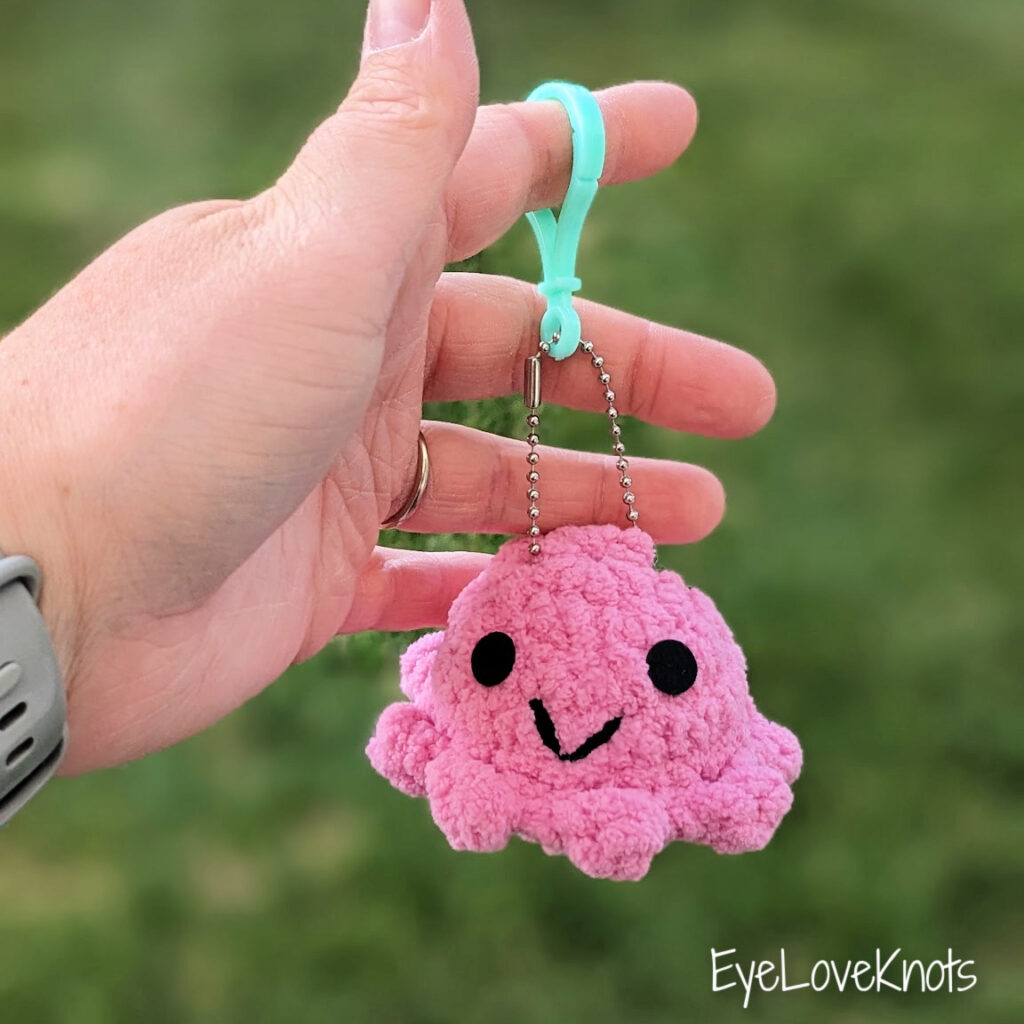 This pattern calls for super bulky chenille or plush yarn. The designer used Sweet Snuggles Lite. I used Bernat Blanket yarn for my largest octopus, which is relatively similar. I also decided to try this pattern out in Bernat Baby Velvet and Red Heart Super Saver, which are both lighter yarns. This pattern worked up well in all weights of yarn, so it is very versatile.
This pattern uses a very small amount of materials. You could make quite a few of these little octopi without even making a dent in your skein. This makes it a great stash-buster or scrap project with all sorts of yarns. Each octopus also doesn't require very much stuffing, so this is a great project to complete if you are low on stuffing, or are just trying to use scrap yarn to stuff your pieces.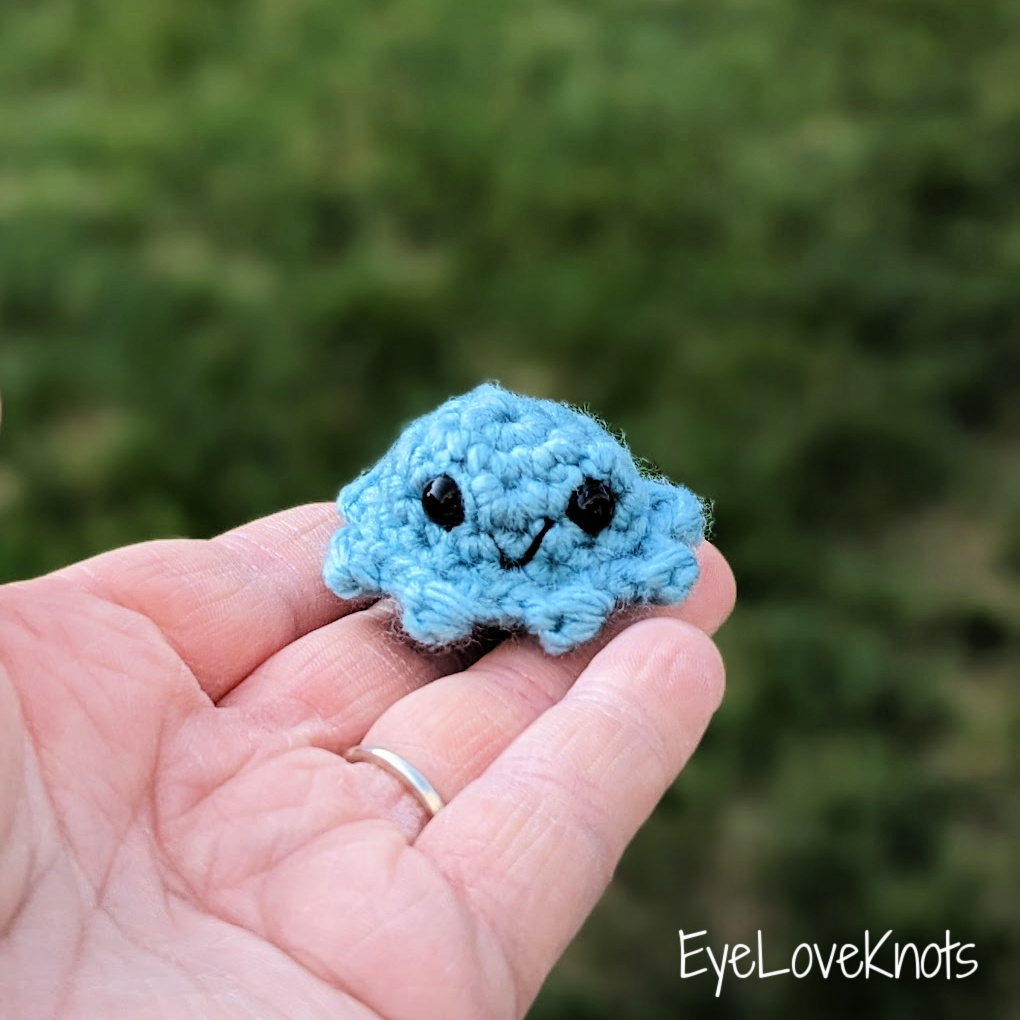 For the eyes, the designer uses safety eyes, while providing a disclaimer that they could be a choking hazard. I used 6 mm black safety eyes for the smaller octopi since I knew they were going to be used as key chains, so they would only go to older kids. For the largest octopus, I used 10 mm black felt eyes instead to make them safer in the event they are taken off the key chain and used as a toy.
The key chain is an optional addition to this pattern. I used split key rings with a 1 inch chain for the smaller octopi and plastic lobster claw clips with ball bead chains for the larger octopi. Key chains have been really popular, so I think this addition will be a great hit at my upcoming markets!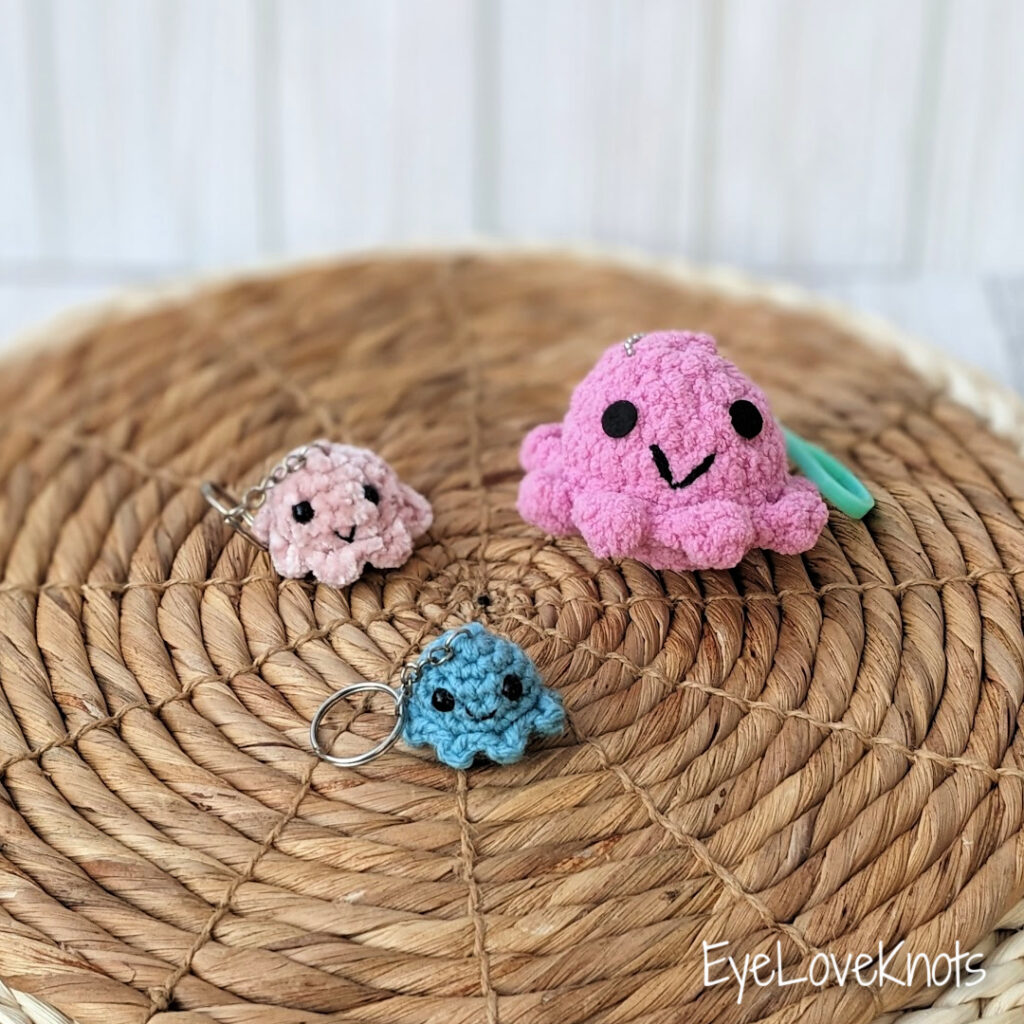 Time Spent:
This pattern works up super quickly! I made my first mini octopus in about 15 minutes, and each octopus after that has only taken about 10 minutes each!
Measurements: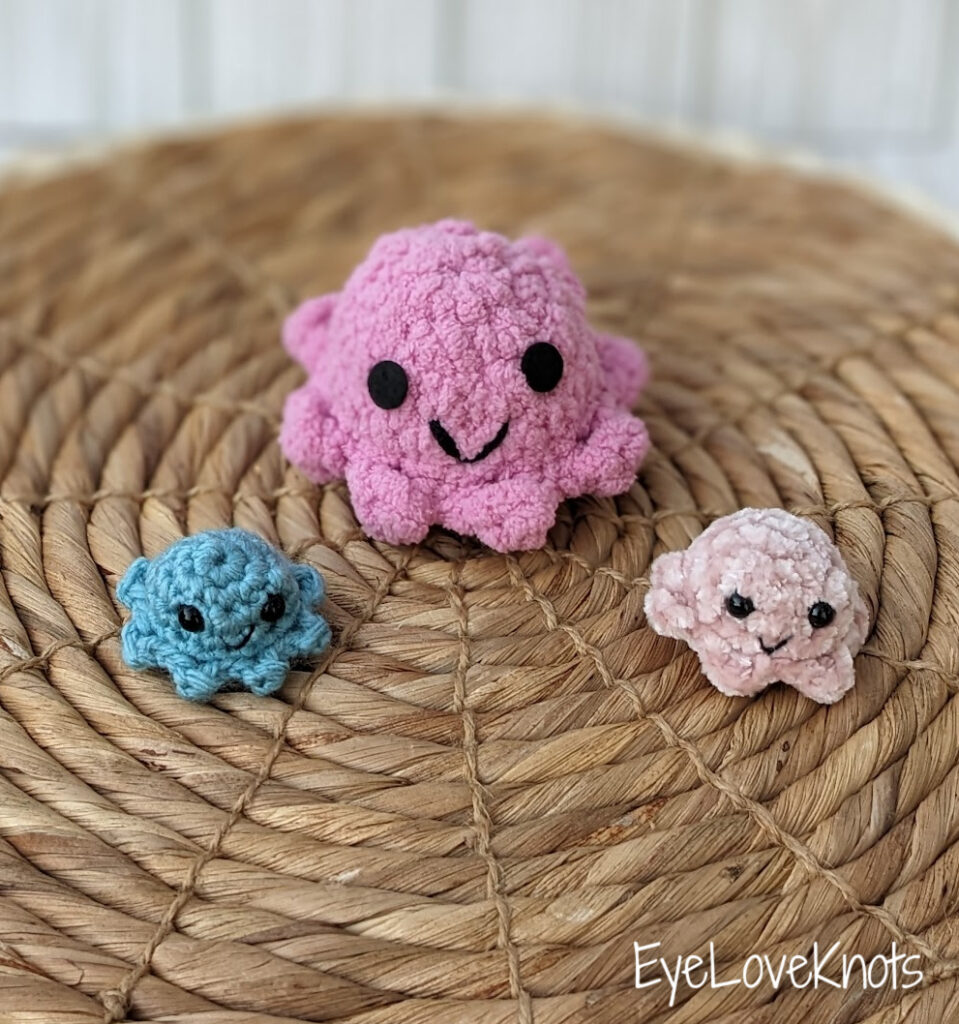 I made these little octopi up in several different weights of yarn. Here are the sizes for each according the yarn that was used:
Red Heart Super Saver: 1.75 inches in diameter and .75 inches tall
Bernat Baby Velvet: 2 inches in diameter and 1 inch tall
Bernat Baby Blanket: 3.25 inches in diameter and 2 inches tall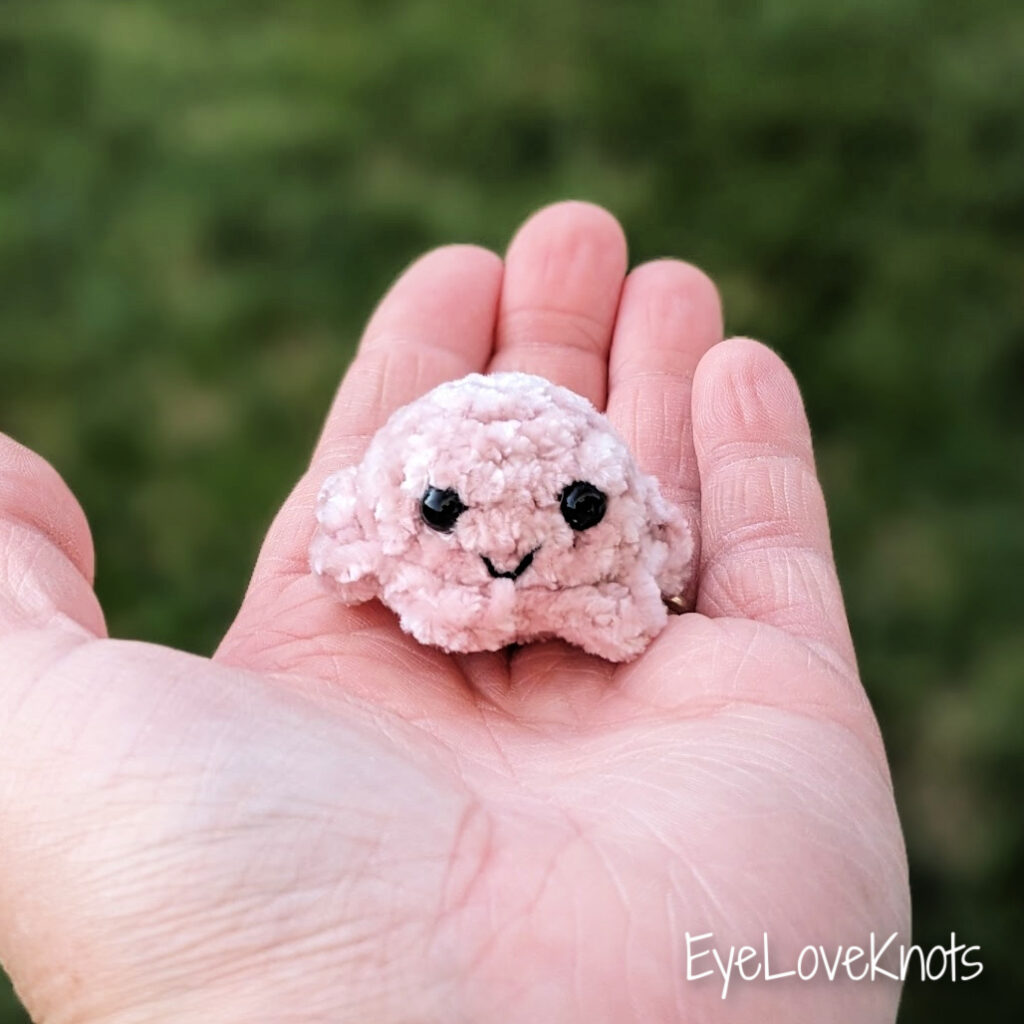 Gauge:
Gauge is not overly important for this pattern. You just need to make sure you use a small enough hook that there are not gaps between your stitches that would allow your stuffing to poke through.
If you would like your project to be the same size as mine, here are some gauge measurements to follow:
A magic circle with 6 single crochets made with Red Heart Super Saver and a G6/4 mm hook should measure 1/2 inch in diameter.
A magic circle with 6 single crochets made with Bernat Baby Velvet and a G6/4 mm hook should measure 1/2 inch in diameter.
A magic circle with 6 single crochets made with Bernat Baby Blanket and a J10/6 mm hook should measure 1 inches in diameter.
Pattern Notes:
This pattern works up really quickly and easily. The pattern only requires the use of some basic crochet stitches, so it is really beginner-friendly. In the pattern, the designer provides excellent directions, clear tips on how to do the more difficult parts like crocheting in the front loop only, and pictures of all the important steps.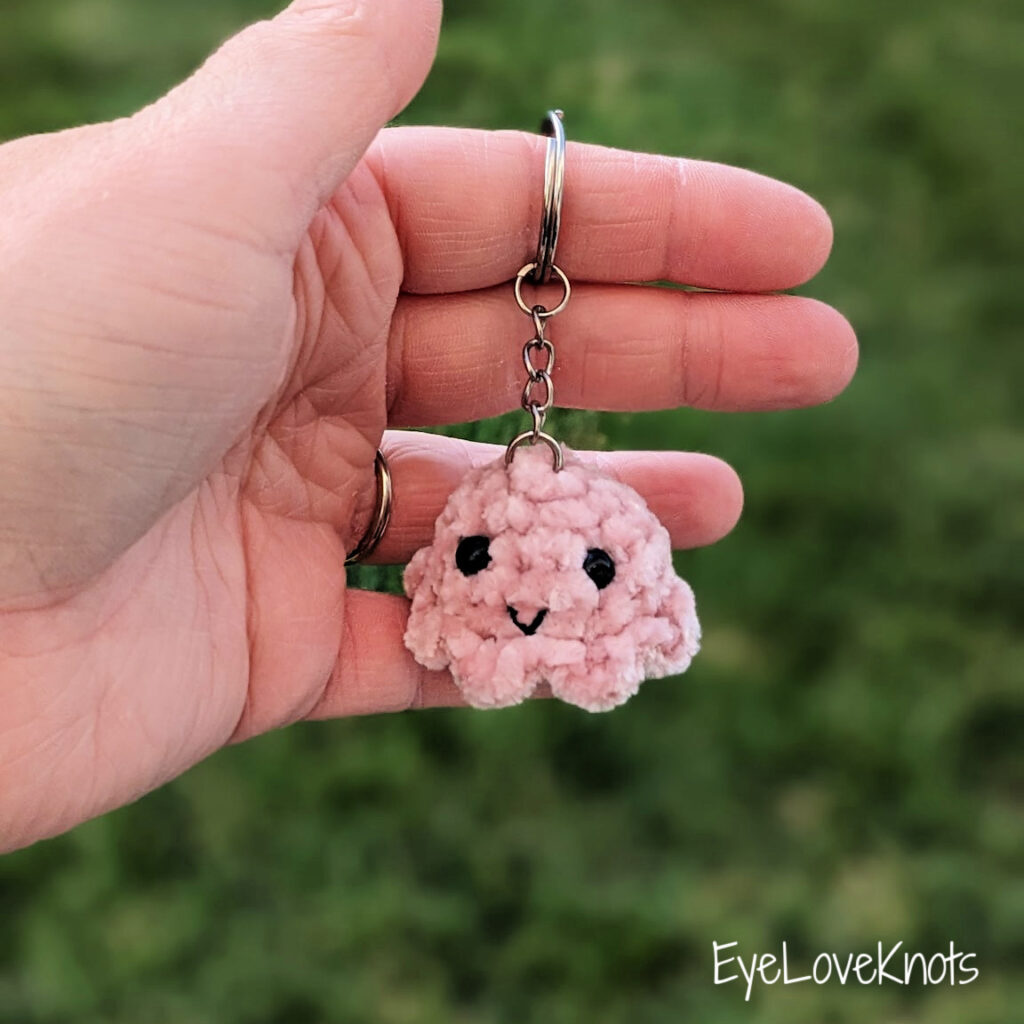 Amigurumi can sometimes be tricky due to the sewing that you have to do to add different pieces. This pattern is no-sew, so you don't have to worry about any extra sewing. You can either attach the eyes before closing it up (safety eyes) or glue felt eyes on after it's finished. The only sewing that is required is just to close up the octopus at the end. I chose to add a simple smile to each of my octopi with some black yarn or crochet thread at the end as well.
If you are prepping for a market, I highly recommend you try out the Ollie the Mini Octopus Pattern! What I like best about it is that you can make the bodies of all the octopi at once and wait to stuff them later on. This makes the project easy for on-the-go without having to take a pile of stuffing along with you while you are crocheting.
Whether you decide to make your octopus small or super small, I'd love to see it! Be sure to tag me, EyeLoveKnots and Knots Merry Yarn on social media so we can all see your creations!
If you like this pattern and want to check out another great key chain pattern, be sure to read my pattern review of the Kitten Key Chain!
Don't forget to visit with me on Instagram for all kinds of awesome crochet makes and inspiration.
Join one of our awesome Facebook groups to share your creations, and see what others are up to!
– Yarn Crafts & Coffee Community
– DIY Home On Rockwood Lane
– Alexandra Lane Lifestyle
Linked Up To…