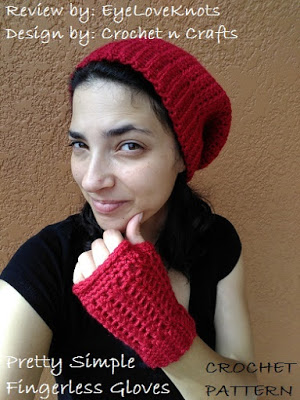 I pattern tested this for my friend Rhelena of Crochet n Crafts last Fall. I really love how they came out, and they work up quickly. I am looking forward to working up several more pairs to both use personally when the weather turns, and add to my EyeLoveKnots Etsy shop. A pair of these would also make a great gift, especially if you add in the matching Pretty Simple Fingerless Slouch Hat.

Materials:
– Small amount of Worsted Weight Yarn – I used Hobby Lobby's I Love This Yarn in Red
– J10/6mm Crochet Hook (larger than recommended)
– I9/5.5mm Crochet Hook (for final rows – larger than recommended)
– Tapestry Needle for Weaving in Ends
– Pretty Simple Fingerless Gloves, Free Crochet Pattern by Crochet n Crafts

Material Notes:
Yarn Alternatives: Red Heart's With Love, Deborah Norville's Everyday Soft. Loops and Thread Impeccable #4 used in original pattern.

Time Spent:
I had my pair of gloves together in about an hour and a half.

Measurements:
Ribbing measures 1 5/8″ Tall by 3″ Wide (when seamed); Thumb opening is about 1″ long. Finished Glove measures 3.75″ Wide by 6.25″ Tall.
Gauge:
Using J10/6mm, 3 V Sts = 2″ Wide

Pattern Notes:
As reference my measurements are: Knuckles – 7.5″ in circumference; Palm – 3.75″ long; Wrist – 6″ in circumference

When working onto the back loops (or front loops), I like the work the last stitch under both loops. This helps to create a smooth, even edge and better security.

My glove didn't seem long enough – my knuckles were covered, but the top part of my palm was showing so I decided to add two more rounds of single crochet before the final round. This increased the length of the gloves from 5.5″ to about 5.75″ and gave me the coverage I desired.
I wanted my final edge to be a little tighter around my fingers so I worked the final two rounds of single crochet and the back post round in an I9/5.5mm Crochet Hook (one size smaller than the rest of my glove).

When I worked my thumb, it created a hole close to it. At first, I thought I messed up, but looking at the pattern picture, it's supposed to be like that so don't be alarmed – it's caused by the space in between the V Stitches. If it bothers you, you could always worked the thumb as straight half double crochets with the back post edging to create a more solid piece.

Overall, this pattern was fun, easy and quick. I love the simplicity of these gloves, yet they are versatile, warm and comfy. I have been sitting here typing up this review wearing them, and they have not caused me any discomfort in my typing process.

Alternative to the fingerless style, you could always continue working upward and once close to the top, just work a few decreasing rounds in straight half double crochet to create a mitten that covers your fingers, or you could work a piece and sew it onto the top of your glove and use them as convertible gloves. The length along your arm is also easily customizable by just adding more rounds before beginning your thumb hole.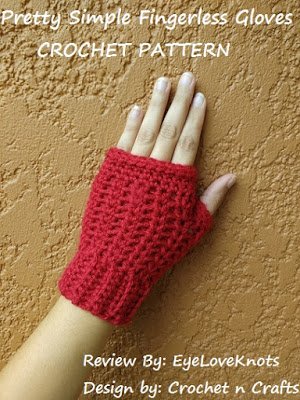 With so many size, yarn type and color options, I would love to see them! Please share your photos on my EyeLoveKnots Facebook page, or our latest Yarn Fanatic Party Link Up!

Don't miss out on new crochet patterns, reviews, jewelry tutorials and more! Subscribe to EyeLoveKnots by using the box on the right side toolbar, or follow me via Bloglovin!


You May Also Like…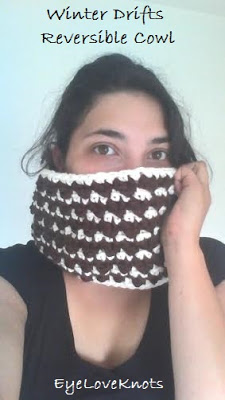 Design by Crochet n Crafts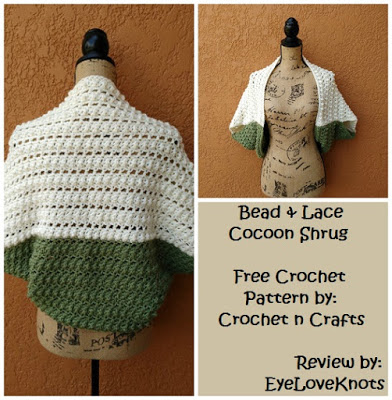 Design by Crochet n Crafts