This post contains affiliate links for LoveCrochet. If you make a purchase by clicking on them, I make a small commission at no extra cost to you. Thanks for your support!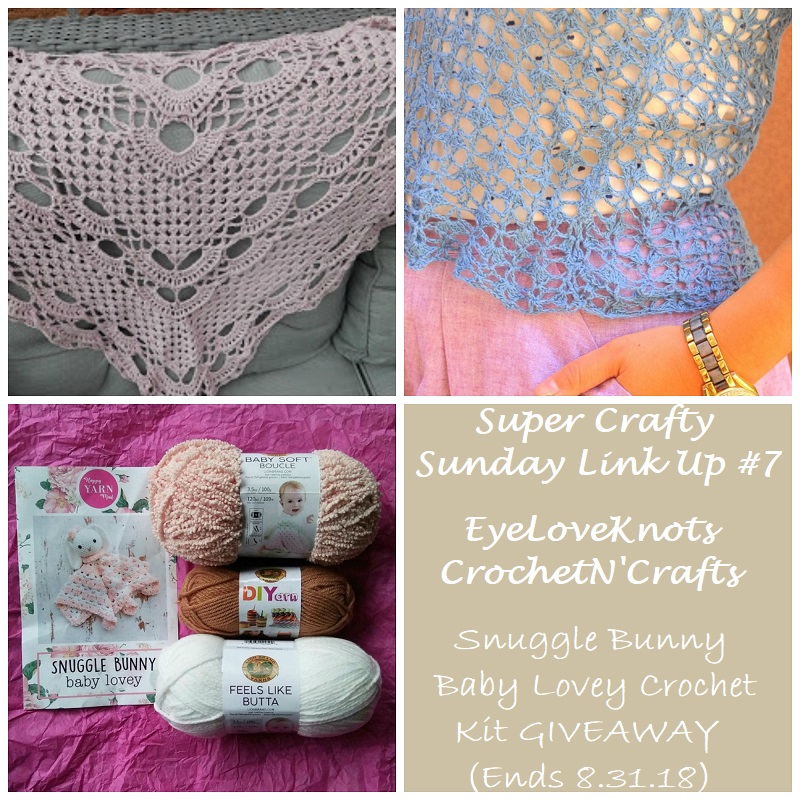 Welcome to the 7th Super Crafty Sunday Link Up!
Hey Guys! Happy August! Kids are back in school this month, fall is near (in some places), and schedules are returning somewhat back to normal. Tell me, did you take the summer off from crocheting? Cut back on it at all? Crochet more than usual? Here in Florida, it is hot pretty much all year long, as the summer heat has no affect on me and my crocheting. Lately, I have been feeling more motivated than usual, and have recently finished quite a few projects, and posts to share later this month, and next.
Since Last Month's Party, Here's What I've Been Up To: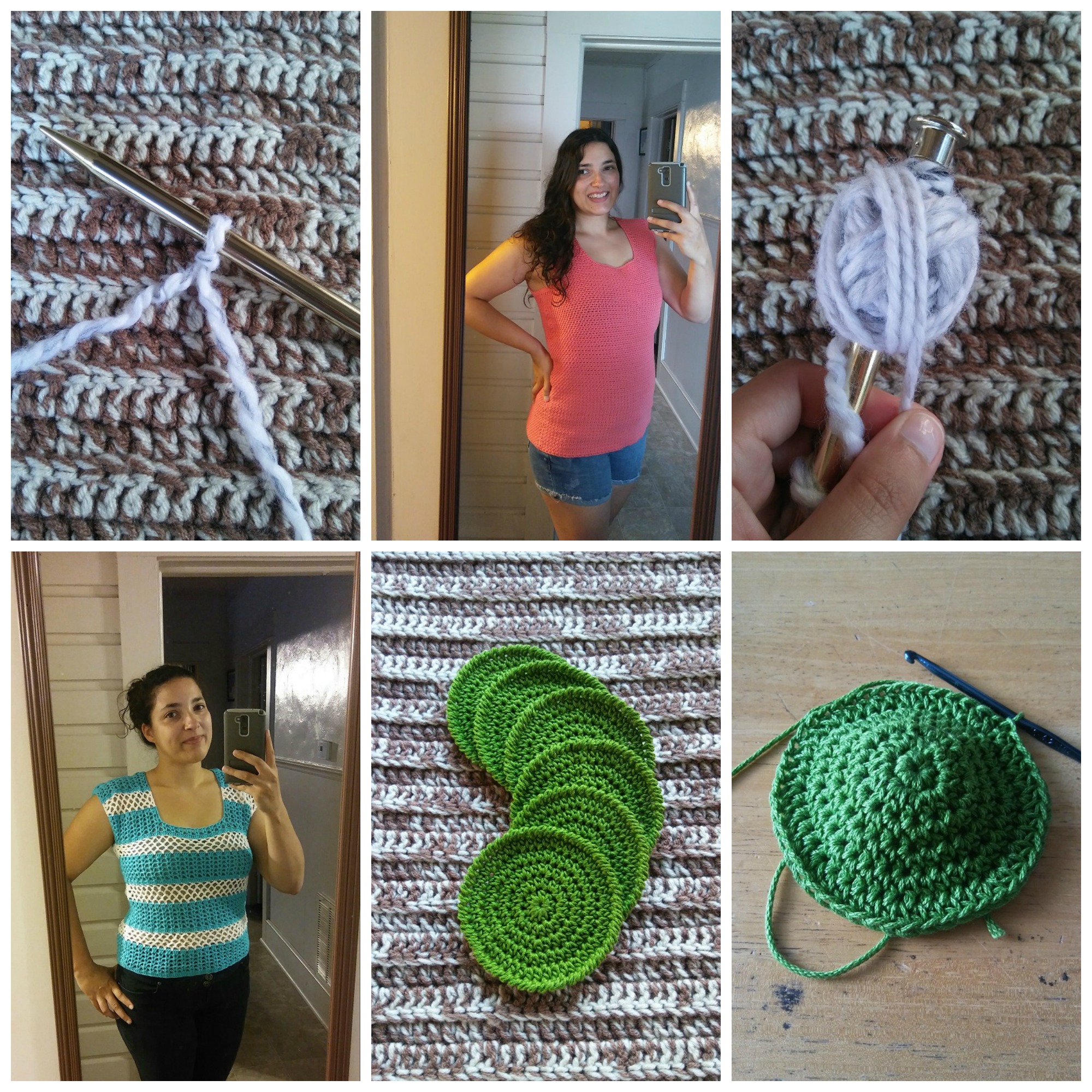 Top Left: How to Make a Slip Knot – Photo Tutorial; Middle: Chic Tank – Crochet Pattern Review; Right: How to Hand Wind Scrap Yarn into a Center Pull Ball – Photo Tutorial
Bottom Left: Summer Crochet Lace Top – Crochet Pattern Review; Middle: Fresh Cut Coasters – Free Crochet Pattern; Right: 4 Ways to Deal with Cupping in Crochet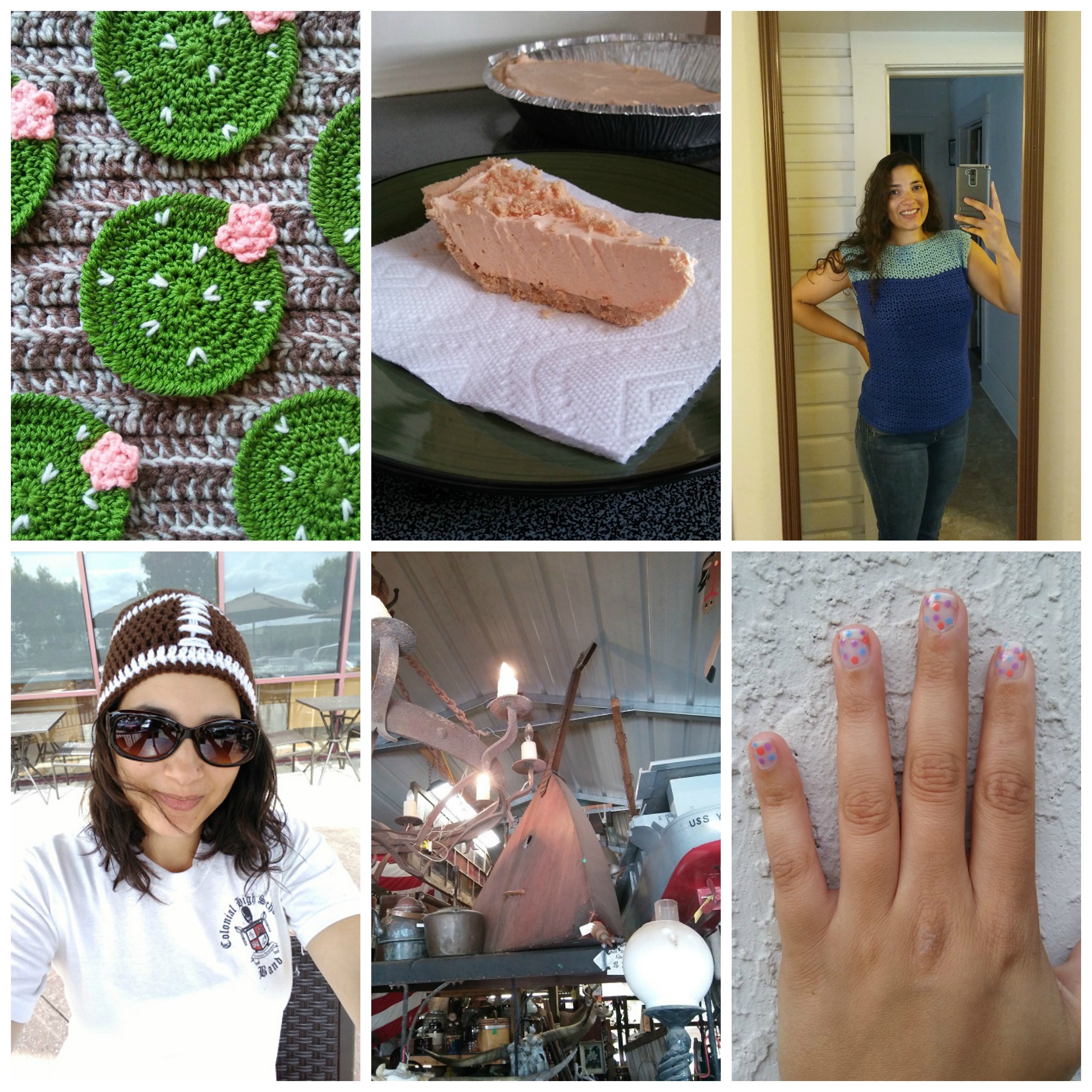 Top Left: Prickly Pear Cactus Coasters – Crochet Pattern Review; Middle: Orange Cream Pie – Recipe Review; Right: V-Stitch Crochet Top – Crochet Pattern Review
Bottom Left: It's Football Season Beanie – Free Crochet Pattern; Middle: Visiting the Renninger's Flea Market in Mount Dora Florida; Right: Sinful Polka Dotted Nails – Easy Nail Tutorial
This Month's Most Clicked Projects: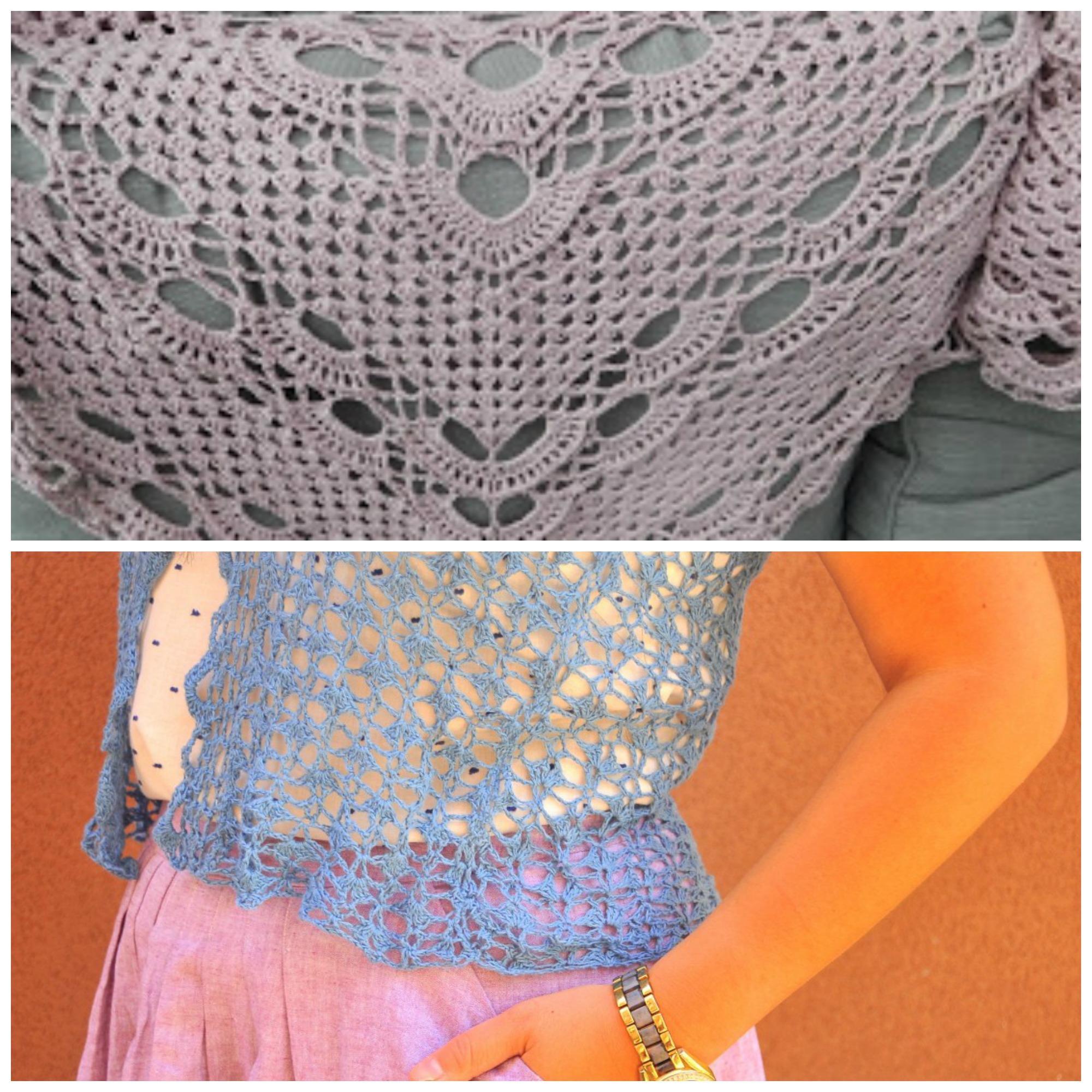 Top: Triangle Scarf with Russian Pattern from Hobby Loes – Crochet Inspiration. What a really neat pattern! Kind of looks like the virus shawl that's been all about, but with some granny stitch thrown into the mix. Fun combination of stitches!
Bottom: Crochet Garden Party Cardigan from Kiku Corner – Crochet Pattern Review. What a beautiful cardigan! I follow the Kiku Corner blog, so this piece caught my attention even before it was linked up to our party. I immediately popped over to check out the pattern after reading Meinhilde's review. Even with using a lace weight yarn, this cardigan can still be worked up over a weekend – a plus in my book! It's also lightweight and airy, making it perfect for late Spring into Summer – another plus in my book! AND designed my Marly Bird, this cardigan is a must try! It's on my wish list.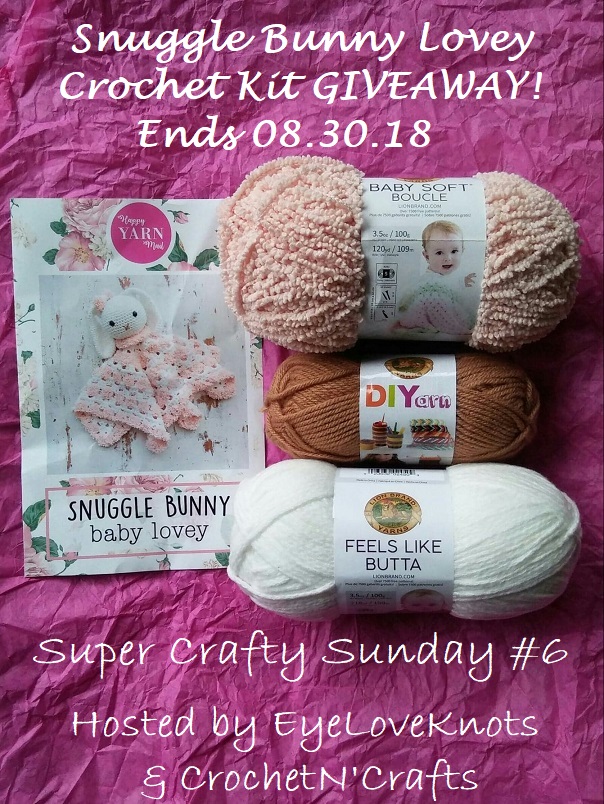 This Month's Giveaway is sponsored by me, Alexandra of EyeLoveKnots. One winner will receive crochet kit. This crochet kit is actually July's Happy Yarn Mail kit – a monthly crochet subscription that has been cancelled.
Kit includes a skein of Lion Brand's Feels Like Butta in White, a skein of Lion Brand's Baby Soft Boucle in Peach, and a skein of Lion Brand's DIYarn in Camel, plus printed instructions for working up the adorable Snuggle Bunny Baby Lovey shown! You will need stuffing for the head of the bunny, safety eyes, and both an E3.5mm and K10.5/6.5mm crochet hooks, as these are not included in the kit.
Must be 18 years or older to enter. Open to all countries. Void where prohibited. Winner has 48 hours to respond to email notification, or another winner will be chosen. Alexandra of EyeLoveKnots is responsible for prize fulfillment.
Join the Party!
The Super Crafty Sunday Link Up is hosted by EyeLoveKnots, and CrochetN'Crafts, so when you link up to one of the blogs, it will show up on both! Double the exposure, woo hoo! It will go live on the first Sunday of the month, and end the Thursday prior to the next month's party starting. Post times will vary, but you will be able to link up from midnight EST through midnight EST on the indicated dates – check the top of the Rafflecopter for more details.
Please share projects, recipes, and other posts that are family friends, and not spammy. Feel free to reshare previously shared links, and links to giveaways and other link ups. Please make sure to link to a specific post, and not your blogs home page.
If you don't have a blog, you can still share with us several ways. You can create a free Flickr account (powered by Yahoo), upload your photos there, and share the link with us, or you can share links from Instagram, Twitter, and Pinterest – just make sure it's your own work please.
Link ups CANNOT be to Etsy/Crafty listings or Ravelry pages where patterns are sold, but you can share a link that is directed to it like from Pinterest. You CAN share Ravelry pages of finished projects. Sorry for the inconvenience! That's per InLinkz guidelines. Thanks!
You are voluntarily submitted your photos, links and email address (if desired) through InLinkz to link up with us, and by linking up, you give us permission to feature your item on either of our blogs and/or social media outlets. Features may be chosen at the discretion of each host.