2022 EyeLoveKnots Year in Review including the Top 10 posts for the year, and a rewind including 17 free crochet patterns.
This post contains affiliate links for WeCrochet and Lion Brand Yarn. If you make a purchase by clicking on them, I make a small commission at no extra cost to you. Thanks for your support!
I'll break it all down below, but if you'd like to get my Cre8tion Crochet & EyeLoveKnots 2022 Collection of Crochet Patterns, which contains 17 patterns from EyeLoveKnots, 5 patterns from Cre8tion Crochet and 2 premium patterns, you can grab a copy on Ravelry, and on Etsy. Through 01/08/23 at 11:59pm EST, you can get it 50% off with code NEWYEAR23.
In a hurry? Pin this for later when you have more time.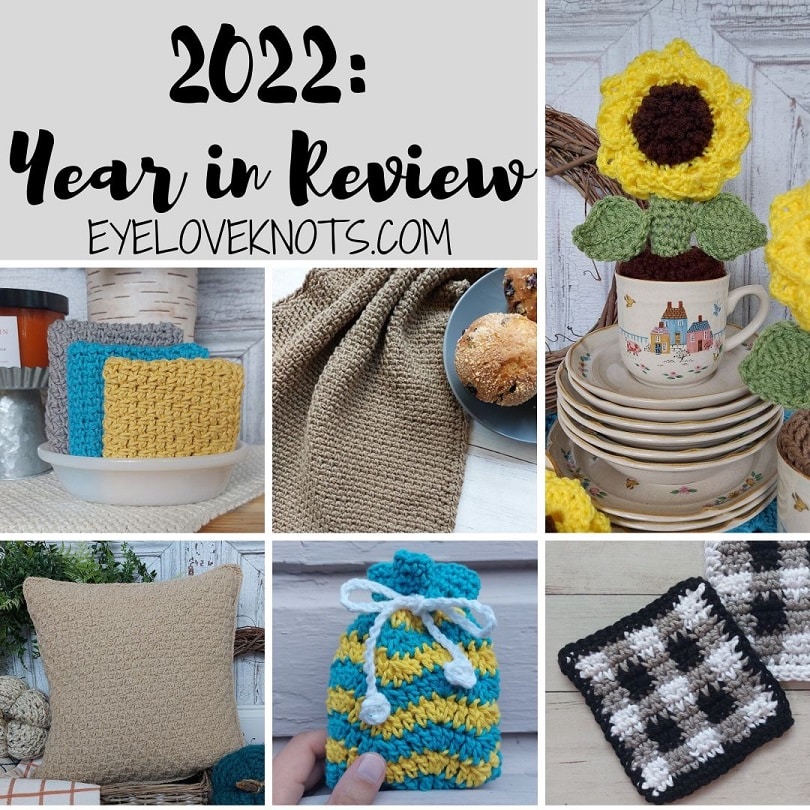 A couple years ago, I shared my 2019 New Year's Resolution list. I waited a couple years in between, but last year I shared my 2021: Year in Review, and I really enjoyed going through the year, so here is to another great year! You'll find all EyeLoveKnots goodies below, but also check out the one for my sister crochet blog Cre8tion Crochet.
Business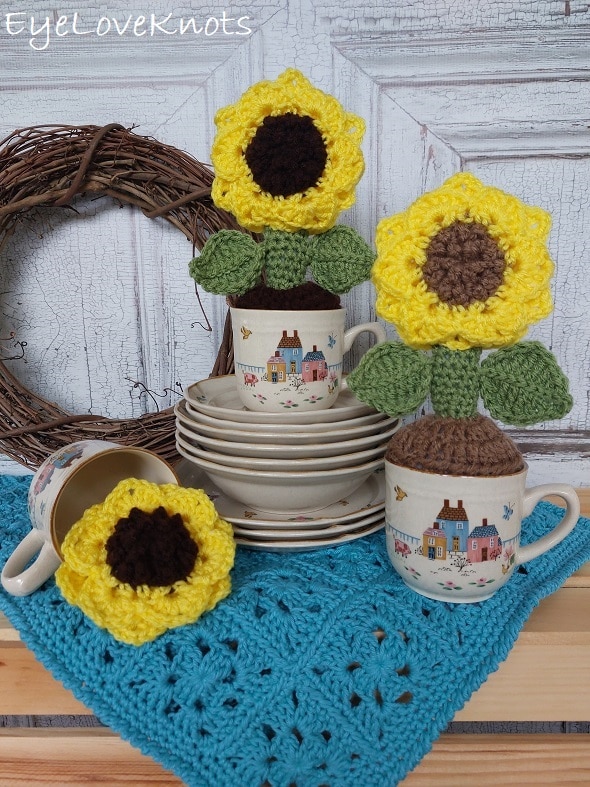 As many of you know, I would love to have my own shop one day! In the mean time, I do have a small booth at America's Antique Mall in Melbourne, Florida. You can follow what's new in the shop on the OnRockwoodLaneShop Instagram, and if you're visiting, just ask for seller "ELK". You can also shop on Etsy, or on eBay.
I won't lie to you, it's been hard, and slow, and a bit disappointing financially for me, but it's time I've worked on learning, and growing, and improving. I haven't quite figured out what people want. A lot of things I thought would go quickly are still on my shelves, like these Upcycled Potted Sunflowers I added to my shop last Fall, and vice versa. So far, I can say with certainty that crocheted dish scrubbies are great sellers. This year, I shared the premium patterns for my two scrubbies: Shay Dish Scrubbie, and Round Dylan Claire Dish Scrubbie. You will find these popping up on the blog this coming year. I'm thinking around Spring time.
Aside from this, I'm also struggling on the popular themes/trends. I have read several articles, and I see what's popping up here, and there, but in tracking my own sales, I haven't found any one particular theme more popular than the others. If you have a moment, I'd love to know what is your design style? Farmhouse, shabby chic, coastal, boho, eclectic, industrial, lake house, rustic… If you don't have a theme, what are your primary colors?
I'm a bit of a unicorn myself – I love it all. I love all of the design styles in different ways, and while I lean a bit more into farmhouse-industrial myself, I can't seem to niche down, and go all in. Anyone else?
For anyone looking for business advice, no matter what business you're working in, niching down is the best thing you can. It really gives you a focus point, and you can branch off of it so much and so much easier once you figure out what you want the topic to be. I'll give an example, I now have two crochet blogs. After I purchased Cre8tion Crochet in the Summer, I decided from then forward that it would be a blog dedicated to crochet wearable patterns, like garments and accessories, and EyeLoveKnots would be dedicated to crochet home decor patterns, and other yarn crafts like plastic canvas and knitting. Some other examples might be eco-friendly, kids items, feminine, things for men, or specific to a group of colors, a stitch pattern or a decor theme. Google SEO loves it, and your audience will too.
Finish More Projects
This goal doesn't mean a larger number of projects than previously, but to finish more of the projects I start. I always end up with a lot of projects in my WIP bin, and post drafts. We're ending 2022 with 151 drafts compared to last year's 155 drafts. My WIP bins are still packed, and with some newly added projects from this year, albeit less, which is great.
One thing I'm bringing to you this year is a podcast, and I'm super excited! It'll be coming your way from my YouTube channel really soon, and I'm really hoping through this podcast, I can get some of my WIP bins emptied. Guys, there are 6 of them plus a couple of tote bags! It's time.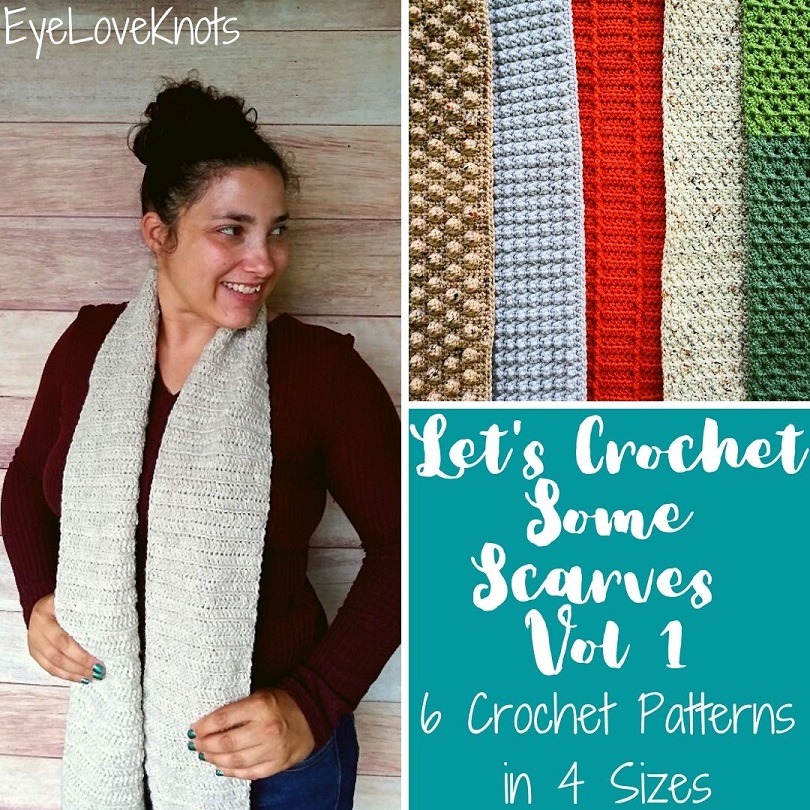 EBooks
Each year, my goal is to publish 2 ebooks. This year, I did not get one single ebook finished. I came into this year just two hat designs short of a new ebook to match the designs in my Let's Crochet Some Scarves, but I'm finishing the year still two hat designs short. I lost steam quickly on this project, but it is still on my list to finish – the two new patterns will be shared on my sister crochet blog, Cre8tion Crochet. For now, you can check out the free crochet patterns the first 4 each in 7 sizes: Dylan Claire Beanie, Haylee Beanie, Grace Tinley Beanie, & Suzette Beanie.
I really paid no attention to this goal this year at all, and I'm okay with that. Yes, a goal, but I'm not stressing or disappointed in myself for not meeting it this year. Last year, I published 40 free patterns, and compared to this years 19, I can see my time was more limited, and I know my motivation wasn't as high. Can't be too hard on yourself, ya know? But I'm aiming to be better in 2023.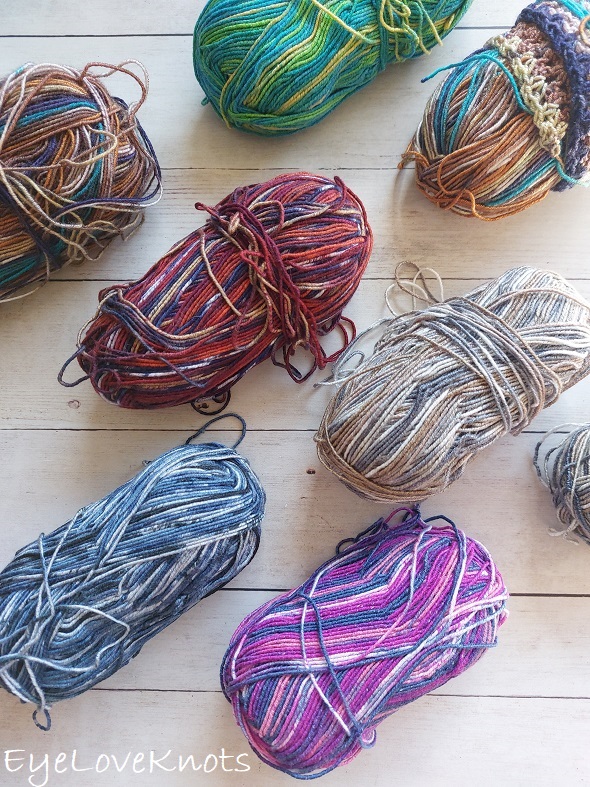 Use Up Stash
This is something in years past I've struggled with, but this year, I did really well using up my stash, and I'm so happy with myself. That's not to say that I didn't buy more yarn because I totally did, but I purchased it with more intention ie actually planned for a finished project, and not just going to sit in my stash (though I did also stock up on yarns/colors I use all the time like Red Heart Super Saver in Soft White and Buff, and WeCrochet Dishie in Silver and Linen. Last year, I mentioned an old entertainment center I turned into my yarn storage. Having it all organized, and so easy to see and grab has really helped me plus the fact that if it doesn't fit, I'm less tempted to buy more. I'm hoping to create a post about my yarn storage soon, but you'll definitely be seeing it in my upcoming podcasts. Looking back, I'm really thrilled to report that the 18/19 of my projects this year were worked with yarn straight from my stash, and that feels so good!
What yarns do I keep on repeat in my stash? I've been going through a bit of a yarn crisis the past couple years upset with yarns that just aren't durable. I want a great yarn that will stand the test of time, especially for the amount of time invested, and wear and tear on my body. I shared in detail last year which ones are my favorite. While Red Heart Super Saver didn't quite make the list, it really should. I have some mixed emotions about it, but I have used it for years and years, and design with it a lot – it's a trooper of a yarn. Lion Brand Wool Ease is another that should be on that list. Emma's Yarn Washable Worsted has replaced it on my shelf, but it's a really lovely and durable acrylic and wool blend that wears and washes nicely.
In my most recent craft space reorganization, I went through the boxes of destash yarn I had, grouped it together, and just like in my recent 50 Free Fingering Weight Home Decor Crochet Patterns post where I did a round up of free crochet patterns and hosted a giveaway for fingering weight yarn at the bottom, I plan to do more of these this year so be on the look out.
Special Mentions
I sold TunisianCrochetPatterns to my good friend, Rhelena of CrochetN'Crafts. I had purchased it and got it going on a whim, and didn't dedicate the time I should have to it, but I know that she will do wonders for it, and I can't wait to see her get going with it. As for my own tunisian designs, you'll find those split between EyeLoveKnots and Cre8tion Crochet.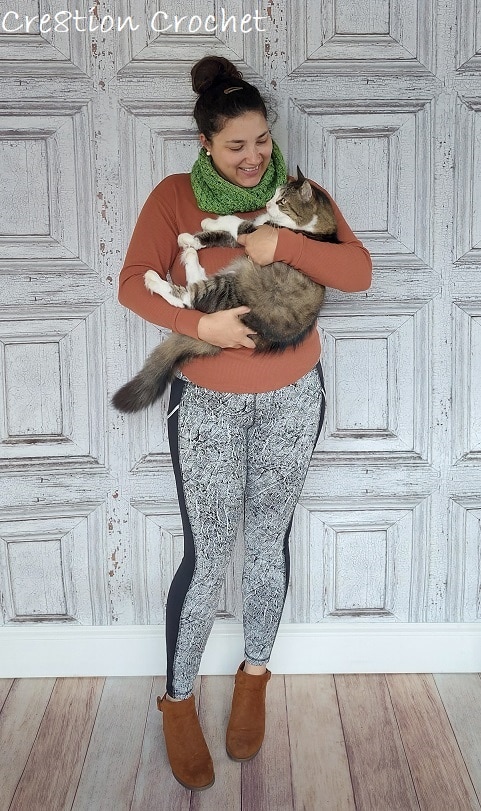 And I purchased Cre8tion Crochet from Lorene Eppolite this past Summer. She is an AMAZING person, and crochet designer. I have followed her since the start of my crocheting journey back in 2014, and when I had the chance to purchase her blog, and be part of the magic, it was like a dream come true – read all about this Big Announcement from her directly.
Let me tell you something, and I'm saying this purely from a motivational stand point… I have felt like a small nobody in this design world for a long time. I have lived the struggling artist life watching the numbers grow little by little, been passed up on opportunities, and sometimes really feel like I'm living in the shadow of some of the crochet designer greats, but I've never given up. I've chugged along, and now am so very proud of being here able to be a part of the Cre8tion Crochet adventure. If you ever feel like a nobody, first, send me a message. Let's talk! Secondly, keep chugging along. With hard work and time, you'll get there.
If you are a designer looking for a place to house your yarn designs (crochet, knitting, plastic canvas, weaving, yarn pom poms and other crafts), or a maker interested in writing crochet pattern reviews, please apply here – this is my application for those writing crochet pattern reviews, but I'm going to use it in general right now. Price for free patterns hosted on my blogs varies, and we can discuss further.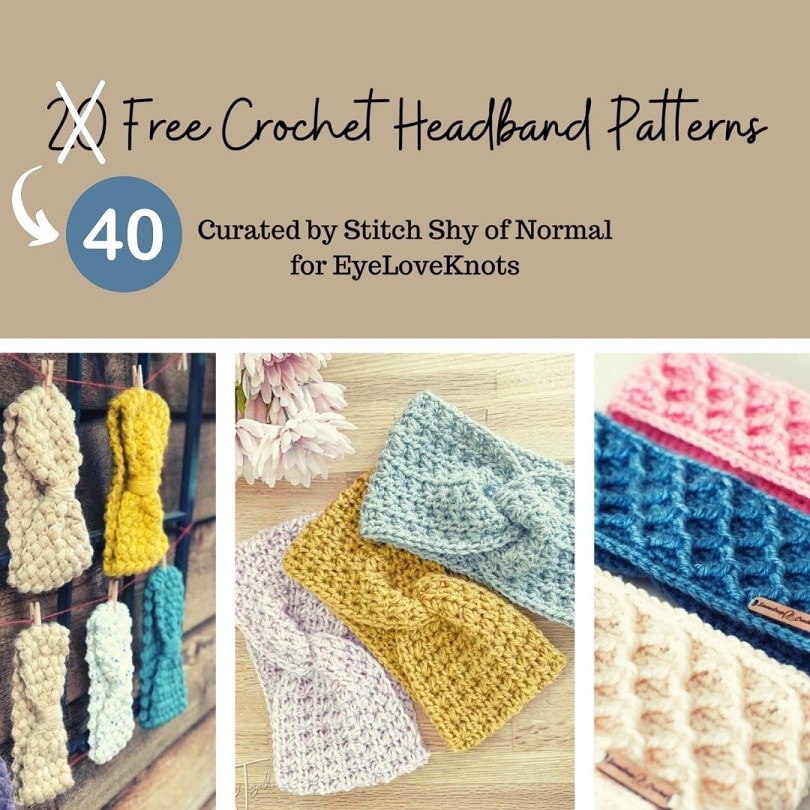 Top 10 Posts of 2022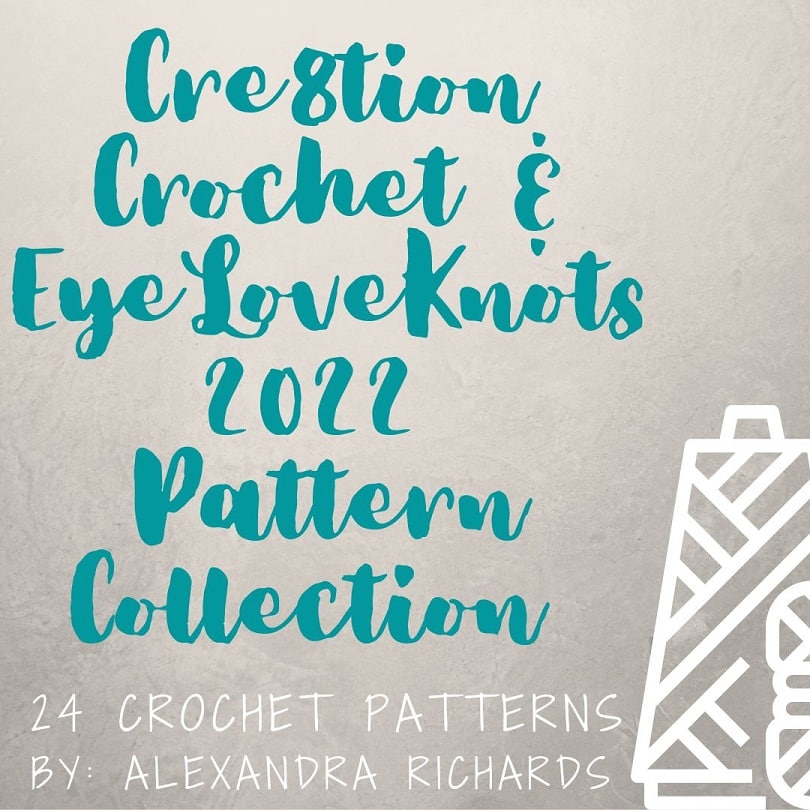 2022 Rewind
I'll break it all down below, but if you'd like to get my Cre8tion Crochet & EyeLoveKnots 2022 Collection of Crochet Patterns, which contains 17 patterns from EyeLoveKnots, 5 patterns from Cre8tion Crochet and 2 premium patterns, you can grab a copy on Ravelry, and on Etsy. Through 01/08/23 at 11:59pm EST, you can get it 50% off with code NEWYEAR23.
January 2022
February 2022
March 2022
April 2022
May 2022
June 2022
July 2022
August 2022
September 2022
October 2022
November 2022
December 2022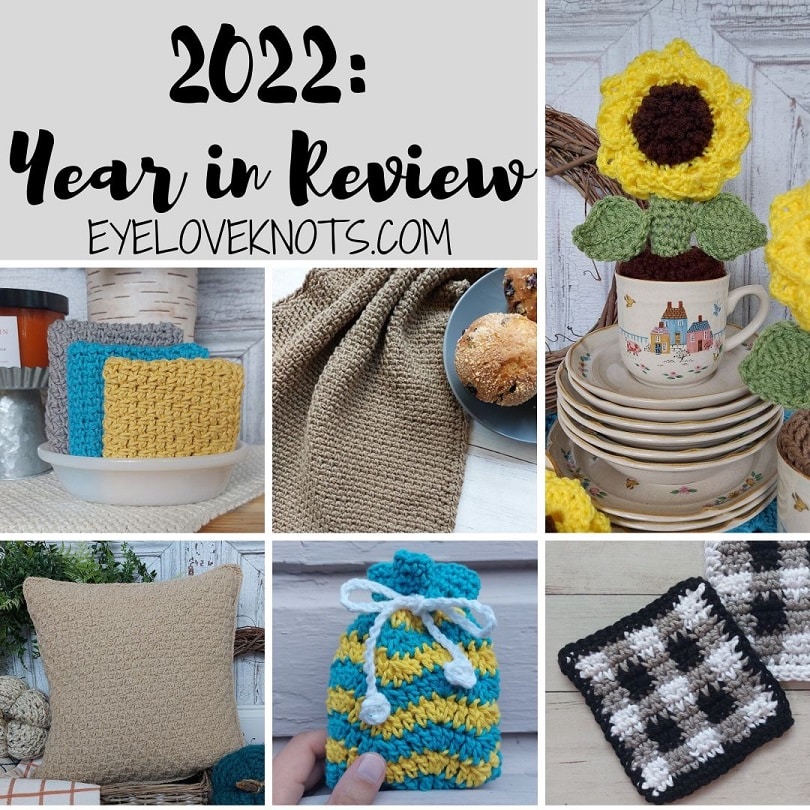 Join one of our awesome Facebook groups to share your creations, and see what others are up to!
– Yarn Crafts & Coffee Community
– DIY Home On Rockwood Lane
– Alexandra Lane Lifestyle
Linked Up To…
Home Matters Linky Party #411 – Modern on Monticello
Farmhouse Friday 281 – County Road 407
Happiness is Homemade Link Party – Decor Craft Design
Sundays on Silverado #126 – The House on Silverado
Handmade Monday #308 – Sum of their Stories
The Really Crafty Link Party #346 – Keeping it Real
Hello Monday – Pink Lady
668th Inspire Me Tuesday – A Stroll Thru Life
Fabulous Party 457 – Lou Lou Girls
Talent-Sharing Tuesdays Link-Up 47 – Scribbling Boomer
The Happy Now Blog Link-Up #354 – JENerally Informed
Wednesday Link Party #329 – To Grandma's House We Go
Wonderful Wednesday Blog Hop – My Life Abundant
Thursday Favorite Things #572 – An Artful Mom
Encouraging Hearts and Home Blog Hop – My Slices of Life
Grace at Home – Imparting Grace
Linky Party #303 – Karins Kottage
Crafty Creators Link Party #50 – Life as a LEO Wife
Create, Bake, Grow & Gather Party #553 – Shabby Art Boutique
Funtastic Friday Link Party #418 – Simply Beautiful by Angela
A Morning Cup of Joe – The Cottage Market
Pink Saturday – How Sweet the Sound