2021 EyeLoveKnots Year in Review including the Top 10 posts for the year, and a rewind including 39 free crochet patterns and one knitting pattern.
This post contains affiliate links for WeCrochet. If you make a purchase by clicking on them, I make a small commission at no extra cost to you. Thanks for your support!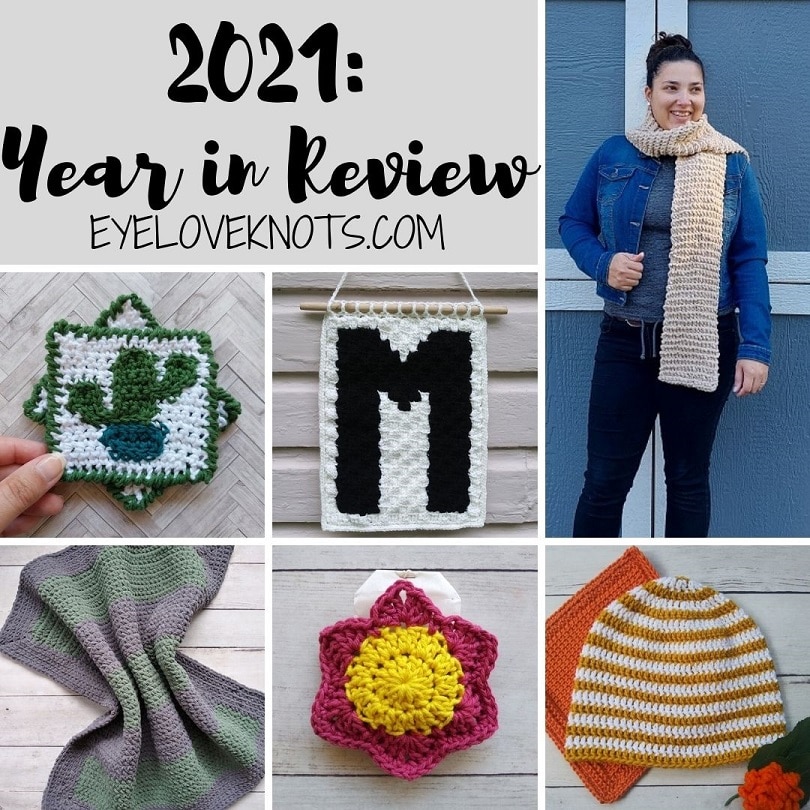 A couple years ago, I shared my 2019 New Year's Resolution list. I haven't made a new one since, but I still have it on my fridge as these points as are still relevant as each year comes. Since I now share yarn related posts here on EyeLoveKnots, and everything else On Rockwood Lane, I'm just going to touch on the yarn stuff here. You'll also find the Top 10 posts for the year, and a rewind if you missed any.
Business
Does anyone here watch Good Bones on HGTV? It's one of my favorite shows. I wish Mina, Karen and the team lived close enough to come redo my home. We won't get into that though – haha! They had a more recent episode where they renovated and set up their own store and cafe. I took notes along the way, and really appreciated the figures they shared, and the journey each step of the way. I still dream of having a shop of my own one day with a little cafe with endless delicious coffee and cookies. That's where it sits right now. I don't think anything will come of this dream this year, but something I would love to see come to life in the future so I will continue to have it on my list, and work towards it.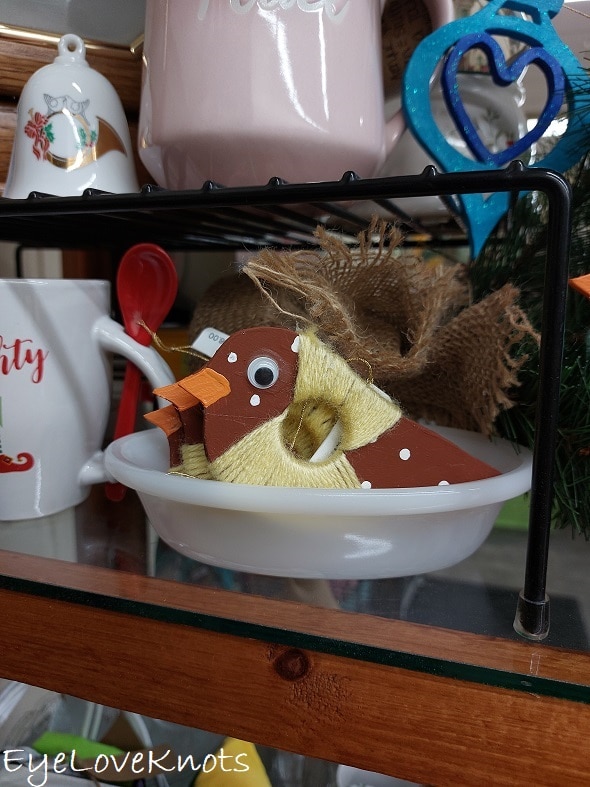 In the mean time, I do have a booth at America's Antique Mall in Melbourne, Florida. You can follow what's new in the shop on the OnRockwoodLaneShop Instagram, and if you're visiting, just ask for seller "ELK". I just added these adorable yarn robins that my uncle cut out, and my aunt put together, and sent me. You can also shop on Etsy, or on eBay.
Finish More Projects
This goal doesn't mean a larger number of projects than previously, but to finish more of the projects I start. I always end up with a lot of projects in my WIP bin, and post drafts. We're ending 2021 with 155 drafts. Now, I will have something to compare to at the end of next year.
I'm also hoping to bring on some behind the scenes help this year so I can take more time to just make more. I miss how crafty and motivated I used to be before I started blogging, and want to get back to making more.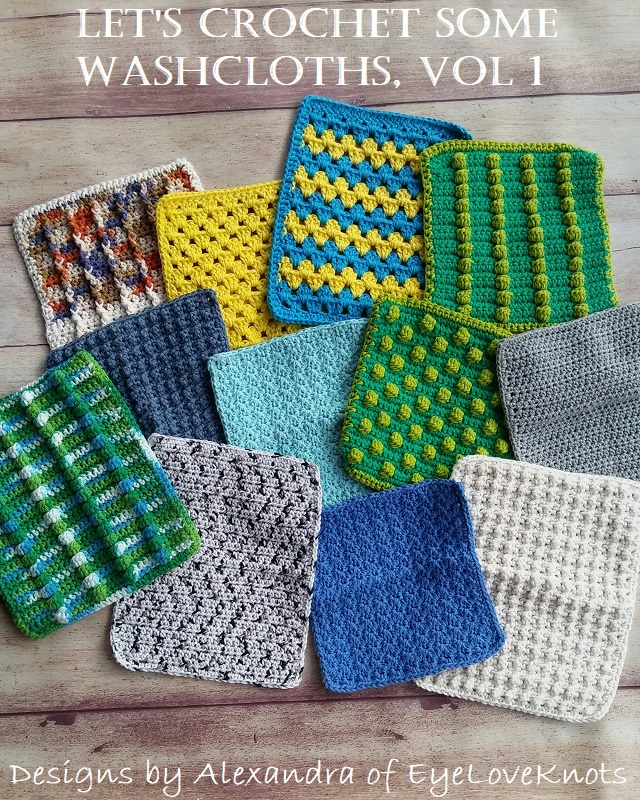 EBooks
Each year, my goal is to publish 2 ebooks. This year, I shared Let's Crochet Some Coasters, Vol 1. I was mostly itching to get one published, and so I put this one together. I am still struggling with the fact that the stitch patterns don't match that of my other three: Let's Crochet Some Soap Cozies, Let's Crochet Some Washcloths & Let's Crochet Some Scarves.
I may end up altering the ebook later, but that's not number one priority for me right now. I am two hat designs short of a new ebook to match the scarves so keep your eyes peeled for that in the next couple months. For now, you can check out the free crochet patterns the first 4 each in 7 sizes: Dylan Claire Beanie, Haylee Beanie, Grace Tinley Beanie, & Suzette Beanie.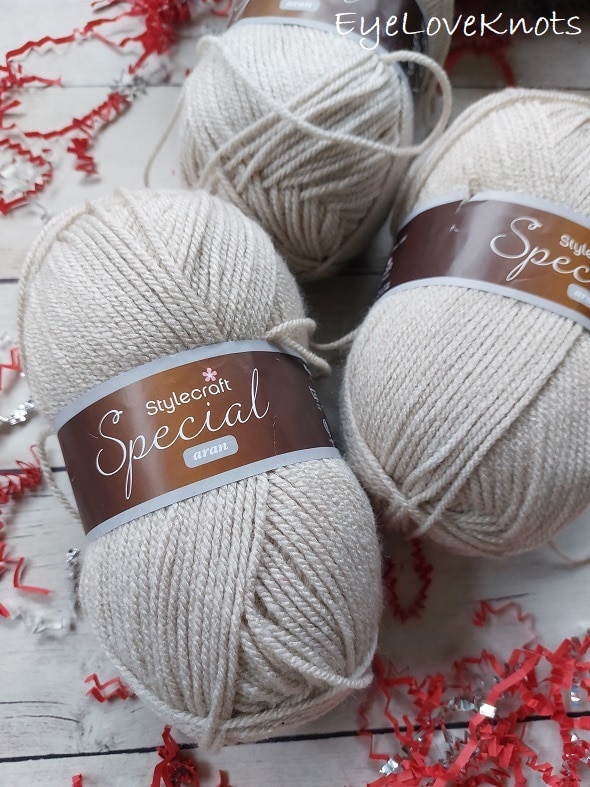 Use Up Stash
This is something I haven't done a great job of this year. I have tons and tons of yarn, and most have been sitting in my stash for years. I bought quite a bit of Bernat Blanket Yarn, added A LOT of Emma's Yarn Comfy Cotton DK and Emma's Yarn Washable Worsted and WeCrochet Dishie, and a little bit of WeCrochet Swish, and pretty much abandoned all the other yarn in my stash. Oops!
A few months ago, my mom gave me an old entertainment she no longer wanted for her home. I painted it, and rehomed my yarn collection. I haven't shared any photos yet, but I am so in love with it, and that all my yarn is grouped together. It's really helped me not buy more yarn since doing it, and I pulled out three boxes worth of yarn that I no longer want. I've hosted a few yarn giveaways this year, and I plan on hosting more this coming year starting with one for yarn dying – keep an eye out for this one soon.
Before I move on, I just want to touch on these yarns. I've been going through a bit of a yarn crisis the past couple years upset with yarns that just aren't durable. I want a great yarn that will stand the test of time, especially for the amount of time invested, and wear and tear on my body. That is one reason I have been working with these yarns more: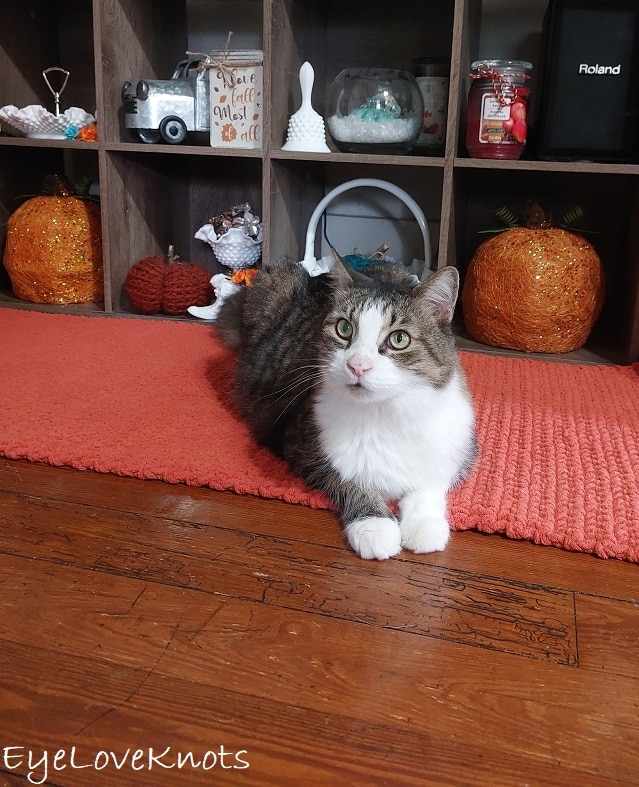 Bernat Blanket Yarn is such a great yarn. If you haven't tried it, I highly recommend it. I wish they had other weights because I know I could definitely use a worsted weight version for so many projects. This yarn is soft, cozy and durable. I can't tell you how happy I am to have a yarn that wears, and machine washes and dries beautifully. It's perfect for blankets, like my Super Chunky Striped Shay Afghan, Gia Afghan and Through the Window Afghan, but also excellent for rugs, like my Super Chunky Shay Hallway Runner, which will not be my only one, and even cozy accessories, like my Super Chunky Kinsley Blake Scarf.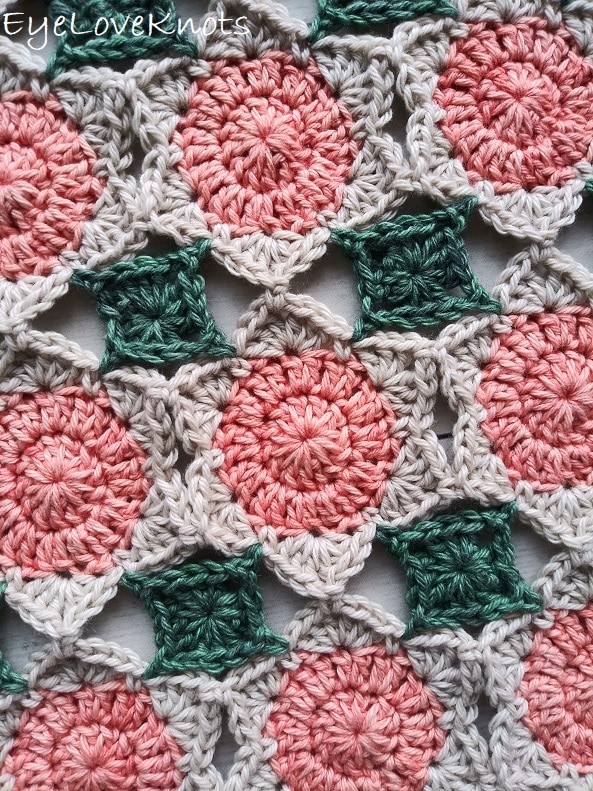 Emma's Yarn Comfy Cotton DK is a beautiful wool and cotton blend, and Emma's Yarn Washable Worsted is a lovely merino wool yarn. Both of these are hand dyed in Winter Haven, Florida, and sold at Four Purls Yarn Shop. This yarn shop may be a little over an hours drive for me, but the feeling I get just stepping foot in the shop is well worth the visit. Check out my 2019 visit. I've admired these yarns and all the amazing colorways for years, but this was my first year getting to work with the yarns. I don't have any designs published yet, but I do have a floral cardigan that will be ready soon, and I started a sweater that I think I'll be frogging to become a shawl. I have found no other yarn close to the Comfy Cotton DK, and I can't wait to work with that one more. Perfect Florida yarn.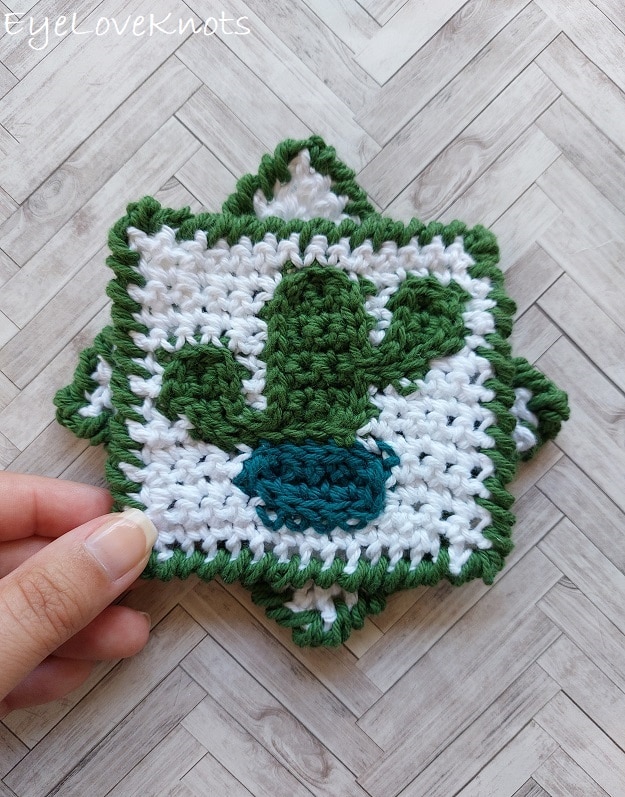 WeCrochet Dishie is 100% cotton. Before, I used Lily Sugar n Cream for all my 100% cotton projects. My only complaint is that the color is not set in this yarn. There are ways you can set it with vinegar and salt. I am always real with you guys – I do not have it in me to do this each time I make something, not to mention that in my research, I've found some colors just don't set with this method. I would not mind paying a little more money for Lily Sugar n Cream to have the color already set, but since that isn't available, I dug into WeCrochet Dishie. It's got great reviews, and lots of happy makers so I went big, and ordered the Complete Dishie Value Pack, which has 1 skein of each color. I figured it would last me a while, and I could see all the colors in person. It's a lighter worsted weight yarn a bit more similar to Crafters Secret Cotton from Hobby Lobby. It is a bit of a change, but has resulted in some great projects that I am confident in the color which is the peace of mind I was looking for. I've worked 13 projects up in Dishie already – see them all here.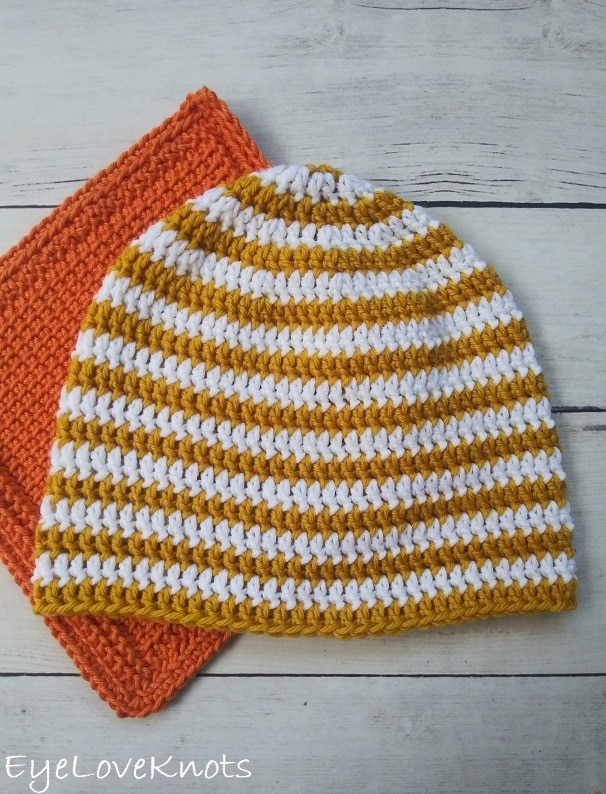 WeCrochet Swish is 100% merino wool. My previous worsted weight go-to has been Lion Brand Wool Ease. Swish is very similar, but comes in more colors, and feels slightly different because Wool Ease is a wool and acrylic blend. Swish has stolen my heart this year. It's soft, not itchy at all, and so cozy – in the beanies I've made with it, it feels like it's just hugging you, and it's wonderful. It's machine washable and dryable – I always wash on gentle in cold water, and dry on low heat, which I love. Can't wait to use this yarn more this coming year. Check out all my Swish designs.
Special Mentions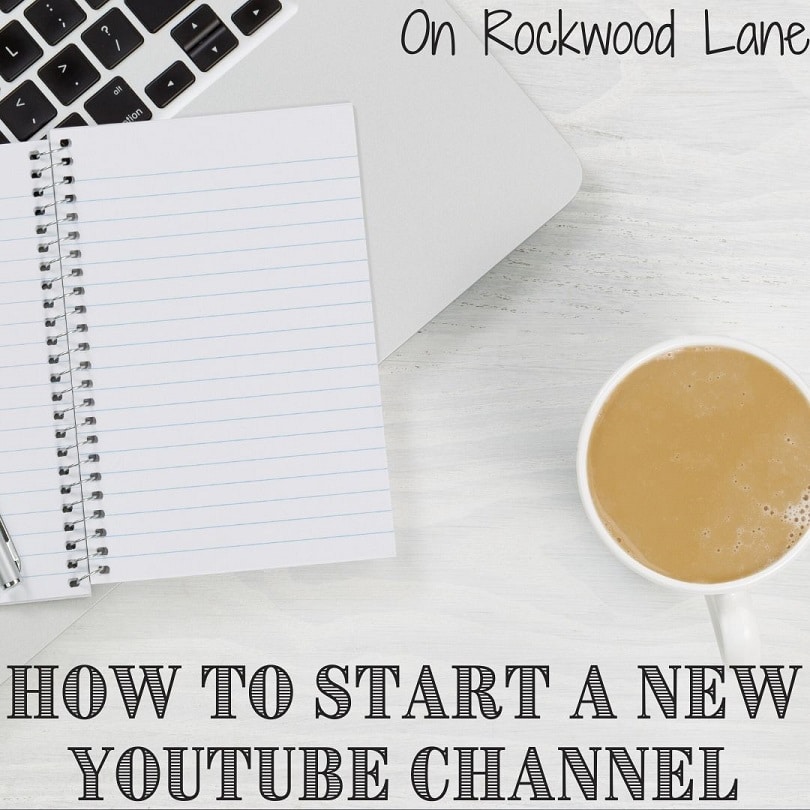 I started a YouTube channel this year for this EyeLoveKnots blog, and I have been having a blast. My first experience trying to do videos made me hate it and the editing, but I found a really easy to use program on my computer, and after making several videos, am much more comfortable filming. I am slowly working on adding videos for older patterns, and trying my best to make videos for new projects as I go. I am really proud of myself for getting the channel started, and keeping up with videos.
I put together a post On Rockwood Lane showing How to Start a New YouTube Channel.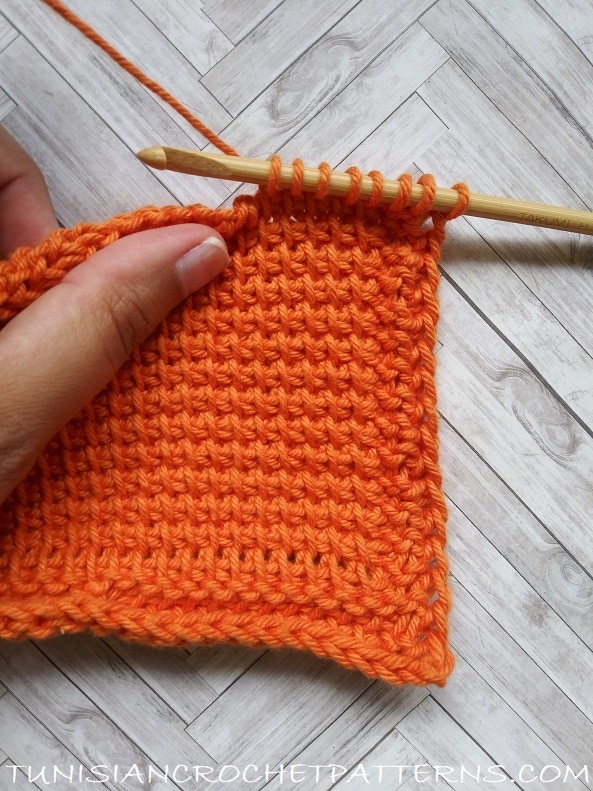 I also started a new blog this year – TunisianCrochetPatterns. I did it on a whim, and haven't really had the time to dedicate much to it yet, but you'll find the free crochet pattern for this washcloth in 3 sizes. I'm going to make it more of a priority this coming year, and work on building it up, and videos as well.
In starting this new blog, I put together a post On Rockwood Lane of 10 Things to do When You Start a New Blog.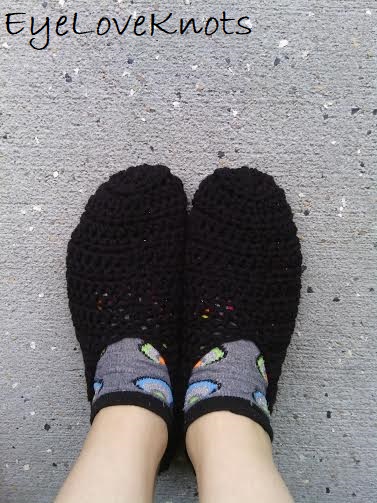 Top 10 Posts of 2021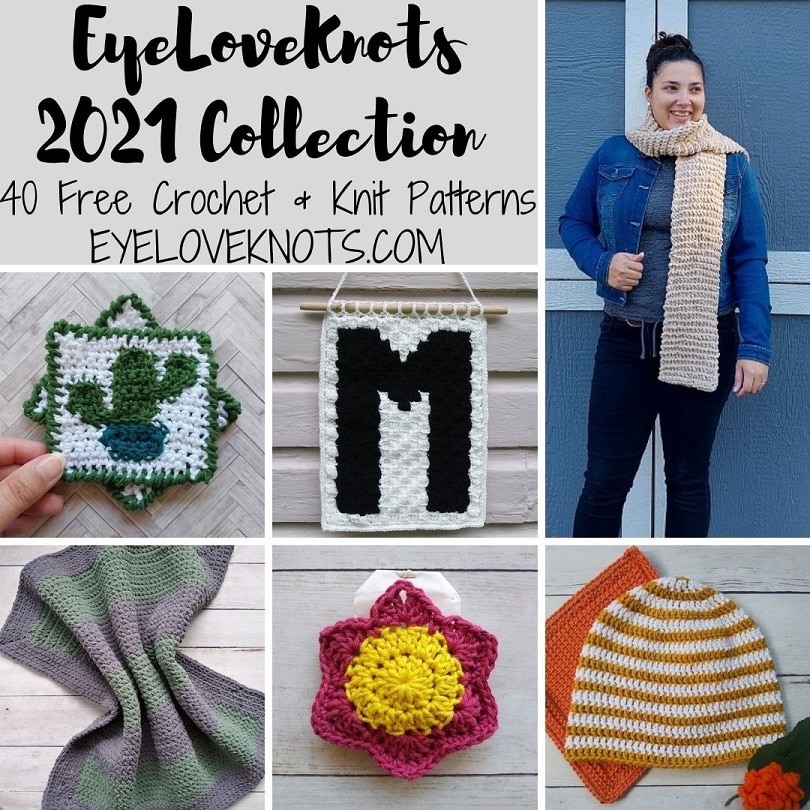 2021 Rewind
I'll break it all down below, but if you'd like to get my EyeLoveKnots 2021 Collection of Crochet & Knit Patterns, you can grab a copy on Ravelry, and on Etsy.
January 2021
February 2021
March 2021
April 2021
May 2021
June 2021
July 2021
August 2021
September 2021
October 2021
November 2021
December 2021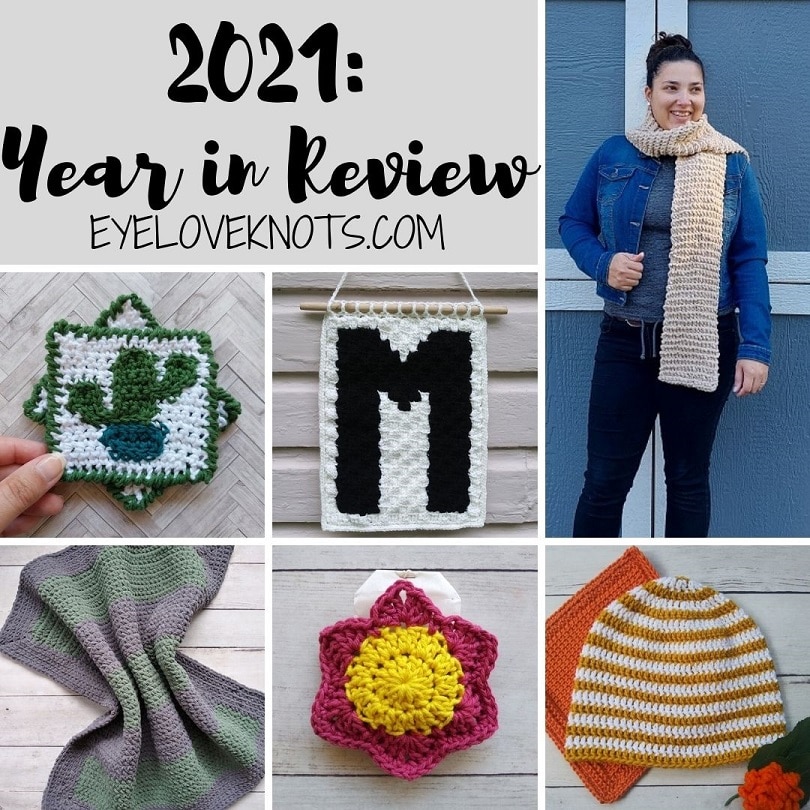 Join one of our awesome Facebook groups to share your creations, and see what others are up to!
– EyeLoveKnots Crochet & DIY Community
– DIY Home On Rockwood Lane
– Alexandra Lane Lifestyle
Linked Up To…
Share the Wealth Link Up #10 – My Big Fat Menopausal Life
You're the Star Blog Hop – Decor Craft Design
Handmade Monday #261 – Sum of their Stories
Happiness is Homemade Link Party #409 – Decor Craft Design
Sundays on Silverado #75 – The House on Silverado
Unlimited Link Party 65 – Grammy's Grid
The Really Crafty Link Party #298 – Keeping it Real
Link-up Potpourri #26 – My Bjiou Life
You're the Star Blog Hop – Decor Craft Design
621st Inspire Me Tuesday – A Stroll Thru Life
Fabulous Party 406 – Lou Lou Girls
Wonderful Wednesday – Oh My Heartsie Girl
Talent-Sharing Tuesdays Link-Up 2 – Scribbling Boomer
Grace at Home No 451 – Imparting Grace
Encouraging Hearts & Home Blog Hop – My Slices of Life
Thursday Favorite Things Link Party #523 – An Artful Mom
Traffic Jam Weekend Link Party #307 – My Bijou Life
Funtastic Friday Link Party #367 – Simply Beautiful by Angela
Link Up on the Edge #279 – Shelbee on the Edge
A Morning Cup of Joe – The Cottage Market